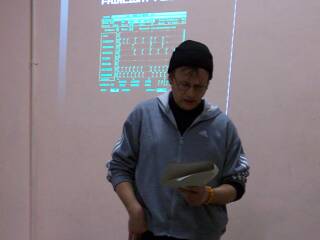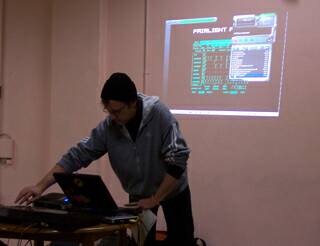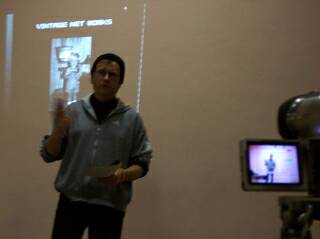 Andrew Garton - A story of art on-air, on-site, on-line
Andrew Garton is a 'pioneer' of the digital age - an odd term for a person just forty-something. From the start, his life seems to have intersected with the advent, proliferation and convergence of new electronic technologies – and may have significantly contributed to this process. He has been deeply enmeshed, since the 1970s, in the development of new work for emerging electronic, on-line and interactive media, and helping to define its artistic potential.

Back in 1994, he recalls, you could see every single website worldwide displayed on a single web page!

Garton has "explored a huge diversity'' of work, but says his aim throughout has been to remain "responsible to a community of listeners".

His early compositions were electronic – using the sampling and sequencing functions of a Fairlight CMI. Around 1982, he made collage-like compositions, stitching together found sounds and "whispers from exotic countries'" sampled from short-wave radio. He became increasingly interested in "sounds with narrative elements" in pieces like As It Should Be and David Goes Too. To realise them, he cut up postcards from collaborator David Nerlich, with fragments of text going into the mix. His last Fairlight pieces were in 1986.

Fast-forward to 1990 and we find Garton based in Byron Bay, helping to set up one of Australia's first internet service providers (ISP), the Pegasus network. This ISP became a vehicle for his "online artworks and compositions", influenced by the concept of "the pleating of text".

From Byron, he posted multiple real-time live-to-Pegasus poetry readings, hosted news groups, and set up various text-based 'bulletin board' events, often in support of 'green' causes.

Garton's first web opera, Black Harlequin , realised in collaboration with Kim Bounds, was an online representation of a 'live' work for one performer using video projections and soundscapes. Extracts were performed in 1991-94. The web content was 'non-hierarchical' and visitors could wander "pathway to nowhere". This is in stark contrast to more recent pieces, which are structured and navigated to maximise the time of visitors. Black Harlequin, as well as links to other works discussed here, is accessible via Garton's toysatellite.org website.

Around 1994-95, the composer began an 'opera' for electronically mediated networks, titled Auslaender und Staatenlose, exploring his own family origins, in the wider context of lives of displaced people and refugees. Taking the form of a far-ranging and composite music/theatre/visual/online-interactive piece, it has since hived off various modular events and performances. These include Garton's masters project, Auslaender Micro (1997-2000).

A distinctive feature of Micro is that it does not use Flash animation, and is written entirely in DHTML code, which supports "hundreds of images painfully carved up''. The file for the complete piece was small enough to fit on a single floppy. Later, it also went online at the ABC's Stuff-Art site (1999).

Garton says he has always been moved by the screams and wailing of homeless people and derelicts, and the incoherent abuse thrown by them at passers by and invisible traffic phantoms - voicing their frustration at an uncaring world. Parts of the libretto for Auslaender employed a 'screaming choir' called Fierce Throat. "You get a lot of attention when you scream!'' says Garton. The choir, which consisted of 10 male performers from the Brisbane-based Debacle Theatre Company, also performed the two-week, multi-performance art installation Gods Tear Europa , in 1994. The venue for this fierce and fiery piece was a disused powerhouse in Brisbane, and audience members were required to wear hardhats.

In 1995, Garton worked on "non-repetitive scores" - akin to improvisations and different for every performance, both online and in real time. To realise some of his concepts he used a flexible software package called KoanPro. Sensorium Connect, one such piece, combined the potential of radio with that of the internet. An online project, it combined sounds created by the artist Stelarc, in collaboration with composer Rainer Linz. Garton then mutated these sounds using "generative compositional processes": for example, with chord shifts, a variety of filters, and so on. Five-minute snippets from a continuous online stream were packaged and presented on Australian Broadcasting Commission (ABC) radio programs 'The Listening Room' and 'Radio Eye'.

Garton pursued additional radio work at KunstRadio, an innovative national program from the ORF (Upper Austrian Broadcasting Corporation) in Vienna. KunstRadio producer and founder Heidi Grundmann was sympathetic to Garton's artistic ideas, and a productive period followed, resulting in various radio/netcast works, including FUTUREScan, Malaise/Unsound/SASS and Golden Boomerang Machine.

Garton's Sensorium Scan (1996) was a live collage stream of treated samples taken from a lecture series for Australian Centre for Contemporary Art (ACCA) in Melbourne. Other recent works includes the following: Sensorium Dial (1997), an installation in the foyer of the Grosse Sendesaal building at RadioKulturhaus in Austria, used material drawn from the bandwidths of 20 antique radio receivers. Lung Fish and Donnerstag Remains (both 1998) employed the theremin, an instrument that translates moving hand gestures into sounds that change in pitch and velocity. Tat Fat Size Temple (1999) was a nine-day sound festival and installation in Melbourne's Smith Street, Fitzroy. Dedicated to people in far-flung communities in Sarawak - who presently face industrialisation and displacement - the work incorporated sounds collected from remote Sawawak villages, played from speakers along Smith Street. The effect Garton likens to "an always fresh series of aural waterfalls." The piece was also "…streamed in real time into a global sonic collage entitled Sound Drifting… produced by Austria's KunstRadio for the 1999 Ars Electronica Festival in Linz".

Having surfed the cutting edge of new media for most of his life, Garton is increasingly in international demand. But he says he is very mindful of his privileged position as a first-worlder. Content to "move between extremes", he says he likes to balance the variety and scale of his work. This ranges from talks in tiny venues in Manila before a handful of activists to concerts in huge auditoriums, as part of events such as the Taipei International Arts Festival, where he had use of "huge video projectors the size of Volkswagons".

As a postscript, Garton stresses the importance of maintaining a global social conscience. He hopes his work continues to at least acknowledge the many "life-and-death" problems afflicting the planet, and particularly in the third world.