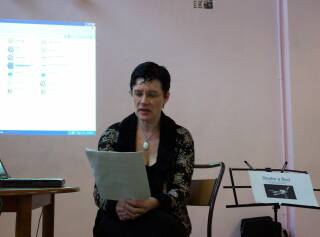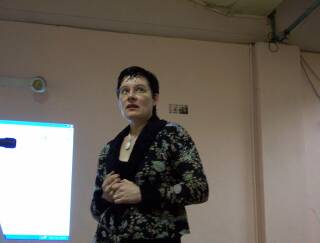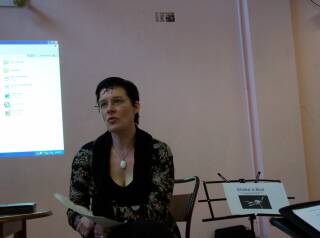 Brigid Burke - Visual expression through the movement of sound
Brigid Burke is a composer and musician, as well as visual and digital artist, who combines her interests across a number of areas, including mixed media. She has played widely in ensembles, and as a soloist.

As clarinettist and improviser, Burke has extended the range of instruments by physically modifying them: for example, using mouthpieces fitted with sliders and extension pipes. She has also developed novel playing techniques and approaches, and is a sought-after teacher.

Her chamber, orchestral and electronic works often incorporate visual components, or are organised using graphic scores. For example, The Sliding Droplet (2001) for live clarinet, live and pre-recorded electronics, includes projected video graphics.

Burke says she is an avid collector of found and sampled sounds, which she combines with visual elements. Sound and images are often treated, using electronics or computers, and superimposed, to produce "audio visual layers".

"The first stage of a new work often involves improvisation," she says. "Then works are developed out of this – in performance, or for recording… I use lots of samples and often take microscopic slices of sound for electronic works. My work varies, though it is often 'gestural' and organic, and composed intuitively. This is also one of the links between the sounds and the graphics."

Not that there are necessarily direct relationships between sounds and images, although that is also possible, but both arise out of the same, or similar, artistic processes. "They are both created together… and concerned with organic shapes, too. Sometimes the visuals come first, and sometimes the sounds."

Burke often borrows from herself, and each new work can become the basis for a next one, after they are given new titles, with elements developed and extended, and new material built up and superimposed, in a sort of archaeological layering.

In a recent work, Lands Collide (2002), which investigates "the idea of water, using glass and text in different environments," Burke started with a "sound installation" in the gardens of Ripponlea House in Melbourne. Here, two chairs were covered with shards and fragments of "etched and painted glass…" Speakers conveyed gamelan gong sounds across the space. In addition, around 200 sampled (gushing, sucking, pattering, splashing) water sounds were also collected, then treated and arranged electronically.

Lands Collide has since proliferated from these specific beginnings. The piece has accumulated visual components. It has been 're-layered', with black and white images, and with ones created using filters from computer graphics programs. (Burke often describes herself as "a filter freak", in this respect.) Some elements of the piece, such as Fish Tank, are almost stand-alone sculptures within a larger ensemble. Full of coloured objects swimming in and out of view, this oddly beautiful piece is made from a glass-sided aquarium, parts of a chair, coloured glass shards, broken CDs and tissue paper. In the late 1990s, a video component was also added – generating an additional 20 versions of the piece!

Lands Collide also had a separate life as 30-minute piece for ABC FM's 'Listening Room' program, which "brought parts of all of these various pieces together".

Lands Collide has not stopped growing. Next, it incorporated texts, maps and traces of journeys. It re-presented Aboriginal stories about the uses of water, and water in the environment. Then it absorbed "hundreds of individual drawings and visuals", with many of these "individually manipulated" using computers. These images included close-ups of natural shapes (tree roots, natural forms, landscapes), scenes of rainforests collected from books, and images that were elaborately filtered and modified. Burke says: "This piece has become a sort of polyphony, of sounds and images."

(Burke screens a video excerpt. We see slowly morphing maps, some overlaid with semi-abstract shapes; mono and colour landscape images fading in and out, woven between changing sound textures…)

Versions of Lands Collide – and parts thereof – have also had multiple lives in performance. Live renditions have involved various instruments (including piano), treatments and performance contexts. The piece has been performed by two clarinets and percussion; and as a clarinet solo. Burke says: " (it has)… also been semi-improvised, with people working intuitively. But the more people that are playing, the stricter everything has to be."

Another large-scale piece is Gestures on the Move. It, too, has evolved out of a process of artistic accretion, and was first conceived as a scored saxophone piece. "I wanted an industrial sound for the sax piece," she says. "Then it was re-written for clarinet… So I wrote a lot of multi-phonics…. The clarinets I used also had to grow and evolve. And… I was interested in quarter and micro-tones. To get them, I relied on intuition, rather than notation. Why? Because the way your mouth and the reed is actually working, at the very moment you're playing, is the way the sound will come out!"

In the late 1980s, Gestures on the Move began to incorporate drawings of dancers – and particularly of bodily gestures. Some were taken from photographs, video footage and sketches. Other images were modified using computer graphic programs. The composer also called upon her son, who is a classical dancer, for various video recordings. There were also "layered drawings" – or drawings placed on top of photos. Still images were often granulated, pixilated and blurred; or they continuously morphed and dissolved on video. She says: "…in this piece…the sounds and visuals grow in and out of each other…"

Not a Movement (2003) is a notated piece deriving from Gestures on the Move, and has a lot of similarities to the original saxophone beginnings of the piece. A final video rendition, in contrast, consists of a screen version, with live electronics played by the composer.

Burke's process of sifting, filtering and layering; and her productive shifting between sound and image; has produced a series of self-seeding, cross-referencing and multi-branching works. Put simply: "With every performance, I like to produce something new, so something is always coming up."