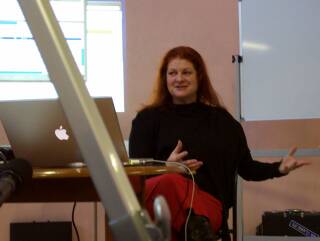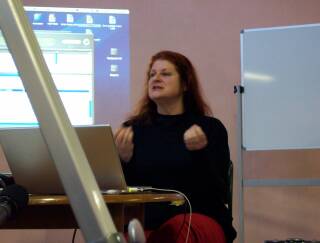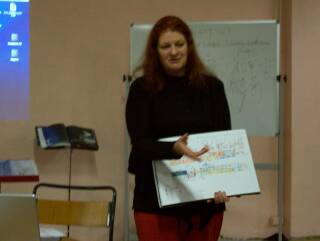 Ros Bandt - Designing site-specific compositions
Ros Bandt is one of Australia's better-known composers, and her musical activities encompass a very wide range. In a prolific career, spanning more than 20 years, a recurring interest has been site-specific composition, sound sculpture and sound installation.

According to Bandt, a simple way to start with site-specific work is to ask questions to "…help establish guidelines and boundaries". It might be a truism that every sound is site-specific, and inhabits an acoustic space. But what function does it serve in a wider social and artistic sense? What are its various meanings? How do these meanings differ for owner-inhabitants and users of the space, and for visitors to it? How does space contain place? How are sounds a part of this? What is unique to a particular sense of place? How do heritage, history, stories and 'weaves of relationship' become a part of it? How can all these elements be articulated?

Such questions underpin The Listening Place, a recent piece taking the form of a park bench, with speakers (acoustic plates) in the ground beneath it, set in a municipal park. Commissioned by the shire of Port Phillip, "it contains sonic profiles of the users of the park". A continuous hour-long loop plays during daylight hours, where the word 'listen' in various languages "…invites people to hear voices, accents, and ambient sounds, a weave of stories, comments and reflections."

Bandt says she took a year to research, access and record the spliced and looped sounds. Many park activities were associated with what she gathered; meanwhile, additional found and domestic sounds were "re-framed" within the piece's larger acoustic space.

It was important for Bandt not to "…impose on the place, and to let it speak for itself … to keep things clear and simple". Such a piece should also have genuine social uses and artistic integrity. It must welcome, and be welcomed by, its users. As a postscript, she made the observation that the common demand for 'lasting artworks' might need to be examined, as "…a shell might contain changing uses". After all, places and people rarely stay the same. Therefore, it might be appropriate, from time to time, to re-visit and revise this work to reflect those changes.

Bandt's Kim's Song (2003) is a work in "radio space". A three-minute piece in the ABC's Earclip series, it explored the theme of 'my world this time', with the observation that our worlds will pass to the next generation of children. Kim is a three-year-old girl, who sings a traditional song in her first language of Vietnamese. Then, after attending school in Australia, she only wants to sing Kookaburra Sits in the Old Gum-tree. There is a tension between old and new, between a song about a place that's now displaced, and changing ties and loyalties. In the piece, Kim's song coincides with recorded songs of Aboriginal children. The piece answers a searching question: how can children manage the difficult task of sharing a new sense of place, within a rapidly changing Australia? Here is a general displacement of songs into a new site that is still partly fictional, still evolving – that of a newly emerging Australian identity.

After 1978, Bandt started on an exploration of "acoustic chambers and 'contained' spaces", such as water tanks and wheat silos, in which she recorded improvised performances on various instruments. The experience had a profound effect, setting her work on new paths. "It opened up worlds for me… it was such a strongly non-verbal and visceral experience… I felt like a small part of a huge vibration… it was a joy to be totally immersed in sound…"

Then came Silo Stories (2002 -), an ongoing piece with many aspects. For this work, the composer visited numerous gigantic wheat silos in Australia's Wimmera district. Alive to the poetry of the gradual disappearance of the silos, these pieces are resonant with whispers and echoes of lost time.

Silo Stories comprises documentation, slides, interviews, samples of on-site sounds and much else. As an installation, it takes the form of a large sound sculpture generating interactive performances. A series of large terracotta urns, disposed in a grid pattern, contain eight small speakers, triggered by eight sensors, and with eight channels of sound. The loops of sound have 15-minute cycles. There are multiple entry points and exits into the array, and the overall patterning of the piece is contingent on audience pathways through the space.

The structure of Silo Stories, however, is far from random. It has been very rigorously and intricately designed. "It is not based on lazy random numbers," she says. Instead, Bandt has developed colour-coded notational systems to configure the piece, with sound files assigned to charts and maps. She says: "such graphic representations are very helpful to me." It is also possible to re-set all the loops and triggers, "so each day the overall patterning is different".

The large urns are raised to listening height, and echo the silos in miniature. Multi-valent and ambiguous tropes, they re-enact the deep poeisis of cultural memory. They are simultaneously funerary vessels for lost cultural memory, and preservers of a fragile content.

Finally, Aquarium is a work in progress. So far, it takes the form of video recordings of jellyfish swimming in the Melbourne aquarium. Bandt has used these videos as "kinetic scores", to guide improvisations on various "soft and fragile" instruments. The latter are novel (and mainly percussion and friction) instruments of the composer's own design, made from glass and clay. Bandt says she is entranced by "this polyphony of simple creatures". Their collective rhythms are subtle and intricate; repetitive but ever-changing. Watching them is slightly hypnotic: their gelid, light-permitting shapes, their fragility and liquid rhythms are perfectly rendered by the fragile glass instruments.

Bandt says she is presently excited by the prospect of exploring the sonic possibilities of our oceans and preserving some of their 'endangered sounds'. It seems her early 'tank' pieces have led this composer, literally, into very deep water, and Aquarium might prove a precursor to a range of work to follow.