Rik Rue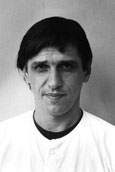 Rik Rue was born in Sydney in 1950, and at the age of 15 began constructing his own soundscapes from found and outdoor environmental sounds. He utilised anything at his disposal, from clanking garbage bin lids to breaking glass, editing sections of tape into compositions. Since early childhood, music and sound had been a springboard for his imagination, part of a private world into which he could escape from a life disrupted by domestic violence and the ethnic and social frictions within an underprivileged neighborhood.

Environmental sounds, his primary musical influences, have always provided him with "abstract and subconscious pleasures and an inner understanding of the physical environment", and manipulating them seemed to allow an imaginative reconstruction of, and some control over, the world that produced them. He was encouraged in his early sound collages and soundscapes - which were recorded on a rudimentary quarter-inch reel to reel machine - by Sydney painter Carl Plate and by tape enthusiasts, including Fred Myer.

Rue, who is self-taught in composition, had always listened to and collected a wide range of world musics. As a teenager his interest developed through listening to black popular and ethnic music and jazz and blues styles. Later, travel to India and the Himalayas in 1969 and 1970, then again in 1973 and 1974, exposed him to a wide range of traditional and classical Indian music, and it was in India that he also first realised that the total environment was part of the music - that music and environment were inter-dependent and inseparable. In India, too, he began documenting and collecting recorded soundscapes.

After a stay in London from 1970 to 1973, while studying part-time at the Slade School, Camden Art Centre and Royal College of Art, he became interested in non-idiomatic improvisation, which persuaded him to learn and play percussion and saxophone. He was influenced in his playing style by jazz improvisers such as Charlie Parker and John Coltrane, then by the London Free Jazz Network , which led to a further interest in European forms of jazz and to classical and contemporary music. He also gained expertise working as a technical assistant for bands and in art school productions.

Back in Sydney, from 1976 to 1979, his interest in improvisation and jazz surfaced in an organisational way when he helped present concerts of experimental and improvised music in the Paris Theatre in Darlinghurst and small galleries such as Central Street in Sydney. At this time he also played with a number of prominent Sydney improvisers, including Jon Rose, Louis Burdett and Serge Ermoll. These activities culminated in a solo saxophone concert at the Art/Empire/Industry Gallery in Sydney in 1982.

In this year Rue also achieved an important musical breakthrough. By using the tape recorder, he realised he could combine his love of environmental sounds, and of world musics, with his interest in improvisation and his desire to document and re-arrange sounds. Thus, the tape recorder became his `instrument'.

He began presenting `live mixed' tape works in performance with improvisers such as Jim Denley and with the improvising group The Relative Band in the 1980s. For many of these `live mixed' performances he used a Tascam Portastudio and two other tape machines connected to a six-channel mixer, which presented a broad range of musical options. The use of pitch control - which was built into the machine - together with panning and sound altering equipment, provided further flexibility. The entire setup was devised to be used as an improvising instrument.

Since the early 1980s, Rue has continued to work with live tape mixing in performances, particularly when playing with Mind/Body/Split , a group of Sydney-based improvising musicians including Jim Denley (flute and saxophone), Sherre De Lys (voice and texts), Jamie Fielding (synthesiser and percussion), Kimo Venonen (electronic samplings and manipulations) and occasional distinguished guests, such as Amanda Stewart (voice), Chris Abrahams (piano) and Graham Leake (percussions and samplings). Mind/Body/Split have appeared at a wide range of venues, including the Art Gallery of NSW and Sydney's Sculpture Centre and Performance Space.

At various times Rue had released a number of works on compilation discs produced by Fringe Benefit records but later, when he felt the need to personalise his output, created his own independent cassette label, Pedestrian Tapes in 1983. Originally intended as a short-term project and means of presenting the off- beat and unusual, it survived its origins and now releases music and sound works from a variety of Sydney composers. These have included Jim Denley, Ian Hartley and Michael Tinney. One of Rue's early releases, The Raise of an Eyebrow , is described in the Pedestrian catalogue as: "Pause and tape manipulations, a feast of irony and appropriation dedicated to the many pleasures of low-tech and the mighty pause button".

By this time Rue was committed to `pause culture', by which he means composing with the aid of the cassette recorder, using it as an instrument and appropriating sounds and material from a diverse range of environments and sources. The cassette recorder pause button is used as an editing device as Rue finds it more immediate and direct than cutting and splicing reel-to-reel tape.

His commitment followed the advent of commercially available multi-track players, and the improvement in quality of cassettes themselves, which eventually reached high audio standards. What attracted Rue was the low cost of the equipment and its immediacy and flexibility. Portable high-quality recorders such as the Sony Walkman Professional - which can easily be transported and activated - he believes have ushered in an age of `surreptitious recording'. The program notes for Genuine Tape Stories , an early work released on the Fringe Benefit label, contains this mini manifesto: "You control your own cassette recorder. Anything you choose to record is yours to do with as you will... we are our own actors, we have our own dialogue, we are our own musicians. Utilising television, radio and sounds from the mass media. The consumer turns producer."

Rue also likes to quote the Canadian composer and saxophonist John Oswald on this theme: "After decades of being the passive recipients of music in packages, listeners now have the means to assemble their own choices... dubbing a variety of sounds from the world, or at least from the breadth of their record collections, making compilations of a diversity unavailable from the music industry, with its circumscribed stables of artists and pervasive policy of only supplying the common denominator".

The cheapness and availability of cassette recorders and portable mixers allows musical production to be the province of the many and not just the few, thereby also transforming contemporary music making into a democratic, and not exclusively elitist, activity. The abrupt shaping made possible by live mixing also makes all sorts of re- and de-constructions of found sounds immediately realisable.

In recent years, Rue has extended his activities to include creative radio programming, hosting new music shows on Sydney's 2MBSFM and 2SERFM. His regular program on the former station, Stopgaps and Measures , began in 1985 and featured a wide range of works, from regional environmental works and sound/text experiments to local and international new music. Often, on these shows, he improvises and `live mixes' complex works, juxtaposing music and environmental recordings into unities, and combining the work of other composers with his own. He often collaborates in this area with sound recordist and tape composer Shane Fahey. Together they have added a new dimension to Sydney radio. Rue has also presented documentary programs featuring the recent work of composers such as the Canadian John Oswald, and Australians Alan Lamb and Chris Mann; and in 1987, with assistance from the Music Board of the Australia Council, a program featuring young composers from Melbourne, Sydney and Brisbane titled Can't Quite Catch The Beat .

Rue was originally introduced to a similar creative use of radio through Allessio Cavallaro's pioneering program, cntmprr-ydtns on 2MBSFM, in which Cavallaro performed live to air with Jim Denley and on his own.

Rue points to the Italian Futurist movement as being influential to his work. The Futurists, he suggests, were the first to celebrate the sounds and noises of cities and of the technology and industry of the modern world. Futurist theorists like Antonio Russolo, as well as the Dadaists Kurt Schwitters and Hugo Ball, were also important to Rue in that they helped persuade him that sounds could be defined and used in new and exciting ways. He lists Russolo's Corale And Serenata (1921), Ball's Gadji Berri Bimba (1916) and Schwitters' Cigarren (1921), Boo and Naa (1936) all as being influential works. Central to the "low-tech tape movement", of which Rue sees himself a part, is the concept of appropriating or pirating. This involves selecting fragments of other people's works, and of found sounds, then juxtaposing and blending them into a framework of imaginative re-use that may disclose new sonic ironies, humor and meanings. On many occasions Rue has played a piece to someone whose music or voice has been `appropriated', without their being able to recognise their own contribution. On other occasions, the pirating has been very obvious. Whether recognisable or disguised, in each case, Rue believes, the pirated material becomes thoroughly transformed by the new context into which it has been placed.

A recent influence on Rue is Chris Mann, whose work has suggested ways in which voice and texts may become the basis of both compositions and performances.

RECORDINGS

The Raise of an Eyebrow , Pedestrian Tapes PX2, 1984.

Dub for St. Rita , Pedestrian Tapes PX6, 1984.

Water Works , NMA Publications, 1985.

Other Voices , Pedestrian Tapes PX8, 1985.

"Dub for St. Rita", NMATAPES 3 , NMA Publications, 1985.

"Lunokhod", 2MBS-FM Cassettes , 1985.

MultiSonuous Mottos , Pedestrian Tapes PX11, 1986.

Eur , Pedestrian Tapes, 1987.

Bend an Ear , STI-BM (Spain). 1987.
---
---
© 2000 NMA Publications and John Jenkins