Vineta Lagzdina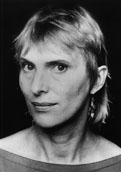 Vineta Lagzdina is a German-born and Sydney-based composer and performer of Latvian descent. She was born in 1945, the same year her father died. Since then Lagzdina has worked in the areas of film, video, radio and also dance and theatre performance.

Her early years were spent in a refugee camp in Voltendingen, Germany. Both her parents were from Latvia, though her father was part-Polish. She knows little of her family history except that her father was an oboist and her mother an opera singer. As a young child she was adopted into a Latvian non-musical working family, where she discovered her new parents believed in striving hard to achieve a better standard of living. Lagzdina's real mother also lives in Australia, and Vineta knows her now as a friend, but throughout her early childhood she felt rejected by her true parents and, in turn, rejected the idea that she was in any way `musical'. Four years after the war, her adopted family arrived in Australia as `displaced persons', staying in Bonegilla migrant camp near Albury until they found work in Adelaide in 1949. At first, Lagzdina's parents thought Australia very strange; they were still war-shocked, could not speak English and did not understand the culture. But they were prepared to make a new start (having little choice in any case), intending to make Australia their new home and to work hard to improve their lot in life. They derived some comfort from the already-established Latvian community, which kept swelling with new arrivers. Latvian remains Lagzdina's mother tongue, though she quickly learnt English at Saint Peters primary school in Adelaide, which she began attending as a four-year-old. On Saturdays, until she was 15, she also went to Latvian school to learn her native language, history, writing, theatre, folksongs and folkdancing. Lagzdina recalls these early years in Australia as difficult ones for herself and her family. To survive and improve were the main objectives. Consequently, as a child she never questioned hardship.

At the age of seven she began taking private piano and ballet lessons in Adelaide. Her first piano teacher was a Russian woman whose studio was always redolent with perfumes and hung with rich curtains. Lagzdina found her an inspiring teacher, whose love for Mozart and Beethoven also brought their music to life for her student. The two became friends but Lagzdina was unwilling to play in public and, because of this, was made to change teachers at the age of 14. Because she no longer enjoyed learning, she discontinued the piano, even though this was against her parents' wishes. Her ballet teacher was also a Russian; and at Madame Babacheva's Ballet School Lagzdina gained some understanding of artistic discipline. However, in spite of her love of dancing, she realized she did not fit the classical mould, and stopped taking lessons when she was 15.

Lagzdina's attitude to life at this time was that it was to be endured and conquered. There was little chance for enjoyment except at Latvian community gatherings where food was shared and stories told, with a song for every story. Music, then, was a way to share and express feelings.

From age seven to 12, she felt a keen division between her outer and inner life. Real life meant keeping busy and working towards a better future; and she tried to play her part - by doing well at school, feeding the chooks, making sandwiches for the boarders and being a `good girl'. But it was never enough: something, she felt, was lacking. So she created a private world, where no-one else could be. In this world, voices whispered, shadows appeared and disappeared and she communicated with them. When alone, she would "dance to the earth and sky and sing to the heavens", or make patterns of her own music on the piano. But she thought this was `mad' behaviour, and was afraid she would be `put away' if her private world was ever discovered.

At 16 she matriculated, then enrolled in Law/Arts at Adelaide University where, during two years of study, she realised she could determine her own destiny. However, still unsure of what this should be, she left home to live and work in Melbourne for a year, where she also studied classical guitar and piano once again. On her return to Adelaide in 1964, she worked briefly as a journalist then began playing the flute. At first, she wanted to play in the jazz style of Miles Davis but, feeling she lacked the technique, began studying privately under David Cubbin who encouraged her to undertake music studies at the Elder Conservatorium at Adelaide University.

At this time, Lagzdina also began modern dance classes with Elizabeth Dalman, founder of the Australian Dance Theatre, at the latter's Adelaide studios. At last, she was doing things she enjoyed and she felt a new world had opened to her.

This personal expansion coincided with the social radicalism of the late 6os, when Lagzdina felt that every stitch in the fabric of life was being examined. In these lively and exciting times she took part in poetry and music events, street theatre and wrote reviews, sang with jazz-rock groups and protested against the Vietnam War.

In 1973 Lagzdina gave birth to a girl and caring for a child brought many changes to her life. It prompted a clearer focus on her most important interests: and, in 1975, she completed her music degree, majoring in flute and electronic music performance. To gain additional technical skills, she became a sound technician and musician in residence at the Adelaide Festival Centre as well as freelancing for various theatrical and musical productions. The more she learned, the more she found there was to know, so she also completed an Instrumental Teacher's Certificate and embarked on an advanced technical course for two years, all while working part-time.

Lagzdina took part in a great variety of musical activities from 1976 to 1980. She taught the flute privately and conducted electronic music workshops at the Aboriginal Centre and collaborative workshops with Nigel Triffit (music and drama) and Jenny Hope (music and mime) for secondary school children at the Festival Centre. At Adelaide's Carclew Arts Centre she conducted workshops in new music and instrument building, then gave workshops with other musicians and artists at schools in country areas for the South Australian Arts Council.

She also played in and arranged music for a group of women who played in a 1940s-style big band in Adelaide and became a member of the Adelaide Flute Society, performed in concerts as part of a flute quintet and designed a Theremin. In 1980 she wrote music for the film Letters From Poland directed by Sophia Turciewicz and for a number of smaller budget South Australian Film Commission documentaries.

Her activity in Australia was interrupted by a six-week trip she took to New York in 1979 to meet other women composers and artists and to hear new music. It was an enriching visit, and Lagzdina met Laurie Spiegal, Beth Anderson, Doris Hayes and Wendy Chambers, bringing back examples of their music to Australia. She heard new work by Meredith Monk, Laurie Anderson and Pauline Oliveros, some of which was already familiar to her. These women, it impressed Ladzdina, were giving distinctive expression to their ideas and feelings, adding a new voice to contemporary music. She felt inspired to do likewise, to help create new traditions, to find her own "inner voice" and to give it expression.

Lagzdina discusses her intentions in music in terms of a necessary spiritual and cultural renewal. The modern world, she believes, is in a fragile balance - threatened by nuclear war and environmental pollution; and our common cultural life, she also believes, is severely compromised by consumerism, social violence and media manipulation. In this context, she questions the role of the artist and of music, and examines the role both have played in the past, concluding that we live in an impoverished state, a spiritual vacuum. Her conclusion, which also indicates her musical strategies, is close to that of the psychologist Carl Jung when he wrote: "Since nobody seems to know what to do, it might be worthwhile for us to ask, whether by any chance (the) unconscious may know something that will help us. Certainly the conscious mind seems unable to do anything useful in this respect." ( The Vision Seminars , Zurich, 1976.)

An early major influence upon her musical vocabulary was the Moog synthesizer. She was introduced to it in Adelaide in 1968, and later at the Conservatorium while studying under Peter Tahourdin, Malcolm Fox and Tristram Cary. Lagzdina says the Moog "awakened a sleeping dragon" within her and she set about learning current music history and theory. An intense period of tape and electronic studio work followed, with special interest in the manipulation and redefinition of voice, instruments and timbre. From 1970 to 1971 she studied the work of dancer and choreographer Merce Cunningham, composers John Cage, Karlheinz Stockhausen and Pauline Oliveros, musician Ravi Shankar and the music of other cultures. She explored forms of graphic notation - which she still prefers to use - and, because contemporary scores were difficult to obtain, she wrote and produced her own in collaboration with other students. Her music degree was completed with a piece titled Witness To A Child scored for a small instrumental ensemble, actors, slides and tape. This was followed by Sonic Dances which used electronic sound pressure floors activated by dancers. Lagzdina remembers Tristram Cary, who taught her electronic theory and composition, as being particularly encouraging with this work.

From 1974 to 1975 Lagzina explored performance aspects of music, at the New Theatre and Gallery of Adelaide University, and later through collaborations with choreographers Cheryl Stock and Tony Strachan from the Australian Dance Theatre ; and also with clarinettist and composer Leigh Hobba and technician and musician Jim Barbour. In 1982 and 1983, she worked with the dancer/choreographer Jane McLennan; and in 1985 and 1986 the two staged performances at the NSW Art Gallery, St John's Hall and the Performance Space, Sydney. Lagzdina has also collaborated with artist Derek Kreckler and composer Caroline Wilkins.

The following work, which indicates Lagzdina's range of interests, all dates between 1981 and 1987:

Film: Teno (1984), a documentary about repetitive strain injury in women, directed by Margot Nash. Girls In Care (1986), a documentary about 12 to 18-year-old girls, directed by Margot Nash. For Love Or Money (1983), about women in Australian history. Electronic soundtracks.

Video: Collaboration with video artist Jill Scott, to collate an exhibition called Audio Eyes (1984), presented at the Artspace, Sydney. A video and sound installation, Double Dream (1985) with Jill Scott, shown at Sydney's Performance Space and exhibited later at the Anzart Festival. Triple Fate (1986), performed at the Art Gallery of NSW. Shock Of The New (1987), performed at Roslyn Oxley Gallery.

Dance: En Passant (1987), music commissioned by the Australian Dance Theatre. Legend (1987), tape piece for solo flute and birdsong, commissioned by the Australian Dance Theatre.

Performance: Collaboration with Jane McLennan in 1981 on music and movement performances, St John's Hall, Sydney. Gallery Series I (1982), a set of mobile performance pieces in collaboration with Jane McLennan. Nobody Approaching Heaven (1985), performed during the Perspecta Festival at the Performance Space, Sydney. Stolen Time (1986), at the Performance Space, Sydney. [1]

Radio: Poetry and music in performance, 1987, for ABC radio's Surface Tension program.

Theatre: Musician at Playback Theatre (Adelaide) throughout 1985. Performer, composer and musician for Hamlet (1987), Phillip Street Theatre, Sydney. Music theatre piece, The White Bird (1987), workshopped and performed at the National Playwrights Conference, Canberra.

In the 70s, while still at university, the question of women in musical history became important; Lagzdina was impressed by their absence and invisibility and began to reflect upon gender modelling, and how male paradigms held sway in the department.

Her composition classes were 90 per cent male and, although women were not prevented from taking part, they were not encouraged either. For Lagzdina it was particularly relevant, because she had a child to raise and felt more mature, in many ways, than most of her student peers. Secondly, she was facing problems she had not known when she was free and independent. The males in the class, she decided, composed largely for each other, in a language understood by few; they worked from an analytical base, were very competitive, and did not consider if or how their works had any larger relevance or significance in the non-academic world - or where or how they could best be performed.

In contrast Lagzdina believed these questions to be crucial ones. Moreover, she had turned to composition as a means of self-exploration and to encounter her deepest creative sources, working largely from an intuitive and feeling basis. However, she also wished to balance feeling with analysis and, in this sense, the male environment had a positive influence, as she began to take the formal and technical aspects of her work far more seriously. This did not, however, prevent her from asserting her own needs and directions. For example, when working as a sound technician for the Festival Theatre she demanded a timetable to suit her domestic organisation. This was not a simple request, but it was respected. Sound technicians, too, were traditionally male.

To indicate the intuitive sources of her music, Lagzdina again quotes C.G. Jung: "A word or image is symbolic when it implies something more than its obvious and immediate meaning. It has a wider unconscious aspect that is never precisely defined or fully expressed." ( Memories, Dreams and Reflections , Collins, 1963.)

In reflecting upon her music theatre piece The White Bird , which dealt with the destruction of Hiroshima, she mentions a classical Hindu religious text, again stressing the need for an intuitive sense of the piece: "The Katha Upanishad ", she says, "turns to a reflection upon death to learn the meaning of life, and to meditation to learn the secret of action."

For Lagzdina, the world of music includes the sound source and the sonic environment as well as the breath, voice, gestures and electronic, electro-acoustical and computer-generated sounds. Her music explores and defines the relationship between sound, image and self; between intuition and reason. She uses tone-colors and body movements to "precipitate an encounter with the collective unconscious". Her most recent work is concerned with the reinstatement of "passion, spirit and healing balance", and music theatre and performance art has been its most apt recent expression.

Lagzdina admits to an endless curiosity about the sounds people and objects make, and the times and places these occur as "the body seeks to achieve harmony with itself". She also agrees with Yehudi Menuhin that music is first and foremost about people.

RECORDINGS

"The Black Snake", NMATAPES 4 , NMA Publications. 1985.
---
[1] Nobody, Approaching Heaven Perspecta 1985 The Performance Space, Sydney written and directed by Derek Kreckler. Stolen Time The Performance Space, Sydney (collaborative work) auteur Derek Kreckler. With thanks to Derek Kreckler for bringing these details to our notice. return
---
© 2000 NMA Publications and John Jenkins