Jim Denley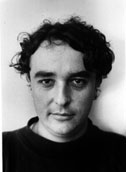 Jim Denley, one of Australia's foremost improvisers of new music, was born in 1957 in the country town of Bulli in New South Wales, and grew up in Wollongong. His father, a fine amateur violinist, launched Denley's musical career when he presented him with a violin on his fifth birthday. Denley also learnt the piano, before abandoning the instrument for the flute at age 11.

From 1969 Denley studied flute at the NSW Conservatorium with the late Peter Richardson, a well-known flautist and interpreter of contemporary music, who introduced him to the flute works of Edgard Varese, Fukushima, Olivier Messiaen and Luciano Berio. At the same time Denley was listening to recorded music by jazz musicians and improvisers such as John Coltrane, Cecil Taylor, Eric Dolphy, Anthony Braxton and Derek Bailey. Even at this early stage, Denley recalls, he began improvising - often with his sister Elizabeth, who played the piano.

Denley's earliest compositions, which date from around age 15, were usually for pre-recorded tape, accompanied by live flute. The sound sources for the tape included household items, such as metal pots and ash trays, used percussively and struck with chop sticks. Denley altered these sounds by changing the speed at which they were recorded or played on his sound-on-sound tape recorder. He presented one such work, Precosioso , in the Wollongong Fusion Festival of Arts in 1973.

In 1976, after a year of playing at restaurants and clubs around Wollongong, Denley travelled to Europe, where he studied Italian and saw major art collections throughout Italy and France. At this time, he was strongly attracted to both music and the visual arts. He did and still does paint: now more often on Sundays. But in London in 1975 he was inspired by the improvised music of Derek Bailey and Evan Pavlier, which persuaded him to choose a career in music.

After Denley's savings ran out in 1976, he worked for a short time selling books in English-speaking schools throughout Europe. This brief introduction to the world of commerce he recalls as the catalyst that finally persuaded him to return to Australia, pursue music seriously, and work towards a musical language of his own.

Back in Wollongong, he began a long-lasting collaboration with Peter Ready, an Illawarra percussionist with an interest in building instruments. They met when both played on a number of occasions in the Robert Lloyd ensemble. In 1979 they constructed several large instruments from salvaged industrial materials, which they named New Music Constructions , and for the next two years toured New South Wales. They performed with these constructions at the Orange Festival of the Arts and held installations and performances at the Mori Gallery and a two- week presentation at the Wollongong City Gallery. Eventually an LP recording of their work titled 25th April 1980 was recorded by radio 2MBSFM and released on Wombarra Records. Their work with the constructions was characterised by a wealth of textural and timbral variety.

Transporting crates of junk and setting it all up before performance presented major logistic problems. Denley's flute and saxophone were a lot easier to manage, and also presented an infinite range of sounds for him to explore. In 1981 the Music Constructions project was disbanded, although Ready and Denley have continued to occasionally work together.

Since leaving school Denley had played jazz and commercial music to earn a living. As an improviser and composer, he feels his working background gives him a deeper understanding of music's social role and encourages a less precious and more natural attitude to creativity. Denley's interest in jazz - as an improviser's discipline - was very pronounced in these early years.

In 1979 he took lessons in composition with the Sydney composer and jazz bassist Bruce Cale and worked in performance with outstanding players such as Cale, Bobby Gelbert, Barry Woods and Andrew Gauder.

But Denley remains unconvinced of the relevance of jazz (as an historical musical practice) both to Australian contemporary musical life and the directions of his own work. If he had been born in Chicago, he concedes, it might be a different story.

In 1981 Denley reached something of a watershed when he embarked upon an important artistic collaboration with the Sydney-based string player and improviser Jon Rose. Over the next five years they formed and co-ordinated the Relative Band , organising numerous concerts around Australia. These took place in major cities and regional centres, and included performances at the Sydney Opera House Recording Hall, the Performance Space in Sydney, and other venues in Melbourne, Wagga Wagga, Wollongong, Ballarat and Geelong.

The Relative Band was a ground-breaking project. It had no fixed lineup - but usually included Rose and Denley - and there was a total emphasis on improvisation. There was no attempt to develop a set style: the ideal was rather for constant change, continuous musical exploration and minimal and ephemeral organisation. Between 1982 and 1985, following assistance from the Music Board of the Australia Council, the band also included distinguished international guest players such as Roger Turner (percussion) and Maggie Nicols (voice) from the UK, Luc Houtcamp (saxophone) and Marcel Cuypers (piano) from Holland and Greg Goodman (piano) and Henry Kaiser (guitar) from the USA.

Around 30 musicians appeared in the band since 1981, including Ryszard Ratajczak (double bass), Jamie Feilding (synthesizer), Sherre De Lys (vocals), Rik Rue (tapes) and Simone de Haan (trombone).

The inspiration of Jon Rose and of working with great improvisers from around the world enabled Denley to finally realise an individual musical language and style. Touring in Australia with David Moss, Eugene Chadbourne, Gillian McGregor, Maggie Nicols and Jo Truman encouraged Denley to utilize and integrate his voice in performance.

Now, when he plays, sounds produced by Denley's voice and instrument often seem to fuse. There is a sense that he is playing from inside rather than outside the music, and reacting to and changing it as it proceeds in a highly sensuous and individual way.

The last performance of the Relative Band was at Sydney's Performance Space in 1986. Because of its Protean disposition, it is able to spring to life unpredictably, but funding cuts and Rose's absence overseas in recent years have put a temporary stop to the band's activities.

In 1983, with Music Board assistance, Denley fulfilled a long-standing ambition to study the flute music of Japan, with Yamaguchi Goro in Tokyo. Goro's A Bell Ringing In The Empty Sky was one of Denley's favorite recordings as a youth, so it was exciting for him to learn from this outstanding instrumentalist. Denley had no ambition to become a shakuhachi player himself, but to absorb some of the sounds, techniques and philosophy of the shakuhachi tradition which might inspire his own music.

Shakuhachi is characterised by a great emphasis on the momentary and the moment. Denley was also particularly attracted to the vast range of timbres available in this style of playing. While in Tokyo, Denley worked with some of Japan's leading musical improvisers, notably the pianist Yoroyuki Hareda, cellist Kideaki Midorikawa and saxophonist Yoshiaki Fujikawa. Denley was also impressed by the fine balance between musical and theatrical elements in traditional Noh drama.

Back in Australia in 1984 and 1985, the Relative Band was on tour. It made recordings for the ABC, and a resulting program, Relative To What? was later entered in the Italia prize for international broadcasting. In 1983 Denley also began working with the Sydney-based composer Rik Rue. Originally, they had met while organising concerts in Sydney. Their duos for live mixed tapes and wind instruments, performed for broadcast and in concerts in Sydney, and their subsequent work together in the group Mind/Body/Split , have been important in allowing Denley to move away from strictly improvised settings.

Mind/Body/Split began in 1985, when some Australian members of the Relative Band decided to try something new. They decided the group should have five members, each of whom organised sound in contrasting and different ways.

The lineup consisted of Denley (wind instruments), Jamie Fielding (synthesizers), Sherre De Lys (texts and vocals), Kimo Venonen (electronic manipulations and samplings), Rik Rue (pre-recorded and spontaneously mixed tapes).

In 1987 Mind/Body/Split compiled, composed, improvised and produced a 40-minute radio program for the ABC called Honey I'm Home .

Music performed by the group in Sydney in 1986 and 1987 was characterised by the use of `pirated' and `found' sounds. Ironies and unique juxtapositions abound within the texts, tapes and instrumental sounds. The listener was rarely sure what had created a particular sound.

Amusingly, Denley characterises the group's aims as `musical trompe l'oeil'.

In 1985, Denley also began working with dancers, such as the Sydney-based Felicity McDonald and Caroline Lung. He was greatly inspired by the American dancer Liza Nelson during her Australian tour in 1985. Dance and music are the most temporal of the art forms, and Denley set about exploring relationships between them. In 1985 he wrote and performed music for the piece Show And Tell , choreographed and danced by Eleanor Brickhill and presented at Sydney's Bondi Pavillion in 1985. In 1986, while in the UK, Denley also worked with Jointwork , the Oxford-based company of dance improvisers, on productions in Leicester and Oxford.

Denley divided his time between Australia, Britain and several European countries in the years 1984 to 1986, and also in 1987, following his marriage to the Oxford-based musician Stevie Wishart. (She plays violin, hurdy gurdy and medieval fiddles.) He also performed for some of this period in Europe with the Australian singer Mara Kiek, who specialises in Balkan music.

Kiek sings a vast range of material relevant to many migrant groups in Australia, and is also a spirited percussionist. Generally, Balkan music is characterised by unusual time signatures, and its melodies, rhythms and meters have contributed to Denley's music.

While in London during 1984 to 1986, for a series of rehearsals and performances, Denley collaborated at different times with British improvisers such as John Russell (guitar), Phil Durrant (violin and electronic treatments), Roger Turner (percussion), Maggie Nicols (vocals), Gillian McGregor (vocals) and Steve Moore (saxophone).

Denley feels all these musicians were important to his development, and helped further his innovative approach.

In 1986, Denley formed a new group called Embers with three of the most interesting new improvisers in London: John Butcher (saxophone), Chris Burne (piano and percussion) and Marcio Mattos (double bass). Unlike the Relative Band , they aimed to create a recognisable ensemble sound.

Recently, Denley has played in the UK in occasional duets with Wimbledon- based violinist and improviser Phil Durrant, and with sound engineer and technician from radio 2XX in Canberra, Kimo Venonen - both of whom use electronic manipulations, treatments and samplings of Denley's source sounds in realtime improvisations. The aim, with each, is to achieve an equal exchange of ideas and input.

Although much of Denley's work is collaborative, he has also remained a soloist throughout his career. In late 1986 he undertook a solo tour through England and Wales, then organised and performed in a program of solo work presented at the Performance Space, Sydney, in 1987.

All Denley's music is characterised by an emphasis on spontaneity and physicality; but also, in his group work, on collaboration.

His style has been most recently based on virtuoso-like and unique flute and saxophone techniques, augmented by vocal and `formant' sounds and by unconventional playing methods.

Martin Davidson, in the music periodical RAM , described Denley's playing in his review of a Relative Band concert held at Sydney's Performance Space in 1985:

"Jim Denley played very fluent flute and saxophone. Equally effective variations on these `official' instruments included a `flax' (his name for a flute with a saxophone mouthpiece, sounding like a clarinet); a flute minus any mouthpiece played with a trumpet embouchure; a flute mouthpiece minus the body; and a complete flute played without blowing."

It is Denley's intention to find a vocabulary of musical techniques, organically and intuitively building upon them in the course of his practice, until they become almost unconscious; until they become uniquely `his' sounds.

The Melbourne-based composer Rainer Linz described Denley's method very accurately in a letter to him in 1986:

"The logic of the playing results from the sound itself or from the flute itself, or from the mouth connecting with the instrument, rather than from the accepted notion of `improvising' as such. I hear an overtone, not an octave, I think of fluctuating air pressure rather than of dynamics[...]"

In Denley's music, his physical relationship with the instrument he plays, and the physical nature of sound itself, are crucial. This physicality also provides much of his subject matter.

In his music, form is ideally determined by the moment; by a dilation of the present, and of its musical richness, so the listener becomes less aware of causality. Denley does not imagine his work in terms of a linear progression, but as a complicated tissue of events. As these make diverse connections, overlap, alternate and re-combine, they become the texture of the whole.

Denley hopes the listener is thereby led to an experience of unbroken wholeness, which also resists classical notions of the analysis of music into autonomous elements.

The Perth-based composer Ross Bolleter emphasised this aspect of Denley's work:

"The feeling is that the music inhabits a territory where each thing is at any instant being transformed into something else[...]"

Denley also regards the environment in which the music takes place to be part of his subject matter, and any sounds it contains to be part of the work.

This may pose a problem of authorship. For example, he recorded a piece entitled Darkes Forest Frogs, in situ at Darkes Forest, Illawarra, in 1986. It is really a trio performance - for two co-opted (though not necessarily oblivious!) frogs, and with Denley playing flute.

Does the sound recordist - on this occasion, Rik Rue - also have a claim to authorship? If so, what about the frogs?

The ethic of improvisation is simply to react to events quickly and profoundly. It follows from this that most of Denley's music is constructed for a particular time and place. However, Denley is not dogmatic about improvisation. He sees no clear line dividing improvisation from composition; and suspects there may be many paradoxical uses of the two terms. He thinks they reflect two general tendencies: one towards spontaneity, the other towards orderly review. To avoid misconceptions therefore, it is probably more useful to think of Denley as an `instant composer'.

Intuitively, Denley has always felt drawn to spontaneous, non-competitive collaboration between individuals. He feels uncomfortable imposing his ideas on other performers, or superimposing what has been appropriate to a particular time and place upon any other situation. In a fanciful mood, he might even equate improvisation with anarchy and composition with Fascism, if these two tendencies are considered at their extremes, but he feels great music can be generated at all points within the spectrum of possibilities these two positions seem to polarise.

Denley says the joys, difficulties, politics and psychology of collaborative music-making have provided essential stimulus to his life and work.

Denley also feels that exploring the moment of creation - when an idea, feeling or gesture is first expressed in sound - is to take part in the most exciting adventure possible for any music-maker. In this sense, Denley is more interested in the process of creation, than in its products. Recordings of his work, then, may be regarded as documentations of events - ones that may suddenly take on a quite different life when on tape. But the point of his music is not to amass a body of work, but to constantly create a musical language relevant to himself and his times.

He is less interested in the known, the notated and recorded, than in the unknown and unexpected - which arises out of a musical discourse with other improvisers, or from a unique inter-action with an audience or with the environment the sounds inhabit, or from within.

An inner dialogue arises from different streams of his own psyche, which provides his main personal motivation. But the audience is also involved in this creative process, perhaps helping to demystify and humanise the creative act.

Citing Arthur Koestler, he believes that much aberrant and dangerous human behaviour may result from the rational and order-producing side of our psyche failing to communicate with our more spontaneous and intuitive side.

Denley sees art as a tool which enables a working dialogue with the unconscious.

In Australia, because of the special nature of the environment - of vast spaces dwarfing a thinly and unevenly distributed population - he believes there is a special need among artists of all disciplines to articulate a spiritual and emotional response to the natural world.

In the English periodical City Limits in 1985, a reviewer of Denley's solo tape release, Solos , wrote: "Flutter-tongued sequences extend into a crude polyphony, or else give way to a percussive use of the keys; notes splashed onto the surface of silence like water dripping from leaves in a sodden woodland."

In special cases, literal interpretations of Denley's work - as in this instance - are not unfounded. Also, he has improvised and recorded extensively in bush and other natural settings.

Because Australia presents a fairly clear slate in terms of world musical history, Denley believes it could be at the forefront of the necessary search for new forms of expression in a rapidly changing world. At the same time, he believes, it will do so by becoming more attuned to the development of world music and international styles.

RECORDINGS

"25th April 1980", New Music Constructions , Wombarra Records 001. 1980.

Rainy Season Music , Fringe Benefit Records FBR 51, 1983.

SNK SNK SNK , (with the Relative Band), Pedestrian Tapes PX00. 1984

Solos , Pedestrian Tapes PX14. 1985.

"What's What" Lunokhod (with R. Rue), 2MBS-FM Cassettes. 1985. Relative Band 1985 ,(with the Relative Band) Hot Records 1017. 1985. Mind/Body Split , (with Mind/Body/Split) Pedestrian Tapes PX16. 1986. The Uncertainty Principle , Pedestrian tapes PX23. 1986.

Forward of Short Leg , (with Jon Rose), Dossier Records ST7529, (UK). 1987.

On the Edge , Sandstock Music SSM025, 1987.
---
---
© 2000 NMA Publications and John Jenkins