David Chesworth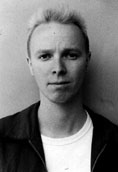 David Chesworth was born in England in 1958 and is a composer, performer and film-maker who has worked in most areas of contemporary music and related arts. Between 1976 and 1979 he studied composition with Graham Hair and Warren Burt at La Trobe University where, after graduating, he was also a tutor between 1980 and 1981.

He formed and played with the experimental rock band Essendon Airport , and has worked as a solo artist on many New Music and performance projects, including Industry And Leisure at the Popism exhibition at the Melbourne National Gallery in 1982; Oedipus Rex with Essendon Airport at the fourth Sydney Biennale and White Trash at the 1983 Paris Autumn Festival.

For five years Chesworth was co-ordinator of the Clifton Hill Community Music Centre in Melbourne and he has released many albums and cassettes of his works, including the recent No Particular Place on the Rampant label.

He feels the best way to describe much of his work in which seemingly disparate elements are combined into a cohesive whole is to think in terms of a `musical cartel'.

The dictionary defines a cartel as a written challenge to a duel; an agreement for exchange of prisoners; or a manufacturer's union to control production, marketing arrangements and prices.

Independent businesses also combine to form cartels.

He finds the term appropriate to a music which presents the listener with a stratified ensemble of musical discourses and styles. In his terms, a union develops between these discourses during composition and then inevitably between the work and the listener, and it is this union that determines the production, level and dissemination of meaning in the music.

This does not mean that the strata are holistic, structural entities. He sees them more as cultural fragments , which the listener may not seek to `locate' in an archeological sense, but rather to hear how they resonate within the ensemble.

His ideas may be better illustrated looking at a number of works, all available on either tape or record and devised between 1978 and 1987.

Although many of these pieces are quite long, they can usually be broken down and perceived as parts or fragments if the listener desires. These smaller units may have musical, textual or even physical differences, but will always relate to the whole. They may follow or, more significantly, co-exist alongside each other. They might rest inside the work - manifested within pitch, rhythmic or timbral structures - or outside it, in the listening context, or via the medium of presentation.

The `cartel' notion also has a bearing on how Chesworth perceives the orchestration of ideas within particular pieces.

The first he recorded, 50 Synthesizer Greats (1978), was played on a crude Korg synthesizer and taped at home on a quarter-track machine with built in `sound-on-sound' facility. Initially, he did not intend to write 50 pieces but, before long, had completed 42 and decided to make it a round figure. All were direct inscriptions onto tape, without prior notation. Once a line was `written', he could not alter it without erasing the entire piece - and it was this that interested him in the project. He did not aim for a particular style but timbre, melody and references to Muzak and synthesizer cliches began to predominate. He was unaware of this at the time, and he thinks that this music will always be his most `innocent'. The way it was put together also illustrates how he is not always sure how a project will evolve; as he tends to work with ideas as he accumulates them.

In 1978 he began playing music with guitarist Robert Goodge, at first as a duo and then, in 1982 - with the inclusion of Ian Cox on saxophone and Paul Fletcher on drums - this duo evolved into the group Essendon Airport . (Later in 1983, the lineup also included Barbara Hogarth on bass.)

Among the material Goodge and Chesworth first played was a collection of guitar and piano pieces called Sonic Investigations Of The Trivial . Performed at the Clifton Hill Community Music Centre and Melbourne pubs and venues catering for an `art and new wave rock' milieu, the music was melodic, repetitious and polyrhythmic.

At the time, the two wrote: "We're combining many of the most facile and insipid kinds of music in a redeemingly dignified manner. If you like, this is creating new trivia out of the old. All this takes place along with a sort of pedantic fetishism for small time repetition games - the music travels in circles, spirals and solid blocks of sameness and difference."

Essendon Airport wrote music collectively, by improvising and introducing individual ideas which were developed into interweaving structures. The lineup remained stable and, whether supporting Midnight Oil at Melbourne's Crystal Ballroom in 1980, or playing at the Cell Block Theatre during the 1982 Sydney Biennale, the group displayed a unique sound.

Also, from 1979 to 1980, Chesworth and Philip Brophy became the short- lived Dave & Phil Duo , and each separately composed rigorously structured pieces for two keyboards, then met to rehearse and perform. They played acoustic instruments, ranging from portative organs and harpsichords to Wurlitzer pianos and Steinways.

Chesworth's next solo project, Layer On Layer (1981), was conceived as a record album from the outset. The instrumentation consisted mainly of `found objects' which had a specific musical quality. The `sophisticated' drums were small Chinese fans made of stretched silk, hit with a toy xylophone hammer; the unsophisticated ones, telephone books and table tops.

A deliberately self-conscious album resulted. Throughout the 11 songs of Layer On Layer, the music and words continually combine, fall apart and recombine, forming a kind of meta-text which is always commenting upon itself. It poses implicit questions about the production of meaning in language. The record also explores rhythm, timbre and how one hears things fitting together in different ways. Rock press reviewers often complained that the voices and instruments were not `in tune'; however this work was primarily concerned with uneven temperament. One perceptive critic, however, was Adrian Martin, who reviewed the album in Art & Text (Spring, 1981).

Recorded at the La Trobe University 8-track studio, the pieces were built up track by track, with up to 30 individual layers of sound in some songs.

After becoming a four-piece group, Essendon Airport released an album of songs titled Palimpsest recorded live at La Trobe University's eight-track studio, with vocals added later, and mixed by the composer. A palimpsest is a manuscript from the Middle Ages (a time paper was often scarce) which has been re-used many times, resulting in an indecipherable confusion of faded, superimposed writings. The title was a metaphor for the way the music the group played or used could not disown its history. That is, it could not disregard or disassociate itself from the ways it had been used in the past or from the meanings it had gathered. Part original and distinctive - but equally borrowed, used and appropriated - the album was concerned with the sense of a music's past existing in the present and playing its inevitable part in constructing that present. Palimpsest was similar to live material the group played in Melbourne pubs and rock venues such as the Crystal Ballroom and at art spaces such as the Ewing and George Paton galleries.

In 1983 Chesworth composed a piece with the aim of exploring and exploiting general audience perceptions of much older musical forms. The work, Stories Of Imitation And Corruption: For Tape , explored more `formal' Western musical structures. It was home-mixed and recorded using a four-track machine, and played from an orthodox score. With paradoxical and humorous intent, it dealt with ideas that were often alien to its musical sources and explored the repercussions of altering and displacing an original musical context. Written in 10 parts, the titles included Bach, 12 Tones, Harpsichord and Double Baroque . The instrumentation consisted of a specially modified Casio digital keyboard and an old recording that demonstrated instruments of the orchestra. The work explored ideas of imitation on a number of levels: imitation in counterpoint and imitation of instrumental timbres, of music `written in the style of' and of musical narrative. Chesworth sought to use some specific, known musical devices, and to apply them in new contexts: that is, by creating a new space for them, they might be found to work differently. He also incorporated notions of `competence' as a valid and affecting musical property within orchestration.

Three years later, in 1986, he was selected by the Australian Music Centre and the ABC to prepare a work for the Young Composers' School, which was to be a 10-minute orchestral piece performed by the Tasmanian Symphony Orchestra at the Odeon Theatre in Hobart. Once again, he titled the piece Stories Of Imitation & Corruption: For Orchestra , and the concert was recorded by the ABC. It dealt with similar concerns to the previous tape piece. In some ways it was a reversal of the earlier work, in that the same elements were involved (tape and orchestra) but their respective context had been inverted. This time, his aim was to place the orchestra in some kind of incongruous setting, to hear familiar orchestral sounds in a different way. He did this by incorporating tape playback into the performance.

The taped sounds consisted of a very low continuous rumble derived from combining the sound of the Sydney subway with sampled low vocal sounds and those of a noisy air-conditioning unit. The orchestral music consisted of `unimportant' fragments (of one or two bars each) lifted from existing musical works by `famous' composers. Deciding just what fragments were `unimportant' and which composers were `famous' he found a difficult and dubious task. In the main, the music was Chesworth's own and used just about every compositional technique he could think of that could be adequately rendered in such small units: including aleatoric, 12-tone and various repetitive techniques. Each style and technique follows the previous one in a completely arbitrary way, with no attempt to link them musically. This was to avoid traditional narrative form (that is, a beginning, middle and end) but still make use of historical structuring devices to create "affecting hints". Chesworth wrote in the program notes: "A flash of recognition, a placement... `that chord', some gestures and responses. It is as if the music has been somewhere else before arriving in this work, and still some of it remains lost, unidentifiable, forgetful, and yet affecting in the raw abstract way that just ain't rational: it is just so."

Returning to 1984, another solo work, No Particular Place was commissioned by theatrical director Kim Carpenter for Nimrod Theatre's 1985 production of A Midsummer Night's Dream . Warwick Bone was the engineer and various players contributed. The Voisus choir was conducted by Anthony Briggs and saxophone played by Ian Cox. In this piece, Chesworth created three large timbral families based roughly around strings, percussion and voice. This meant sampling acoustic sounds into a Fairlight CMI and modifying them, generating fake sounds on a Yamaha DX7, and recording live acoustic sounds such as a clarinet and choir. The idea was to blur the distinction between live and synthesized sound. A single percussive sound might actually consist of live drums, a sampled vocal sound plus synthesized percussion.

Using the Fairlight, Chesworth could write many computer `pages' of music for up to eight instruments, then take one page and insert musical phrases into it from another. He could also assign new combinations of instruments to play from an existing page - with some modifications to balance the score. This enabled him to construct a kind of `complex', or collection of variations on dispersed themes, where a melody in one piece of music may, for example, become part of the harmonic or even rhythmic progression in several others.

In live performance, Chesworth uses and plays with various systems, media and languages. Very often the `event' itself is subverted by its representations. That is, in some pieces it may be difficult for him to pin down or exactly delineate all the elements and processes that make up the `work', and to contain them within an identifiable body. For example, looking at a piece like Industry & Leisure (1982), he might see: 1. A performance with films, slides, music, acting, non-acting and text. 2. A book.

3. A cassette tape with text assemblage insert. 4. An EP record. 5. A job in Fremantle and Melbourne.

If he looks more closely at any of these, such as at the slides, he can see more lists, or rather other systems of enunciation and transformation. There are no hierarchies. Instead, there are doors opening into passageways.

( Industry & Leisure was partly written while Chesworth was Artist In Residence at the Praxis Community Art Foundation in Fremantle, in 1981. It has been performed several times, notably during the Popism exhibition at the Victorian National Gallery in 1982.)

Chesworth's first live performance was a video presentation at Melbourne's Open Channel Studios titled I Only Have Eyes For You (1979). The audience was seated, waiting for him to perform on the harmonium. Two cameras were directed at him, with the image set to appear on two stacks of TV sets placed at the sides, in front of the performer and facing the audience. As he began playing the title tune, the houselights were turned back on and the camera was pivoted towards the audience and began to systematically pick out individuals. These images were relayed to the audience via the TV stacks, as he continued to play in darkness.

The idea of turning things back on the audience developed further in many works that followed. It was not so much a `theme' he explored, but a method which worked alongside and criss-crossed over other methods used within the work and serving it. The audience was able to participate, moving around or within the structures as they were encountered.

In 1983 Chesworth was asked to write and perform a piece for the 1983 Paris Autumn Festival. The curator required it to be `uniquely Australian', a prescription which raised only doubts. In 1983 the subject of Australia had become culturally fashionable world-wide. Chesworth imagined (and correctly, he believes) that the French, like other Europeans, would have preconceived notions about Australian life and culture. These expectations became the basis of his work, Skippy Knows[...] , a collection of slides and songs. He found shots of his family posed against the Australian landscape - a record of them growing up over 15 years - in his father's slide collection. The images even fell into categories. For example, the song Binocular Man came from slides of family members looking across the landscape through binoculars, and out of the frame towards Europe or America or elsewhere. He found slides of Aboriginals, Kangaroos and the Opera House in local souvenir shops. He also plundered the Yellow Pages telephone book, photographing about 60 abstract images of the map of Australia. The music was written around this material.

He saw his role, here as elsewhere, as a collector of evidence. In Skippy Knows[...] , the piece allows the audience to sift through the evidence and make their own maps of Australia.

Chesworth's recent work includes Insatiable , a kind of operatic drama for four singers. It grew out of two live performances at Melbourne's Glasshouse Theatre in 1985, then a week's season at the Performance Space in Sydney in 1986. Later, Chesworth received funding from the Australian Film Commission to make it into a video for television. The cast, in both stage and screen versions, were Jaqui Rutten (soprano), Lloyd Fleming (tenor) and actors John Concannon and Di Emery. The work revolves around ideas that involve the nature of performance. "What does it mean to `perform', who is performing, where is the audience?" are the questions it seems to be asking.

It deals with four performers who arrive at an old, broken-down theatre for an audition. (The location chosen was Storey Hall in Melbourne.) The piece then explores how the performers have prepared for the test. As they wait for the audition to begin, the singers gradually reveal, through songs and recitative, something of their pasts, and speculate upon their futures. These characters are not real people, but representations or archetypes, each with an accumulation of stylistic baggage. As the audition approaches, they try to find out more about each other, but communication problems arise. As their styles are so divergent, they cannot fully comprehend each other's respective approach to the audition. Other special relationships between the four also become apparent during the course of the piece.

The music in Insatiable specifically concerns itself with the act of `telling'. Its narrative takes place at once both `within' the scene, and comments upon it. All the music is derived from four themes which recur throughout the story. Stated simply at the beginning, they become more complex as the narrative splits and recombines. They are: an anonymous piece of Medieval Organum, a simplified version of the theme from Guillaume Dufay's 14th century mass Se La Face Ay Pale , an operatic melody based on the major triad, and the chord progression from the title music of the TV show, Days Of Our Lives .

Returning to the composer's notion of the musical `cartel', and the various ways a listener may or may not seek to locate musical fragments and quotations, the preceding pieces demonstrate how the cartel paradigm is useful in explaining how exchanges also take place between archeological strata within the work.

A cartel provides the "weave of agreement" between strata and the discourses through which these exchanges take place, providing movements of deterritorialisation and processes of reterritorialisation*1. In this context, the word agreements is taken to have its ordinary meaning, but also its musical one - as grace notes, ornamentation and embellishments. (See the Oxford Concise Dictionary of Music .) The points at which these movements and processes take place are not seen, they cannot be isolated. Such an exchange can only be isolated in the `effect' it creates when one steps back from the weave. The musicality of this effect is not available to those who are themselves `political prisoners' in discourse. That is why, Chesworth believes, the institutions and arts councils will always `get it wrong'. For them, the exchanges remain invisible as they see the strata only as independent, hierarchical systems of organised meaning - there is for them no union, no ensemble or orchestration.

The term `union' could be seen as contradictory if we are concerned with multiples, perpetual discourses and exchanges. However, Chesworth argues that the act of musical perception itself may be interpreted as the creation of a union - an infinite union of events involving degrees and systems of tonality, melody, harmony, timbre, texture and rhythm. One may know and feel the affect of a union; equally, one may also organise a union instead of merely listing strata.

In an article titled Australian New Wave And The Second Degree ( Art & Text , Autumn, 1981), cultural critic Paul Taylor commented on certain examples of contemporary Australian musical and visual work, describing it as "[...]simple in form yet wryly sophisticated[...]" He goes on to say, "[...]in its location in the recent past (particularly the artists' teenage years), it detaches itself from its cultural history and aspires instead to a pleasure in dislocation. Roland Barthes, in describing a form of pleasure he called the `second degree' prompts my description of this art in his terms: `The second degree is[...] a way of life. All we need do is change the focus of a remark, of a performance, of a body, in order to reverse altogether the enjoyment we might have given it. There is an erotic, an aesthetic of the second degree [...] We can even become maniacs of the second degree: reject denotation, spontaneity, platitude, innocent repetition, tolerate only languages which testify, however frivolously, to a power of dislocation: parody, amphibology, surreptitious quotation[...]'" (The quote is from [ Roland Barthes by Roland Barthes trans. R. Howard, NY, 1977.)

Taylor continues, "In turning to the echelons of popular culture as a major artistic source and in adoption of bricolage or surreptitious quotation as a basic structure (these artists and musicians) inhabit the realm of the `second degree', styling an art whose experience is subjective and immediate and which depends crucially on the spectator's receptivity to a species of subcultural and often autobiographical signs. The signs themselves are not of primary importance here. Instead the relations between them are pertinent as it is a semiotic interpretation which the art occasions."

However, Chesworth believes the idea of the cartel is not something which can operate out of notions of the `second degree', for often the `effects' of music are too indeterminate and `naturalistic' to be read as such. There are no crucial dependencies on semiotic interpretation, and no blank canvases on which to hang loaded signs. The music is also working on too many other levels for any semiotic interpretation to be of primary significance. Similarly, he believes the cartel cannot be used to describe all musical works which effectively use quotation and collections of stylistic devices.

Chesworth uses the term `cartel' to describe a music which is not merely derivative, but unavoidably formulative - which is not to say that it is also formalistic.

1. "Rhizome" by Gilles Deleuze and Felix Guattari. Ideology & Consciousness No. 8 (UK, 1981).

RECORDINGS

50 Synthesiser Greats , Innocent 1979.

Dave & Phil Duo Present Themselves , (with Philip Brophy) Innocent NON002. 1980.

"Control Room" and "Beating off" (with Essendon Airport), "D9 Divine" (Dave & Phil Duo), New Music 1978/79 , Innocent NON007. 1980.

"Themes & Variations" and "A Minor Problem" (with Essendon Airport), "Da Da Da Da Da Da" (with The Dave & Phil Duo), New Music 1980 , Innocent NON008. 1981.

Layer On Layer , Innocent NON005. 1981.

"The Clifton Hill Community Music Centre" (talk), "Walkie Talkie" (Essendon Airport), Fast Forward 006 . 1981.

"Playschool" (with Essendon Airport), Art Network Music Supplement, Issue 6, Flexi-disc AN 001. 1982.

"Untitled", Tape (Decisions) RASH R004. 1982.

Anne Cessna & Essendon Airport , Innocent NON003. 1982.

Spiral Rebound , (re-release of first two albums) Innocent NON005/011 1982.

Sonic Investigations of the Trivial , (with Essendon Airport) Innocent NON012. 1982.

Industry & Leisure , (cassette) Innocent 1982. (EP NON012) 1982.

"Martial Art" and "What I Like About Disco" (with Essendon Airport) NMATAPES 1 . 1982.

Palimpsest , (with Essendon Airport) Innocent NON013. 1983.

Skippy Knows , (with Whadya Want?) HOT CORLP001. 1985.

Life on TV , (with Whadya Want?) HOT CORS001. 1985.

No Particular Place , Rough Trade/Rampant MLRR011. 1986.

"Life On TV" (with Whadya Want?), This is Hot Two , White Label, HOT. 1986.

"Snapshot", SNX - Popular Music of Tomorrow , Hawai 006, Belgium. 1986.

Tantrum , Rampant MLR054. 1987.

Stories of Imitation & Corruption for 1) Tape 2) Orchestra , Pedestrian Tapes PX33. 1988.

FILM and VIDEO (All Directed by David Chesworth)

Don't Harp On It , (Video), National Library of Australia. 1979.

One Plus One , (Video), National Library of Australia. 1980.

Glaring In Secret , (Video), National Library of Australia. 1980.

Factory , (Video), Co-director Anne Carter, Media Department Collection, Melbourne CAE. 1984.

Insatiable , (Video), Distribution: Australian Film Institute. 1987.
---
---
© 2000 NMA Publications and John Jenkins