Warren Burt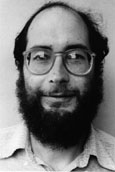 Warren Burt, composer of electronic and acoustic music, was born in 1949 in Baltimore, USA. He grew up taking part in a range of musical activities, sang in church choirs, took private accordion and theory lessons and learned the flute in junior high school.

His father - a construction electrician and amateur musician who played the accordion, harmonica and ukulele - now owns an 8-track recording studio and has a patent pending in harmonica design. He was also a painter and photographer and did much by example to encourage his son's talents. Burt's mother was also very supportive.

Burt still regards Waterford, NY - the village in which he grew up and lived from 1953 to 1971 - as home when he visits the USA. Waterford is near Saratoga and Tanglewood, which held summer festivals, and Burt was constantly exposed to the culture of New York and Boston; for example, by the time he was 20 he had attended all the Stravinsky/Balanchine New York City Ballet collaborations.

Burt went to LaSalle Institute, a Roman Catholic military academy in neighboring Troy, NY, from 1963 to 1967. This made him distrust all forms of military authority and, by extension, all other forms of authority and thus the basis of his later anarchism was established. LaSalle also taught him an ability to reason logically and inquire deeply into things, in the Catholic scholastic tradition.

He played piccolo in the school band and, because the bandmaster was often in extremely poor health, had complete musical freedom. Although he received little musical education at this time, he did continue his accordion and theory lessons. This was probably a crucial factor in his development, in that his musical and artistic tastes were free to develop along their own lines.

Being a good student, it was clear Burt should attend university. His father encouraged a career in microelectronics, but Burt favored music. But it was necessary to specialise. Should he become a performer, historian, theorist or composer? He hated to practice, so a performance career was discounted. Theory and history, he reasoned, were essential in any case, so why specialise in them? This left composition.

In 1967, he began studies at the State University of New York at Albany. From Joel Chadabe, his composition teacher, he received the basis for understanding process thinking, random musical processes and a refreshing sense of the normality and acceptability of what might, to the orthodox, have seemed outlandish musical practices. Albany also brought important composers and new music performers onto campus. As an undergraduate Burt was able to meet such composers as Americans John Cage, Kenneth Gaburo, Salvatore Martirano, Robert Ashley and Alvin Lucier, and Australian Keith Humble, and to assist in their productions. In addition, fellow students like the electronic composers Rich Gold, Phil Edelstein and Virginia Quesada, all contributed to a very fertile musical climate. Interaction with the theatre and art departments was also encouraged.

In 1970, Burt visited Belgium, France, Scotland and Germany - where he attended the Darmstadt Summer New Music School - then spent six weeks in England. Already steeped in the ideas of Charles Ives, Edgar Varese, Carl Ruggles and John Cage, he found Darmstadt (and Europe generally) precious and stifling. In America making new music was simply something one did. In Europe it seemed treated in a manner he characterised as "empty historische big deal", and it left him disillusioned.

After Darmstadt, Burt made his way to England, where he attended a concert by English Composer John White at the London Arts Lab. It was of a three-hour piece for two toy pianos, based on found object fragments from the Musica Brittanica and it opened up a vast field of musical activity for him. Meeting and talking at length with White was extremely important. It licensed Burt's own explorations of all musical tastes and materials - from the low-down, gut-bucket and silly to the most sensitive, serious and meaningful.

In 1971, Burt began his Masters degree in Music at the University of California, San Diego. Not only did he learn many valuable things from his composition teachers Robert Erickson and Kenneth Gaburo, and from other teacher/composers such as Keith Humble, Pauline Oliveros and John Silber, he worked in diverse fields of music and art. As a fellow in the University's musical research unit, the Center for Music Experiment, from 1973 to 1975 he was involved in researching and performing with the Extended Vocal Techniques Ensemble, a group which researched the limits of the human voice and improvised and composed using the new sounds they discovered. He also took part in building and developing the CME Analog Electronics and Video studio, the non-computer wing of CME's electronic research. Here he began his long and musically fruitful friendship with composer and electronics designer Serge Tcherepnin.

His other work in San Diego, apart from his studies and researches at the University, involved working with Californians Ronald Al Robboy and David Dunn on many music and performance art events. They formed two groups: Fatty Acid specialised in `incompetent' performing and musicology (using mistakes as a means to discover hidden beauties), while Young Californian Minimal Artists (YCMA) specialised in environmental performances. A typical piece performed by the group was Mr Burt His Memory Of Mr White His Fantasy On Mr Dunstable His Musick for two toy reed organs and two toy pianos. Performed in the sculpture courtyard of the La Jolla Museum of Contemporary Art, it lasted two hours.

The four players sat around a card table playing fragments taken from a piece by English Renaissance composer John Dunstable, based on Burt's (faulty, as it turned out) memory of the performance of White's referred to earlier. It was performed with the players inside a large cardboard and cloth `pagode' designed by Californian decorative artist Kim MacConnel and painted in bright gaudy colors. It was as if a giant, out-of-tune, slightly wonky music box had been left running in the sculpture courtyard by some Brobdingnagian child.

Also in 1975, Burt finished building his Masters' piece, Aardvarks IV , a digital electronic composing system which made musical choices (which note, when, what color next?) based both on the composer's programming and interactions with the system in performance.

(He had been involved in this `interactive composition' method since being introduced to it by Joel Chadabe in 1969.)

In 1974, Burt was offered a teaching post at Melbourne's La Trobe University. He came to Australia, fell in love with the country and decided to stay. Today he is still an American citizen, but a permanent Australian resident.

He began teaching at La Trobe in July 1975, concentrating on theory and electronic music. He also developed the electronic music and video synthesis facilities on campus, and assembled a comprehensive analog electronic music studio.

The Melbourne arts scene in 1975 and 1976 seemed in a state of ferment. Burt discovered an exciting range of arts activities centred around the Ewing Gallery at Melbourne University, the La Mama Theatre in Carlton and magazines like Arts Melbourne and Cantrill's Filmnotes . He plunged into work with Ron Nagorcka and others, organising the Gardens and Galleries International Electronic Music Festival in January 1976. This was a two-week festival held at the Why Not Theatre and the Student's Church Garden, Carlton, attended by about 600 people over the period.

In 1975 he and Nagorcka founded the live electronics duo Plastic Platypus , and in 1976, again with Nagorcka and radio producer and sound engineer John Campbell, helped set up the Clifton Hill Community Music Centre. From 1977 to 1978 he produced the New And Experimental Music Show on radio 3CR, again with John Campbell; and from 1977 to 1978, published the New Music Newspaper with Australian composer Les Gilbert. All these organisational efforts were pursued in a very open way. No composer or style was consciously excluded and, in the case of the radio show, a policy of at least 60 per cent local content was successfully pursued.

From 1976 to 1977 Burt returned for a few months to the USA, where he gave 14 performances of his video/spoken/electronic opera Nighthawk , composed between 1972 and 1976.

The tour of the USA included performances at the University of Illinois, the Experimental Intermedia Foundation in New York, California Institute of the Arts, and Oberlin College.

Burt returned to La Trobe in early 1977, and organised video shows with video artists Kira Perov, Robert Randall, Frank Bendinelli and Stephen Jones; electronic music activities with Ron Nagorcka, Chris Mann and visiting American composer James Fulkerson; and concerts at the Clifton Hill Community Music Centre (he was co-ordinator in 1977). He also met and began working intensively with New York-based choreographer Eva Karczag in Sydney, and she remains one of his closest friends and artistic collaborators.

In 1978 Burt left La Trobe and travelled to Italy, Belgium and England. He performed with Eva Karczag at Dartington College of Arts, Devon, and with Mann at the Bath Arts Collective, as well as solo on his latest composing machine, Aardvarks VII , which was designed to combine random processes and extremely precise tuning.

The solo performances took place at the Church of Santa Caterina, Treviso, Italy; the Palais des Beaux Arts, Brussels; the Institute of Contemporary Arts, London; and finally at the Experimental Intermedia Foundation, New York City.

Early 1979 found Burt back in Europe, this time for the Plastic Platypus tour of Europe with Ron Nagorcka. It covered 17 cities in 34 days and traversed Europe from Oslo to Rome. He also received a 1978 Young Composers Fellowship from the Music Board of the Australia Council, which allowed him to work on his Epic Monumental Project , a series of five media works.

Most of 1979 was spent working on the project, together with three months teaching at the NSW Conservatorium in Sydney, substituting for Martin Wesley- Smith. The work took him to New York (collaborations with Ned Sublette and Eva Karczag), San Diego (collaboration with Ronald Al Robboy on Der Yiddisher Cowboy and to Phillip Island, Victoria (collaborating with 5000 fairy penguins).

The pace of life in these months was killing and in May 1980, in San Diego, on his way back to Australia, Burt suffered a nervous breakdown. He spent the next four months in Waterford, slowly recuperating and piecing together his shattered nerves, while vowing to learn to live more sanely.

In September he returned to Melbourne, and in 1981 began part-time lecturing in music theory again at La Trobe. The following year was busy, with performances of his Explorations Of 31 and Sound Garden for the first Australian Sculpture Triennial, held at La Trobe University and Preston (now Phillip) Institute. He also organised (with Australian composers Barry Conyngham and Peter Tahourdin) the International Music and Technology Conference at Melbourne University and the Music/Language concert series at La Trobe. The latter was the first comprehensive showing in Australia of a broad spectrum of work in the area of compositional linguistics, with first Australian performances of works by Americans Jackson MacLow, John Cage, Ned Sublette, Herbert Brun, Kenneth Gaburo and Benjamin Boretz, and Australians Chris Mann and Walter Billeter.

At the end of 1981, Burt left La Trobe following a dispute over the need for and nature of student assessment, convinced he was unsuited to the life of an academic. He then found congenial work as a part-time writer and editor for the Council of Adult Education, Melbourne, writing and editing a 24-part series of pamphlets on many aspects of Western, contemporary and world music. The pamphlets, which have proven very popular, are still used by the CAE.

Other work in this period includes a two-hour radio documentary on the American composer Harry Partch for an ABC Radio Helicon broadcast in 1983, as well as producing the Australia Council-funded Composing For Radio series for the Public Broadcasting Association of Australia.

His own compositions from this time include Studies For Synthesizer , 17 two-minute electronic pieces exploring many contemporary musical problems, and the political, anti-weapons industry multimedia piece, Arsenal Of Democracy , for any four melodic instruments, tape and slides. He performed many concerts at venues such as CHCMC, La Trobe University and the Canberra School of Music. This activity culminated in an invitation to perform at the 1983 Paris Autumn Festival held at the Pompidou Centre. It was `Australia's year', with exhibits of Australian film, music, painting and Aboriginal arts taking place in a variety of venues around Paris.

For Burt, however, it was very disappointing. He was not impressed with what he saw as the pomposity and preciousness of "the European high-art culture game", where the presentation of works designed for intimate spaces took place in giant art-caverns surrounded by showbiz-style hype. In fact, his perceptions of "the European art-racket" hadn't changed much since his earlier visit in 1970. However, Burt recognises that judging European culture in this way is very unfair, akin to judging all American culture by what happens at Lincoln Center.

Burt returned to Australia, via the USA, in December 1984. Before arriving, however, he took part in a concert tour, Talk And Music , with David Dunn, in which they presented papers and pieces at Harvard and Drew Universities, and in San Diego, New York and San Francisco. He also completed a number of works for instruments, electronics and environmental sounds, including his computer- composed Piano Quintet , for piano and string quartet; The Wanderer , a microtonal score for english horn, bassoon, french horn, bass trombone, viola and cello based on a text by Australian poet Christopher Brennan; also the American portions of his Three Environmental Compositions , an extended tape work.

In early 1985, he taught briefly in the Music School of the Victorian College of the Arts, then began a series of freelance consultancies and residencies that continue, precariously, to the present. In September he began a new position as artist in residence with the CSIRO Department of Applied Physics at Monash University. It proved one of the most positive experiences of his career. He designed and built a new musical instrument, a set of aluminium tuning forks tuned in `just intonation', a special system derived from the ancient Greeks in which musical intervals are tuned so that they ring purely, without vibrato or beating. As well, he experimented with the effects of playing sounds in gases other than air, and wrote a number of pieces, such as Almond Bread Harmonies I & II for treble tuning forks, and Pythagorean Gas Dances , for electronic sounds played through different atmospheres.

The residencies continued and in March 1986, at the invitation of David Dunn, he went to Los Angeles to join the privately funded arts/science think-tank, International Synergy. His work with Synergy included a series of meditations for sound and video. Work from this series was shown at the American Film Institute's National Video Show in 1986, and won first prize in the computer graphics division of the 1986 Sydney International Video Show.

In 1986 Burt's Piano Quintet was performed at the Summer Composer's Institute at California State University, Long Beach. This represented the first performance by professional musicians of his chamber work in nine years. Chamber music forms a large part of his work (he has written around 35 large chamber pieces) but it has remained sorely neglected. This performance was a welcome exception.

In 1968 Burt worked on various computer composing projects with mathematician Henry Hunter in Albany, NY, then returned to Melbourne in October. Immediately he plunged into work, constructing the score for Voices, Tuning Forks And Accordion from the computer work he and Hunter had completed. It was performed by the Melbourne-based Astra Choir in November of that year.

This was a major work, unifying Burt's interests in random composing systems, juxtaposition of opposites and just intonation in one large concept. In performance, each member of the choir was allocated a single tuning fork, chosen to lie comfortably within their vocal range. The singers were arrayed around the inside of a large, resonant space - in this case the Dome Reading Room of the State Library of Victoria. Each singer played one fork, and sang only the pitch of that fork. The accordion, which has a timbre devised so as not to blend with that of the forks, played a series of florid melodies. In response, the choir replied with clouds of sustained tuning fork sounds and long sung notes held for the length of a full breath. Both the accordion melodies and the choir/fork clouds were realisations of successive generations of the same structure. These were developed by Hunter and derived from the computer game called Life , a mathematical pastime which has various applications in topology and ecology. The piece consisted of 31 episodes, each of which had an accordion melody and an answering choir cloud. The piece simply stated its material, which developed in a very slow, non- traditional manner, and then stopped.

In 1987 Burt continued his interest in computer composition with his String Quartet No 4 , and in environmental and improvisational interaction with Responses And Compressions . In the latter, a structure was provided for improvisers to interact with environments, but the musical content (what they played) was not specified.

Burt continued a series of collaborations and concerts with Ernie Althoff, and recently completed a five-way collaboration for radio with Chris Mann, Les Gilbert, Walter Billeter and Kris Hemensley. Titled Words And Sounds In The Australian Landscape , this piece was commissioned by the ABC for the Australian Bicentennial.

Of the many concepts which are central to his work, the one perhaps most crucial is the idea that `both/and' situations are superior to `either/or' ones. That is, he prefers to look at both the materials of art and the social situations and judgements that surround them as continua rather than as discrete units and, Whitman or Thoreau-like, critically embrace the whole of the continuum rather than only one part of it. For example, in his work many examples of the lowest, crassest kind of bad taste can be found, such as in Dr Burt's Disco-Fat Arkestra Plays Their Greatest Hits (1981) for computer synthesised big band; as well as a number of works which unblushingly attempt to achieve the most subtle kind of serious intensity, as in his An Eminently Performable Piece , (1982) for Serge synthesiser. He does not regard either of these strategies as opposed but rather, as complementary.

He has used many different kinds of random processes in composing his works, from Cageian number systems - used in the super 8 film Dandenong Forest: For Cage And Thoreau (1983) - to environmental interactions, as in Responses And Compressions (1987).

He has also used artificial intelligence programs, as in Piano Quintet (1983), as well as popular gambling charts in the 1980 computer piece From The Dreambooks .

Improvisatory and machine interaction systems were employed in Solos: Degenerative Pleasures Of The Text-Sound: For Herbert Brun (1984), for live computer. As well, he has used the most deterministic and demanding serial procedures, as in Fantasia (1986), for computer; and also the most happy reinvestigations of tonality and minimalism, as in Non-Aligned Misreading Of The Constructivists (1976), for two pianos.

He uses these processes not only to go beyond the limits of his own taste, but to make musical objects that require him to adjust his ways of hearing and liking in order to meet the demands they pose. Communicating this open-ended attitude to listening and experience is what he is primarily hoping to achieve through his work. Wherever there is a choice, he says, tick all of the above.

RECORDINGS

"Aardvarks V: Study for Symphony" Australian Digital Music , Move Records MS3027, 1978.

"Quivering Aesthesia on the Downs" New Music 1978/79 , Innocent Records NON-007, 1980.

"reLoopse" New Music 1980 , Innocent Records NON-008, 1980.

Song Dawn Chords , Rash Tapes, R002, 1980.

Five Adventures of a Stunned Mullet/Just Improvisation , Lingua Press, Iowa. 1981.

Four Pieces for Synthesiser , Scarlet Aardvark Tapes, Melbourne. 1981.

Studies for Synthesiser , Scarlet Aardvark Tapes, Melbourne, 1982.

"Studies Nos. 1-4", NMATAPES 1 , NMA Publications, 1982.

"You Want, Maybe, Something a Little Intense Diatonic? (Study No 15)", The Musician's Tape , Serge Modular Music, San Francisco. 1983.

"Trivial, Yes, but Not Vacuous", Computer Music , NMA Publications, 1983.

"Justice, Equality and Beatings I", IS Journal No 2. Cassette Supplement, International Synergy Institute, Los Angeles. 1986.

Music for Tuning Forks , Scarlet Aardvark Tapes, Melbourne. 1987.

"Improvisation in Two Ancient Greek Modes" (excerpt), From the Pages of Experimental Musical Instruments. Vol 2. , Experimental Musical Instruments, Nicasio, California. 1987.

FILM and VIDEO

"for Ives and Jobim", Director Warren Burt, MIMA Yearbook Vol. 1 , (Video), Modern Image Makers Association, Melbourne. 1983.
---
---
© 2000 NMA Publications and John Jenkins