Philip Brophy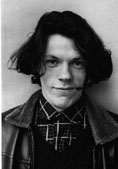 Philip Brophy, a composer who views music production in terms of a continuing cultural discourse, was born in Melbourne in 1959, and from 1977 to 1979 studied film theory and philosophy, concentrating on aesthetics and linguistics, at La Trobe University.

He had first intended to study music but became frustrated by the purist and formalist pursuit of serial-derived composition that held sway in the music department, and by what he felt were the narrow anthropological leanings of musicology.

His decision to "do something" with music was made in 1976, after his teachers at Preston Technical College exposed him to Dada, conceptual art, minimalism, performance art and experimental music. These formative years were also important in his half-conscious choice not to specialise in any area.

Following the tenets of conceptual art, the idea was what most interested him. Thus he defined the production of art as a practical and material way of `writing'; of proposing certain views through the manipulation of materials, or of sett ing up processes and viewing their effects upon himself and audiences.

In this sense, Brophy is a user , rather than composer, of music. Nearly every musical construction (or deconstruction) he has executed has been spawned by something extra- or ultra-musical; something that the music - viewed as a primary, singular or hierarchical discourse - cannot (and is not expected to) contain or withhold.

He does not regard the intricacies of acoustic and/or harmonic elements as constituting his material, either in terms of phenomenological presence (listening as experiencing) or compositional performance (listening as comprehending). Rather, he constructs a dialogue in which sounds are regarded as textual elements, the role of which vacillates between the cultural effects of materials and the material effects of culture .

His compositional process and method is experimental by consequence, not desire. Through it, he does not seek to efface himself in the wonder of sound, but to encode his presence and absence within the many voices that make up sound. His function as a `composer' is to take part in a cultural dialogue.

From 1979 to 1981 he became a graphic designer, working in the then- burgeoning `alternative music scene' - typified by radio 3RRR-FM, inner Melbourne venues such as the Crystal Ballroom in St Kilda, and small record labels such as Augogo Records. At this time he also designed the bulk of the Clifton Hill Community Music Centre's posters.

In the following two years Brophy began writing articles on cultural theory and its relation to the visual arts, popular music and the cinema, and was published in magazines such as Virgin Press, Art & Text and Fast Forward . He also presented papers at various conferences, including The Australian Film and History Conference (1981), The Sydney Super-8 Festival (1982) and The Tasmanian School of Art Forum Series (1982 and 1983).

In 1982 he began teaching Sound and Media as part of the Media Arts course at Phillip Institute of Technology, Victoria.

He shifted from writing cultural theory in 1983, dissatisfied with debates he saw as already dated. These involved notions of `mass' and `popular' culture, `high' versus `low' culture and working class leisure activities. While still contributing to Tension, Third Degree and Art Network magazines, he also sought publication in `non-theoretical' and `mainstream' publications, as the chance to expand their boundaries seemed more exciting than academic haggling.

In 1985 he began teaching a critical history of film soundtracks at the Royal Melbourne Institute of Technology and, in 1986, incorporated this material into his course on Sound at Phillip, continuing at RMIT with courses on experimental narrative cinema and the horror genre.

Ten years earlier, it had not appeared problematic that he could enjoy Gary Glitter as much as Karlheinz Stockhausen. (Today, he prefers Glitter.) That there seemed no obvious way of relating the two seemed to offer a cultural lesson. He was able to trace the planar movement of these two identities - their spheres of location; their inscribed, prescribed and described roles in art. The space their paths defined became a map of musical culture, allowing him multiple entry points into their flow. He still retains the approach of following culture (as one follows the career of a star or idol) as apposed to the orthodox methodology of `analysis'. In 1977 Brophy invented a name for his artistic projects. The visual name is taken from his first and only sculpture, of three arrows fixed to the corner of a room. They indicated the three descriptions of volume: length, width and height. At the time, he was obsessed with arrows - they seemed the ultimate sign. The verbal name, tsk tsk tsk , was applied later, when he became more interested in language and grammar.

His initial interest in this project sprang from notions of the material and conceptual resources offered by art. Also, he was impressed by Marcel Duchamp's and Andy Warhol's views on what constituted `the artist' within networks of communication. He disliked the idea of his own name being attached to productions and projects, as it would tend to humanise and personalise, and hence distort, processes that were more social and cultural. The name tsk tsk tsk could also itself function as a sign, a linguistic identity charting the flow of projects through and across social spaces "somewhere between Art and Pop". Brophy considers this strategy has worked, although not without difficulties.

Brophy then became a sort of `director' for a group of friends: Ralph Traviato, Anthony Montemurro, Maria Kozic, Jayne Stevenson and Leigh Parkhill. His role was to put forward initial ideas for a project, then - with either controlled or uncontrolled input from those taking part - shape its realisation.

Counter to popular assumption, tsk tsk tsk was not a collective, as the group saw the collective model as inherently impractical and unworkable. As director, Brophy could draw on the group's resources, and the group could learn about various ways in which culture was produced. Members sometimes performed their own solo work, sometimes using other members in a similar directorial role. From 1977 to 1981 they worked in this way. There was an organically changing personnel - depending on who was interested and available. To date more than 60 people have been involved in tsk tsk tsk productions.

Until 1982 Brophy had written all music required for various projects, which were initially sets of songs or pieces presented under a project title and performed as live music (see below).

Individual pieces had to relate to a general concept that was concerned with a particular style and/or aspect of musical production, centering as much on its cultural values as its musical effects. Excerpts from these sets of pieces have been released on record.

The following were all devised between 1977 and 1980, and give an idea of the range of Brophy's and the group's interests: Minimalism (1977), for saxophone, guitar, piano and two synthesizers, consisted of approximately 12 pieces "dealing with minimalist processes and their ability to convey the grammatical base of harmony, as apposed to its sonic phenomenology".

Punk Band (1977), for vocals, saxophone, drums, guitar and synthesizer, consisted of approximately 20 cover versions of Glam Rock songs; and was a party band.

Feminimalism (1978), for guitar, piano, two synthesizers and flute, was a reworking of the pieces from Minimalism , performed by an all-girl group.

Nice Noise (1978), for drums, guitar, saxophone, bass synthesizer and drum machine, consisted of approximately 20 songs experimenting with the notion of Muzak as "a combination of stylistic presence and expressive absence".

Self Distortion / Self Destruction (1979), for two synthesizers, guitar, saxophone and drum machine, consisted of 12 reworkings of the Minimalism set.

Narrative Music (1980), for three synthesizers and drum machine consisted of seven pieces concerned with articulating "a communicative model of `writing/telling/reading' in place of `composing/performing/listening'".

Formula Disco (1980), for drums, guitar, bass, synthesizer and tape loops, consisted of approximately 10 pieces clinically deconstructing the various essences of disco formulae.

Wartime Art (1980), for three saxophones, drums and two synthesizers, consisted of 10 songs, half of them cover versions, playing with the signification of martial qualities in music.

In 1980, Brophy co-founded Innocent Records with David Chesworth. The label featured many performers connected with the Clifton Hill Community Music Centre, including tsk tsk tsk, David Chesworth, Synthetic Dream, Essendon Airport and The Dave & Phil Duo . Most recording was done at La Trobe University's 8-track studio where Chesworth was studying. Concurrent with the management of the label they also co-edited, published and distributed the New Music magazine, which documented work from CHCMC. The magazine, funded by benefit concerts, helped shift work from the centre into a more public arena. Concerts included those at the Guild Theatre at Melbourne University and the Glasshouse Theatre at RMIT. Two compilation alb ums of performers featured in New Music were also released on Innocent Records.

By 1982 tsk tsk tsk had ceased live musical performance and concentrated on film and video production, mainly because the group was producing a great deal of work that remained undocumented, and fewer people were involved in productions.

At this time Brophy was also working as a soloist, making film soundtracks, while still developing interests that had fuelled his earlier work. His output of this period was funded by tsk tsk tsk , except for Still Rock 'N' Roll To Me , supported by the Public Broadcasting Association of Australia. As well as concert sets, Brophy was involved with various multi-media performances which included music scores and soundtracks. Even more so than in the concert sets, the music for these projects played a highly specific role within the total piece.

In the following theatre and performance areas, the musical scores were able to stand alone as listenable pieces, as they were primary or even central to the work:

Kaboom (1978), for four performers, slides and taped music, with excerpts from film dialogue. More tedious Structuralism parts I & II (1979), for live music and vocals, tapes and assorted props. Asphixiation - "What is this Thing Called `Disco'?" (1980), for 80 slides, taped music with and without vocals, accompanying gallery installation and five performers. Television Works (1981), for taped music with and without vocals, video, assorted props, slides and five per formers. Noise Versus Muzak (And Vice Versa) (1981), for taped music and sound effects, rear-projected film and two performers. Stills (1986), for taped score in 10 sections featuring tape manipulation of original sound effects, rear-projected film, assorted props and four performers.

In the following video/performance pieces the music scores were often very severe and austere. They usually directly accompanied (and contributed to) the work's textual deployment, and ranged from deconstructive to process pieces. In each there was an emphasis on incorporating video into live performance:

Familiar Females Return (1979), for live music, closed-circuit TV and five performers. Suddenly - I Moved ... (1979), for live music, video tape looped across four TV monitors, live spoken text and three performers. By The Light (Of The Silvery Moon) (1979), for live music, four TV monitors and four performers. A Non Space (1981), for four TV monitors, taped music and four performers pre-recorded on video.

In the following film and video soundtracks, the music was devised as part of a pre-recorded presentation (in a gallery or cinema), and some have since been released on record. Generally, most of the multi-track recording was performed by Brophy unless some special instrumentation was required:

The Opening Ceremony Of The 1980 Moscow Olympics As televised By HSV Channel 7 (1980), for vocals and synthesizers. No Dance (1982), for synthesizers, drum machine, saxophones, guitar, bass guitar and incorporating five songs. Ads (1982), for drum machine, synthesizer and incorporating seven songs. I You We (1983) for drum machines and synthesizer. Caprice (1983), a video clip for the Caprice record from 1980, for saxophones, guitar, synthesizers and percuss ion. Muzak, Rock & Minimalism (1983), an extended video based on the Venetian Rendezvous record from 1979. Still Rock 'N' Roll To Me (1983), a stereo radio play. Romantic Story (1984), for programmed keyboards and including three songs scored for the remake of the 1981 super 8 film, Romantic Story (1984). Paintings (1984), for synthesizers. The News (1984), a tape manipulation of newsreaders' voices. Club Video (1985), a tape manipulation of 101 records.

In 1983 the MADE BY tsk tsk tsk book, which documented the initial years of the group's work, was published with assistance from the Visual Arts Board of the Australia Council. In the same year, Brophy also began publishing Stuff magazine, which included articles on music and sound. To publicise the MADE BY tsk tsk tsk book there followed a national tour of The tsk tsk tsk Installation , which took the form of a living room setting, and was exhibited at the Art Gallery of NSW, the Institute of Modern Art, Brisbane, the Tasmanian School of Art Gallery, and the Praxis Gallery in Fremantle, Perth. At this time Brophy also began Present Records , which presented solely tsk tsk tsk material.

In 1983 and 1984 Brophy toured extensively in the UK, USA, Europe and Japan, presenting various works and occasionally performing live. The tsk tsk tsk Installation was exhibited at the Museum Of Modern Art, Paris. Noises Versus Muzak was performed at Time Based Arts, Amsterdam and the Institute Unzeit, Berlin. Formula Disco was performed at the Museum Of Modern Art and Cent-Vignt Nuits, Paris, and at the Mazzo Club, Amsterdam. Various films were also shown at the aforementioned, and at other, venues.

The end of 1985 and first half of 1986 were absorbed by the preparation, production and touring of the Stills project: a multi-media work involving film, soundtracks and four performers; Maria Kozic, Melanie Brellis, David Chesworth and Kim Beissel. The project toured Europe in 1986, and was performed in various venues in Amsterdam, Munich, Brussels and London.

Upon returning from the Stills tour, Brophy re-organised the output of Tsk Tsk Tsk into four discrete areas: Dumb films, Regeneration video, Stuff publications and Present Records . As these areas consolidate, he will be able to return more often to live performance, some of which is likely to involve sound and music. However, his recent projects have tended to centre around soundtrack production, in particular those dealing with tape manipulation, as in those earlier explored in The News, Club Video, Stills and Still Rock 'N' Roll To Me .

Brophy's recent work includes Who Said What , a piece for radio; Locations , a video piece; also the soundtrack for the film titled Salt, Saliva, Sperm And Sweat.

RECORDINGS

Venetian Rendezvous , Blank Label, 1979.

Nice Noise , Blank Label, 1979.

Pop Art , Crystal Ballroom, MLC-102, 1979.

" " , Blank Label, 1980.

L'Acrostique D'Amour/The Crush , Missing Link Pre-1, 1980. Re-released on Asphixiation ONO-001.

"Various Levels", New Music 1980 , Innocent Records NON-008, 1980.

Dave & Phil Duo Present Themselves , (with David Chesworth) Innocent NON002. 1980.

"D9 Divine", New Music 1980 , Innocent Records NON-008, 1980.

People with Leukemia , (with The Chocolate Grinders), Innocent NON-006, 1981.

Spaces , Innocent Records NON-007, 1981.

"Oomgawa Wanna Tubba Bibi", New Music 1978/79 , Innocent Records NON-007, 1981.

What is this Thing Called Disco? , Asphixiation ONO-002, 1981.

"I want I am I think", Tape (Decisions) , Rash R004, 1982.

The Hot Half Hour , (with The Hot Half Hour), Man Made MM-001, 1982.

"Lump That", Fast Forward No 12 , (cassette magazine), 1982.

"Rhizome is a Big Word", Art Network Music Supplement, Issue 6, Flexi- disc AN-001 1982.

"Good/Bad", Made by Tsk Tsk Tsk , Flexi-disc Supplement, Blank Label, 1983.

Will it Never End? , (with Glam Stars), Rampant RR-005, 1983.

Caprice , Innocent Records NON-004, December 1980. Re-released on Present PRE-002, 1983.

Muzak, Rock & Minimalism , Present PRE-001, 1984.

Soundtracks , Present PRE-003, 1984.

No Dance , Present PRE-004, 1987.

Club Video , Present PRE-005, 1987.

Pop (ART) Corn , Present PRE-006, 1987.

The Box , (boxed set) Present PRE-BX1, 1987.
---
---
© 2000 NMA Publications and John Jenkins