Ros Bandt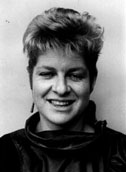 Ros Bandt, artist in sound, instrument-builder, composer, performer and sound sculptor, was born in Geelong in 1951. Her mother was a music teacher and accompanist and her father an innovative car designer and inventor of the utility. The youngest of three girls, she remembers her childhood as happy and fruitful.

From the age of four. she studied piano and music theory with her mother and later received private lessons. Her family's active church life offered many opportunities to take part in musicals, dramatic productions and public speaking.

Her secondary schooling at Matthew Flinders Girls High School was interrupted when her family moved to Windsor in the Detroit area of the USA. She lived abroad with her family in 1964 and 1965 and attended two schools in Canada. Travelling to New York at the formative age of 13, then to the Middle East, Thailand and Europe, had a profound effect and she developed a taste for travel, changing situations and fresh experience which still persists.

She left Geelong at 17, to study Arts at Monash University where she majored in musicology. Her studies included the aesthetics and the analysis of music, and she also played in the university gamelan orchestra, sang in the a capella choir and studied Japanese Sumi-E ink painting. In her fourth study year she became interested in modern art movements, particularly where these involved improvised, indeterminate and open forms which challenged tradition.

She wrote her honors thesis on chance operations and indeterminate procedures in the music of John Cage. By this time she had analysed the music of Karlheinz Stockhausen, Iannis Xenakis, Harry Partch, Witold Lutoslawski and Luciano Berio, and had also become interested in the Westcoast Americans Pauline Oliveros and Kenneth Gaburo as well as lesser known soundworkers from New York such as George Brecht.

After completing a Diploma of Education, she taught music and drama at Glenroy High School, at the same time studying flute with Les Barkland, exploring the instrument's timbral qualities.

She decided to pursue her academic studies at the cost of breaking a studentship bond. This cemented a developing resolution to explore radical ideas without compromise, as attested by her thesis on Cage. Provocative for its time, it involved one realisation of Cage's Variations II for solo guitar, and another for flute and synthesizer.

The first version was serialised and totally controlled in every parameter, while the flute and synthesizer version was a free interpretation based on the musical response of two people to the graphic score.

The twin themes of freedom and control have since been elaborated in all of Bandt's musical activities.

While still teaching at Preshil school and La Trobe University, she dedicated the year 1975 to experimenting with new musical ideas and idioms, improvisation and real-time art forms. In the same year she married Early Music scholar John Griffiths and, while travelling in Europe with him, noted that much of the new music she heard was characterised by repetition of minimal musical elements, a highly conceptual approach and intricacy of musical texture. She became increasingly aware of the importance of this new Musique Repetitif .

Upon her return to Melbourne in 1977 she gained a post-graduate scholarship which allowed her to study for her Master of Arts degree. Her subject was these new musics, and her intention to show the plasticity of changing works which required new aesthetic categories. A chapter of her writing in this area became a doctoral thesis which she completed in 1984. In Models And Processes In Repetitive Music 1960 to 1983 she analysed new structural methods, the cycles, phases, drones, pulses and additive and subtractive procedures of Terry Riley, La Monte Young, Steve Reich, Philip Glass as well as many lesser known American, English and European composers.

In October 1977 she held a sound sculpture installation at Clifton Hill Community Music Centre. It involved interactive audience participation and two rooms in which sound sculptures were assembled.

In the first was Winds And Circuits : huge suspended coathanger mobiles, connected via `slinky' springs and amplified using polystyrene resonators. These were attached via phonograph pickups to television receivers set around the room which relayed images generated by coathanger collisions. In the second room Surfaces And Cavities was installed: a maze of various materials, to which it was possible to `listen' - by banging a suspended coathanger against them and holding the attached strings against one's ears, the old toy telephone approach.

In 1978 she became a founding member of the Early Music quartet, La Romanesca and also of the four-member group of composer-performers, Live Improvised Music Events (LIME) . The other three members of the latter were Gavan McCarthy, Julie Doyle and Carolyn Robb. Both ensembles have flourished since.

Bandt then worked part time at both Preshil and La Trobe University, gradually entering a period of solo work, as an independent artist in sound.

In 1980 she designed the Sound Playground , an urban sound sculpture for a park in the Melbourne suburb of Brunswick, which was funded by the Music Board of the Australia Council and an innovations grant from the Australian Schools Commission. Herbert Jercher collaborated on the realisation of the sculpture, which involved much acoustic and structural experimentation, and the selection of sound-source materials from local factories and manufacturers.

The two-storey arena sculpture remained free, accessible and open 24 hours a day for two years. In that time Bandt gave workshops on its use to an extremely diverse range of school and community groups, and to advanced dance and drama students.

In 1982, while in receipt of a composer's fellowship from the Community Arts and Music Boards of the Australia Council, she made temporary and permanent sound sculptures for Melbourne's Selby Community House, St Kilda Council and Brunswick Technical School.

As a composer, Bandt has worked in a number of different areas, including the exploration of the acoustic properties of specific environments. She began improvising and recording works in water tanks, wheat silos and car parks in 1979.

This work began when she visited a farm in Korrumburra and chanced to speak with a friend through a pipe leading into an empty cement water tank. The acoustic possibilities, and full-bodied sounds she discovered were exciting and instantly accessible. Not long after this fortuitous accident, she returned to the tank armed with a tape recorder, and a variety of sound sources, such as ocarina, conduit hose with trombone mouthpiece, cymbals, recorders, a bamboo flute[...]

In the freezing cold, miles from anywhere or anybody, while balancing ladders, bits of plastic, microphones and instruments, and with her feet planted in rain water, she began to play.

The tank performed all the functions of a recording studio, complete with reverb and filter bank. It also became a psychological environment and real-time processor and organiser.

Listening and improvising could take place in the same breath. The longer she listened to dying reverberations, the longer the intervals between new waves of sound. Within the tank, the work proceeded like "a sound painting in time", and Bandt became closely attuned to the subtle variations determined by the tank's space and mass.

A set of pieces, many of which appear on the disc Improvisations In Acoustic Chambers , recorded by Move Records, include investigations of the natural resonance and decay time in the tank, musical improvisations on modal lyrics using the contrapuntal overlay cycles possible with an eight-second reverberation time, and vocal chanting using overtones.

The Silo Pieces , recorded in the Young roller flour mill, contrast in both mood and style of performance. The sound sources included renaissance and baroque recorders, as well as lute played by John Griffiths, voices and a bullroarer made from a wooden ruler and string.

Sunlight and shadows inside the nest of six silos, the ripe smell of wheat, flies buzzing in warm air, all lent a summery atmosphere. The presence of an ABC radio recording engineer and several mill personnel turned these improvisations into performance. Distant Polyphony and Sweet Germinal Wheat feature the performers improvising toge inside a water tank.

Another piece, Flagonita , was part of a larger audio-visual suite for performer, taped music and transparencies shown at Sydney's Artspace , the Audio Eyes exhibition, and at the Continuum `83 presentation in Japan.

A fourth container which became a working environment for Bandt over a six-year period was the Collins Place Car Park ramp, a large hollow concrete cylinder five storeys below the ground in the centre of Melbourne. This was the first urban space she had explored musically. It had some access to electric power and light, and she had been invited to work there by the site architect, Peter Mills.

She recorded two extensive real-time compositions in the location, Genesis and Sub-Terra .

The site allowed greater planning and preparation than previously, especially for Genesis . This piece, for medieval psaltery and chamber processing, is a prepared improvisation within a pre-set Arabic scale and tuning. An initial tape for the piece was played back at half speed to create a new generation of resonance, and another layer of counterpoint was added live, all within the tank. The final tape was played at half the original speed to maximise the bottom end of the low hum which builds up as a result both of the `singing' drum and the tape treatment.

Sub-Terra is a solo tenor recorder piece, realised when the composer was in the later stages of pregnancy. At the time, she recalls feeling a particular empathy with the swollen, containing interior spaces of the site!

She has devised many pieces for the ramp. Those mentioned above appear on her solo album, Stargazer , together with pieces for sewer pipes, voice, kalimba, an original instrument made from music boxes attached to a polystyrene crate, and for various flutes.

A second series of pieces share the generic title of Soft and Fragile Music in Glass and Clay .

Bandt began improvisations using original instruments made from glass and clay in 1978 following her invention of the flagong, a wooden rack of cut and suspended wine flagons that are struck with mallets. It was inspired by American composer Harry Partch's cloud chamber bowls, which she first played in San Diego in 1976.

In 1978 Bandt was invited to perform on Judy Lorraine's original clay instruments during a gallery opening. This led to a continuing collaboration, and the finding of clay sounds that match perfectly those of the flagong. All the instruments the two devised were microtonally tuned and produced resonant, bell- like sounds.

Bandt's compositions for these instruments began as solo, nocturnal rituals at her home. However, work with them widened to include the members of LIME .

Many works, such as Shifts and Annapurna were group composed. An ensemble breath, complex hocketing procedures and group decisions shaped such collective pieces. The group members had studied together at La Trobe University, and had become finely attuned, after many years of working closely together. They also shared a sensitivity to new tunings and extensive experience with new instruments. This made such close collaboration possible, and LIME included group-devised pieces in many of their concerts.

In some of Bandt's compositions for novel instruments, the pieces change and mutate over time, depending on their interpretation, but their essential structure and spirit remains the same.

The composer's attitude to notation remains as flexible as the pieces themselves. Each requires its own methodology, particularly where sound sources are microtonally complex. Numerals and `plus' and `minus' signs are often used to code sound particles, timbral details and pitch rows. Form and structure are often pre-decided then graphed as a post score. Pre and post scores often vary, as in Let's Go Fishen' .

Bandt's strong visual sense and dedication to specific performers requires that notation only relates to a small number of executants. Also, she is usually present at performances of her work.

Only three pieces, intended for solo wind players, have been notated using staves.In such cases, the composer adds interpretative charts and notes, and conducts workshops in the individual wind techniques required. Most works have no notation; while tape pieces have complex time grids for the intersection of prepared sounds for multi-tracking.

Similarly, productions and performances are controlled by the composer. Staging, position of screens, costuming, lighting, audience seating and movement pathways, loudspeaker placement and playback conditions are given detailed attention to ensure the composer's intentions are realised.

The year 1983 proved a difficult and contradictory time for Bandt. While still suffering from injuries to the spine and neck - sustained during accidents in 1981 - she began completing her doctorate. In March, Victoria's Ash Wednesday bushfires burnt several family properties near Aireys Inlet. On the same day, she was invited to perform later that year at the prestigious Paris Autumn Festival.

Before leaving Australia, when her doctorate was also in its final stages, she travelled to Alice Springs and Darwin to collaborate with composer Sarah Hopkins.

Bandt shared the overseas concert with Hopkins, and the duo mounted a successful tour of their own collaborations and solo works, performing in London, Belgium, New York and Rennes.

The collaborations included Dorian Mode , for medieval psaltery and cello and Soft And Fragile Gut Resonance for ceramic dishes and cello. Both were later released on Hopkins' Soundworks tape series.

Bandt then worked on a sound playground in London, and gave guest lectures in Stockholm.

Meanwhile, LIME and La Romanesca still had concerts to be scheduled.

The previous year La Romanesca had twice toured overseas; playing in London's Wigmore Hall, at the summer Spanish Festival Circuit, in East and West Germany, and at the Hong Kong Asian Arts Festival late in 1982.

The importance of tape as a medium for exploring sound gained new emphasis at this time. Its portability also made it attractive. A need for reliable technical expertise and sensitive speaker placement led to her becoming more involved with these areas as well, and hence to greater self-sufficiency.

Her doctorate was awarded in 1984 - the same year her son, Joseph Louis, was born. Then she received a commission from the contemporary dance ensemble, Danceworks , which led to Let's Go Fishen' , for two performers and tape. The music incorporated the acoustic use of sewer pipes, plus the collaboration of LIME , and the piece was completed in partnership with dancer and choreographer Sue Healy.

A double residency for LIME and La Romanesca , during the opening of the Araluen Arts Centre at Alice Springs in 1984, allowed the composer to re-discover Australia and for Central Australia to inspire her work. There, she performed her Mt Nancy environmental recordings, combining projected slides of desert plants with psaltery improvisations.

Returning to Melbourne, she was invited to devise a sound programme for Victoria's 150th Anniversary Celebrations, which led to both the publication of her book Sounds In Space in 1985 and to a travelling exhibition of sound sculpture, and residencies throughout Victoria.

In the Touch Sound Exhibition , four floating canoe/hammock forms were suspended, with 19 windchimes attached inside each one. The gondolas were strung in a contingent pattern, and when rocked by the viewer at points indicated, sounds were activated and flowed throughout the space. Each chime was inspired by a sound poem written by the composer as a haiku in calligraphic form on scrolls hung from the walls. The work changed in each location, as did recordings of the environment in which it was installed, whether these included sounds of the Warrnambool foreshore or of Murray River paddlesteamers.

As part of the same tour, in Warrnambool, windchimes made by locals were attached to a canoe taken from her exhibition and mounted inside a larger bamboo structure launched over the Pittwater using a boat winch. School groups standing on jetties contributed to the composition, with the composer conducting them with large silk flags on bamboo poles. A basket of bread attached to the sound boat attracted seagulls which flew amongst and activated the windchimes.

The composer's solo work involves similar concern for its visual and performance aspects. It often involves the structural complexity of repetitive music and medieval hockets and spontaneous improvisatory forms and ornamentations. The latter may employ French Baroque and 17th Century techniques for playing wind instruments. There is also great concern for spatial placement of sound and a strong visual element. This synthesis results in a high degree of innovation and personal style.

Loops , a piece for solo recorder and prepared tape, provides a useful example of the composer's orientation. In its performance, the composer-musician plays two recorders simultaneously and vocalises little cyclic eddies of sound at presto time continuously for 15 minutes. The recorders are chosen so a two-part recorder sound occurs at parallel intervals of fourths and fifths. Drones and a playful dialogue between the instruments are also employed. The pre- recorded part consists of a quadrophonic tape, with each channel being a version of the solo part. When overlaid, a 12-part counterpoint using the full range of the complete recorder consort converges and retreats in clusters. The performance proceeds like a tennis match between the performer and four highlighted and carefully placed speakers. The performer often moves in squares and crosses between them, spreading sound throughout the space and matching and playing against the prepared tracks. The inherent flexibility of the piece makes each performance unique, whether at Geelong's Mill Theatre in 1982 or at the Pompidou Centre in Paris.

The composer enjoys crossing formal boundaries between the arts, and has collaborated with potters, sculptors and dancers to produce work in more visually exciting ways.

Her Soft and Fragile Music is presented only in an appropriate context, where the beauty of the music and instruments can be enjoyed both visually and acoustically, and where there is time and space for the audience to respond to its hypnotic rhythms.

Bandt's music, rather than being imposed in advance and from the outside, is appropriate to the time and context of its presentation. This requires her to remain sensitive to specific places, people and events. For example, while touring New Zealand with LIME she recorded Hells Gate , a quadrophonic tape piece of thermal sounds, which is accompanied with slides and a super-8 film.

Recent work includes pieces that have grown out of a year's residency with Danceworks , in 1987. The collaboration includes construction of a sound sculpture listening environment, which will allow Bandt's sound works to be presented in new ways in different places. The idea is for audience members to trigger sounds by moving through a prepared environment. Because they will affect variables such as sound action and decay, audiences will participate in and modify the sounds it produces. When fully developed, the composer believes it will be "like moving across a sound chess board".

By the time she had researched John Cage in 1974 Bandt felt the only way to respond to Cage's kit scores was to compose her own work and participate fully in the decision making process of composition and performance.

She says, "The canvas of time is clean. It presents many possible ways to proceed. Sound has no boundaries. It is an essential life energy, as transitory as life itself. Sound, caused by vibrating matter, may articulate each moment as it passes."

Her work is the result of many influences and contexts. Improvisations in acoustic environments, real-time compositions from elaborate formal structures and prepared tools, as well as carefully controlled systemic processes, have all provided valid pathways.

RECORDINGS

"O Rose" (LIME), New Music 1980 , Innocent Records, NON 008, 1980.

Love Lyrics and Romances of Renaissance Spain (La Romanesca), Move Records MS 3034, MC 3034, 1980.

Improvisations in Acoustic Chambers :Tank Pieces and Silo Pieces , Move Records MS 3035, MC 3035, 1981.

Soft and Fragile: Music in Glass and Clay , Move Records MS 3045 MC 3045, 1982.

"Piece of 8", Tape (Decisions) , Rash R004, 1982.

Faces in Different Places (LIME), Rash 005, 1982.

"Dorian Mode" and "Flagong and Cello" (with S. Hopkins), Soundworks 1 , Resource Recordings, Darwin, 1982.

"Mary at the Dairy", "Sunday Souvenir" and "Soft and Fragile No. 6" Random Series, Vol 1 , L'Agence des Refuses, Belgium. 1984.

"Genesis", NMATAPES 4 , NMA Publications, 1985.

"Soft and Fragile Music", Cadenza, The Music Magazine (cassette supplement), Vol.3, No.2, 1985.

Clay Music (LIME), Move Records, MC 3065, 1985.

Medieval Monodies (La Romanesca), Move Records, MS 3044, MC 3044, 1982. Re-release compact disc 1987.

Stargazer: Car Park Pieces , Digital Recordings, Move Records MS 3075 MC 3075. 1987.
---
---
© 2000 NMA Publications and John Jenkins