Ernie Althoff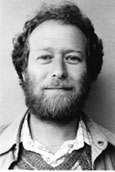 Performer and composer Ernie Althoff was born in Mildura, Victoria, to Austrian migrant parents in 1950. After arriving in Australia in October, 1949, they had stayed for six months at Bonegilla migrant camp near Albury before moving to the rural village of Grovedale, outside Geelong, following the birth of their son.

Althoff grew up next to an old Bakelite Kreisler radiogram. Fragile 78s and the ABC Children's Hour provided the first material for singalongs, as well as `pre- rock' popular music by singers such as Nat King Cole and Rosemary Clooney. The small rural primary school he attended at Grovedale also encouraged `singing' (including the National Anthem every Monday morning) but there was no instrumental music.

In 1962 his family moved to Corio on the other side of Geelong, and Althoff went to high school. At this time, pop music and youth-culture had already become strongly identified. The `pop-group sound' hit the airwaves, and Althoff did his homework to `top 40 with news on the hour' on Melbourne radio 3UZ and 3AK.

With their European background, Althoff's parents were not impressed, and they eventually bought a record player (the Kreisler had died long before). However, Althoff and his sister began collecting singles and LPs - mostly of British and US West Coast rock bands of the time. Through a group of Rolling Stones aficionados at school, Althoff also discovered rhythm and blues, the Mississippi Delta blues, and this eventually led to an interest in jazz.

His first relevant experience of live music was of the Ausralian band The Purple Hearts at a hot rod show in 1964. By the end of high school, he had imbibed much of the pop ethos.

Althoff moved to Melbourne in 1969 to study at Melbourne University, where he completed two years of a science degree. The city provided him with access to record shops, imported records and many more opportunities to hear live rock music and modern jazz. He attended concerts by locals such as Brian Brown and the Lipp Arthur Group , and by bands from overseas, including the Gary Burton Quartet and the LA4 . He bought a stereo hi-fi and his his record collection grew.

In 1975 he began working as a graphic designer, and his career in this field has continued ever since.

An important year in Althoff's musical development was 1977 when New Music became available on Melbourne's airwaves, both on the old-format ABC-FM, and via the Amputations program khosted by Warren Burt on 3CR Community Radio. Althoff had already been led to unconventional sounds, including modern jazz `squeaks and blurts', by porogressive rock-jazz bands like Soft Machine , Can , Henry Cow and Hatfield and the North . Subsequently he found no difficulty in enjoying - and buying - recordings like The Sinking of the Titanic , by British composer Gavin Bryars, or In Sarah, Mencken, Christ and Beethoven , by American Robert Ashley.

Also in 1977, Althoff acquired a Superscope C-104 cassette recorder with variable speed control and began experimenting with sounds.

He devised recording techniques, used the fast forward, reverse and speed control to manipulate sounds (and change their pitch and duration), and segmented inputs usings the pause button. Eventually, he discovered a wide range of techniques, and a low budget approach to tape manipulation (usually in performance) continues to the present.

Althoff regards teh cassette recorder as his `virtuoso instrument'.

Late in 1977, while working as a graphic designer for a Melbourne-based publishing company, Althoff also felt the need for a new direction in his life. The chance to take it came when he enrolled in a 1978 Summer School course in Electronic Music run by composer Ron NaThegorcka for the Council of Adult Education. Nagorcka and Althoff quickly became good friends, and the former helped Althoff to formulate his own view of composition - as a process able to be demystified through participation.

In 1978 Nagorcka also introduced Althoff to the Clifton Hill Community Music Centre, based at a disused organ factory in the Melbourne suburb of Clifton Hill.

The Centre was the focus for a group of people interested in new music, but indifferent to expectations of fame and fortune. Many were music students from La Trobe University. Clifton Hill also provided the opportunity for relaxed and congenial social contact, but its main arena was a concert of works by anyone who cared to take part, held on Wednesday nights. The organisation was low-key, friendly and completely voluntary.

Althoff responded to the informal and relaxed atmosphere and to the excitement of musical discovery. Some of the most talented people in the music field were on hand or performed. Althoff took part in discussions and questioned composers about their music. Also, he enjoyed performances he thought were 'free of elitist mystique'. Soon he was contributing to concerts.

His early works, dating from around 1978, were mainly for cassette recorder and low budget instruments such as musical toys, found objects (such as pots, pans and door handles), homemade instruments (such as wind chimes and marimbas) and cheap electronics (such as door buzzers and re-wired transistor radios).

This array of instruments was originally determined by financial necessity - but they were perfect for his needs and he still uses them today; although his collection of sound-makers, and their sophistication, has increased greatly.

In Althoff's work, revealing the processes whereby sound is produced has always been important. The Melbourne-based sculptor and performance artist Graeme Davis shared his interests, and in 1979 the two discussed working as a duo. However, before any collaboration took place, Ron Nagorcka devised The Institute for Dronal Anarchy (IDA) and he, Althoff and Davis became members. IDA was more of an 'umbrella concept' and 'labour pool' than a band. In practice, all three members did what they wanted, without following any particular ideology.

Nagorcka's academic and Davis' and Althoff's art backgrounds were complementary. An easy and stimulating relationship of trust and respect developed. IDA performed solo, duo and trio pieces with the three collaborating to varying degrees on their composition. A large body of work emerged, all of it decidedly 'experimental'. IDA 's first concert, of three solo pieces, was held at the studios of the Melbourne independent video makers' collective, Open Channel, in August 1979. (Earlier, Althoff had rehearsed trial pieces for a concert at CHCMC in October 1979).

In music and it's performance, Althoff was finding a new sense of freedom and creativity.

He then discovered a cheap and extremely portable instrument - his voice - by means of which he could investigate the sounds of Australian idiomatic speech. Voice features in an early pair of works for vari-speed Superscope cassette recorders, Accentuate the Positive and Eliminate the Negative , performed at CHCMC in 1979. In these pieces a set of adjectives were read - in a drawn out and highly inflected vocal style - from two decks of cards (the written score) onto two cassette loops. Over the course of the performance, the resulting superimposition of words built into an interesting aural fabric.

Althoff extended the use of his voice in performance. Sometimes he read from a precise score, or spontaneously told anecdotes or stories, or responded to comments from the audience, with whom he usually established an easy and relaxed rapport.

A natural performer, Althoff encouraged audiences to abandon their prescribed roles, to ask questions, comment and interrupt, and help make his concerts relaxed and convivial events.

The approache worked, and people accepted his style of musical experimentation and presentation. But comments like "I'm not quite sure what I heard and experienced tonight, but I enjoyed it!" or even "frightfully self-indulgent", have not led him to compromise his musical interests for the sake of instant audience appeal.

As well as IDA pieces, from 1980b to 1984 Althoff worked on various projects with other composers, including Warren Burt, Les Gilbert, Philip Brophy and Chris Mann. He remembers each of these collaborations as a stimulating learning experience. Chris Mann, in particular, had a great influence, broadening Althoff's appreciation of the use of language as a musical tool, and showing how well-thought-out concepts teamed with minimal equipment could be improvised around, expanded and developed into successful performances.

It was in this period that Althoff developed into a composer and performer. IDA 's last live performance was a duo with Davis and Althoff in 1982, but it also re-formed to compose and perform a radio piece for the Public Broadcasting Association of Australia in April 1983. Since then, Althoff has been mainly a solo performer of his own work.

Recently, however, he has taken greater opportunity to help realise other composers' works, and to improvise with them. Notably, by taking part in three recent pieces by Warren Burt: Almond Bread Harmonies II (1985), Improvisation in Two Ancient Greek Modes (1987) and Responses and Compressions for Victorian Musicians and Environments (1987).

Most of Althoff's concerts have taken place in Melbourne, with occasional forays into Victoria as far as Ballarat, Geelong and Red Hill. IN 1986 he performed in the 1986 Perth Festival of Improvised Music, where he met the Perth-based composers Tos Mahoney and Ross Bolleter. A second journey, to Sydney, followed a month later, for the Sydney Soundworks Festival (part of the 1986 Biennale). His 20-minute performance for the Festival, realised at the Performance Space, Redfern, involved building one of his unique music machines while talking to the audience. The piece was broadcast live by ABC Radio national's Sufrace Tension program, then replayed on ABC-FM.

IN 1986 the Music Board of the Australia Council awarded Althoff a grant under the Innovative Projects heading. He also received a number of commissions, including one from Melbourne's St Kilda City Council for a 20 minute tape piece in February of that year. It persuaded him to become a full-time composer and performer. A large and varied body of work resulted, including Gallery Tales 1986), Radio Rigmarole (1986) and Another tropical Bloom Machine (1986), all of which were performed at various venues in Melbourne.

In 1987 Althoff began lecturing part-time in graphic design at RMIT, allowing him ample time for composition and performance.

His works have bought the low-budget ethic to a new level of sophistication. His collection of found objects, toys, props and home-made instruments has grown enormously, and now numbers around 150. Althoff finds having a huge range of timbres is important to his work. Additional ones are produced in performance by cassette tape manipulation.The textures produced are always clearly delineated, and their method of production obvious and easy to understand. There is also a strong theatrical and visual component to his work: he often employs costumes, masks, slides, pictures, graphics and purely decorative elements - which are as carefully constructed as the sounds.

Althoff has also become well-known for his unique and ingenious music machines. The first was built in 1981, and intended as an accessory to a solo performance held in 1982. Since then, Althoff has constructed more than 30, and they have now assumed a status of their own. One of these, for The Recalcitrant Orchestra , is described below.

Because of the way they are built, the exact sequence of sounds the machines generate, while it may be modified by the composer at any point, is different each time and largely unpredictable.

From 1982 to 1986 Althoff hled a series of concerts at CHCMC and elsewhere called Machines and Me , in which he set up a "Heath Robinsonesque landscape" (as an audience member put it) of several machines. He was able to alter the overall texture of the sound by switching some on and others off, as he casually wandered among the audience, telling stories which had a common theme of the foibles of medern life.

One such tale concerned a company that manufactured vegetable peelers. Althoff told how it employed a market research firm to boost sales. The firm recommended changing the color of the utensils' plastic handles. If the peelers were made to look like vegetable scraps, people would mistakenly throw them out with the rubbish, and have to buy new ones. The peeler company agreed, and it worked!

IN April 1986 Althoff performed a special Machines and Me event at the Gryphon Gallery entitled Gallery Tales , in which his stories dealt with the experience of looking at art. The machines were analogous to the constant clattering background of contemporary life. However, Althoff stresses he's not primarily interested in loading his music with literary meanings.

An event which Althoff considers successful on many levels was The Recalcitrant Orchestra , held in a private Melbourne house in April 1985. The Spacious lounge room provided an ideal space which helped break down the rigid audience/performer relationships established on the concert hall platform. Before an involved group of people, he built an elaborate machine driven by an oscillating electric fan. Several bamboo poles and sticks inserted into the fan housing swung various beaters across drums and metallic sound sources (cooking pots, cake tins, bells and so on) while the rear of the fan scraped an aluminium rod along the amplified strings of a large old zither. Windchimes were positioned to be activated at each full swing of the fan. A contact microphone was attached to one of the cake tins, and this produced a sound distorted by the feedback pulse running through an old sound mixer. Part 2 of the event consisted of Althoff placing a large rack of windchimes between the machine and the audience. He then ran pieces of colored string from the chimes out to members of the audience, to whom he gave cards with instructions indicating when they should tug these strings to produce sounds - usually timed to the fan's oscillations. He also distributed little drums, clickers, a toy melodica and some bells, all with similar timing instructions. In this non-expertise-oriented environment, the invitation to join in and enjoy the event was readily accepoted, and the 'orchestra' played for some time.

Because Althoff is a ntural performer, and his stories are often amusing and his concerts entertaining, some people see him as a kind of comedian who uses sound purely for effect. But this is a misconception. Althoff insists that the timing of gags by stand-up comics bears no resemblance to that of his musical events. Furthermore, although he enjoys the performance as much as the audience, his primary aim is to experiment with musical timbres and textures within new socio-musical contexts.

As well as works in the 'real-time' compositional style, Althoff has written numerous scores with structures equal in rigor to any academic chamber music piece. These include Seven Rare Dreamings (written with Ron Nagorcka) first performed at CHCMC in 1980; also La Corona and the Tin Frog , first performed at the Footscray community Arts Centre, Melbourne, in 1981. Admittedly, most of them were scored for his own collection of instruments, but he has also written graphic scores and other novel notational systems for small ensembles of conventional instruments.

In a piece written in 1985 for running saxophone player called 47-64 the score consists of a floor plan which incorporates the notes to be played, the path the player was to follow and the direction he or she was to face while playing.

Althoff particularly favours shuffle card systems of notation because they generate unpredictable versions of each piece. Other scores consist of meticulous sets of instructions depicted in bar-graph form along a time line. Instructions for cassette-recorder operation, or pitch-groups for players of acoustic instruments may also be presented using unique graphic means.

In most of his work, there is a concern for timbres and textures and a relative disinterest in precise pitches. However, performance aspects and inter-player relationships are carefully orchestrated. For example, Fairground II , written in October 1984, is a 17-minute piece for six cassette-recorder operators clustered into two groups about 2.5 metres apart. Over seven acts, four of the players shake loaded cassette-recorders, causing movement about the flywheel axes of the machines. This produces a wow and flutter accompaniment to the tones recorded. The other players organise the rotation of cassettes between acts, producing - at one point in the piece - as many as 162 sound regenereations.

Searching High and Low , written in August 1986, is piece of miniature music theatre for four players of conventional instruments. Durations between note events are produced when the players scan a complex grid of numbered and boxed notation for the next action. They must also face different directions, as indicated by the score. additional actions are also included. This is a piece that really exploits a player's unfamiliarity with the score.

La Corona and the Tin Frog , written in November 1981, and first performed in the same year at Footscray Community Arts Centre, Melbourne, is a solo performance of Russell Hoban's well-known story for children. Althoff reads the text, play instruments, operates the electronics and manipulates 'puppets' and other objects, even becoming one of the characters towards the end of the piece.

Because of his interest in audience/performer relationships, Althoff prefers to perform rather than record. An exception was provided with an electronic music event held in the Melbourne City Square in September 1986. The piece was to be site-specific, so Althoff produced a four-track text to do with car engines. All the tracks slid in and out of phase with each other, producing strange echoes that were further accentuated by the concrete and glass surfaces of the surrounding buildings.

The Way I See It and You've Got the Option , are cassette pieces released on NMATAPES in May 1985, which specifically deal with the experiences of listening to a cassette and how they can be expanded and creatively manipulated.

Now in his 10th compositional year, Althoff believes his original concernsand intentions remain valid. For him, music is a social activity based on the making of sounds, a domain open to all who choose to enter. Since he began to play and compose, Althoff's skills have improved as his confidence has increased, although he does not belive virtuoso expertise is very important.

By pursuing his musical interests in a serious, honest and uncompromising way, Althoff believes he will continue to produce innovative works of quality and to surprise and delight audiences and himself.

RECORDINGS

"Kerosene Replaced by Gas", "Freeform Vocal Trio for Handheld Instruments" (I.D.A), New Music 1978/79 , Innocent Records NON 007, 1980

"Metal Motor Music", Art Network Music Supplement, issue 6, Flexi Disc AN 001. 1982.

"Music Machines", NMATAPES 2 , NMA Publciations Melbourne 1983.

"Divide by 4? No, Divide by 3" (I.D.A), Composing for Radio , Public Broadcasting Association of Australia, (cassette) 1983.

The Way I See It / You've Got the Option NMA Publications 1985.

"Any Questions?", NMATAPES 5 NMA Publciations 1987.

"Music Machines", From the Pages of Experimental Musical Instruments vol 2 , Experimental Musical Instruments, Nicasio, California 1987.

Heliosonics Solar powered Sound Installations NMACD 9904 NMA Publications 1999.

FILM and VIDEO

Ernie Althoff: low-budget Composer, (video), Director Doug Myers, The World Music Series, Melbourne College of Advanced Education 1986.
---
---
© 2000 NMA Publications and John Jenkins