Faking the Orgasm
By Mr. Pronto Allegro
FIRST PUBLISHED IN THE TRIBUNE , OCT 1991.
Simon Green is only 19 but he has power in his hands. He is gifted with the skills of centuries in recreating great violins - or to put it more accurately, great violin fakes. Simon is one of an increasing number of Australians to have been accepted at the Rubato School of Violin Making in Cremona, Italy. It is in fact only a few streets away from the famous Cremonese School founded in 1560, and just opposite `The Strad' take-way pizza restaurant.
Cremona is the birthplace of the 17th Century Stradivari violin and this town consequently has become the name to be reckoned with when we think of the great contemporary fake violin makers. Ms Wanna Zambelini is director of Rubato and she is most impressed with the high standard of fake `Strads', `Amatis' and `Guarneris' being cranked out world wide in the last few years, and particularly the output from Australia.
Its impossible to tell now the difference between a Cremo fake and an Ozi fake, she exudes as we stand in front of the beautiful (and is it really so decaying or are those `fake' cracks in the side of his face?) badly crafted bust of Antonio Stradivarius himself. The reason why we still attract so many students here is because we have the edge in marketing skills. An authentic address is the other drawcard. Sitting on a plastic carving stool at Simon Greenozo's workbench, the young master faker talks about his passion.
"It's a thrill to know that you've created something which will be played all over and fool millions" he says. "The violin has real human qualities - it has a voice, aesthetics and although they can really sing, it's been a while since my violins could be bought for a song!"
Lining the bakelite walls are dozens of re-used coca cola tins containing ingredients for varnishes, fossil amber and fake coffee stains. On the linoleum tabletop are sticks of shove grass for sanding and a smooth, curved bone for burnishing the violin wood - to give that centuries old worn look. Above the functionally inadequate light bulb and below the wallpapered ceiling hang 19 almost complete fake violins.
Maestro Greenozo continues: "To outsiders, most fiddles look the same. Even at the heart of the `straight' violin trade, it's only a couple of experts who can unravel the finer nuances of authorship - most of it is just bullshit. Only a fine line separates copying, faking and `made in the style of'."
In Stuttgart recently an unidentified fake `copy' put the cat among the chooks of the Verbandes Deutscher Geigenbauer (society of German Violin Makers). Hieronymus Koestler sprung the whole trick (and that was only because he is an insider) on the fakes market - actually one of the bigtimers in Europe. He specialises in the sale of fake Guadagninis. Even the straight dealers, repairers and makers regularly switch backs and fronts, hack off a scroll from one instrument and stick it on another. Nobody would ever dare to say that this sort of quiet routine is malpractice (or unintentionally misleading?).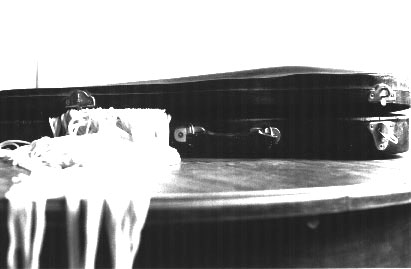 According to Swiss expert Roland Aufbaumgartner and German Irene Loebotomie, it was the `damn English' who first got ahead in the fake business. This was largely the result of early unscrupulous early music cover-up agents and shopkeepers (Napoleon was right) who were importers, makers, repairers, butchers, bakers and candlestick makers all at once - a system allowing the practical and moral room to manoeuvre.
John Dilworth of JJ, J & J Beare (the London dealers) has made a study of the Voller Brothers, fakers par excellence from the turn of the century. According to him, the brothers have been rediscovered in the current boom of fake manufacturing, becoming almost hero figures of the new wave. Nothing seems to have escaped their scrutiny, from the use of exact materials to the insertion of worm-holes. This kind of wear & tear faking is an extremely skilled and time-consuming task. All tool marks, dents, patches, scratches, and varnish discolouring have to be copied authentically - market forces demand perfection in a fake. But Dilworth's eyes narrow at mention of the new Australian School of Faking. "They're dangerous as hell - they have brought the fake to a completely new standard of quality; the kind of quality that the old Cremonese violin makers could only have dreamt about."
Meanwhile Il Signor Maestro Simonini Greenozo de la Wollongong is feverishly at work - assembling drawings, taking 3D photos, cutting out templates from pink plastic, gluing, bending, twisting the wood, clamping, making plaster casts, cutting the heads, mastering the inlay, making sure the tool marks show - then the varnish, a mixture of reds and pinks, application with sponge, the odd finger smear - then the marks delivered from an old bow and violin case - then the fingernail scratches - "It's like sex." says the young craftsman with a half-dressed violin in his hand.
"The thing that makes my varnish unique is that it starts out as a conventional old-time cooked hard gum varnish which would pass in the olden days as a spar or carriage varnish. Then this varnish is tempered by the addition of Gum Mastic and Gum Damar. These gums being entirely soluble are first dissolved in the thinners at a relatively low temperature in a separate process, which solution is then added to the cooked portion the very last thing, at a temperature below 225 degrees Fahrenheit.
"The varnish pot is a stainless steel deep-well table pot purchased from a restaurant supply house. A round bottom stainless pig's bladder is used as a cover. The varnish pot and hot plate used for cooking are completely enclosed in an aluminium smoke box which is vented into a chimney. The ingredients of the basic hard varnish are:
1 cup pine oil
3 balls naphthalene
1 smear gum kauri
1 squirt lamb's urine
1 teaspoon linseed oil
To these is added a solution containing the soft gums:
1 dollop gum mastic
1 smidge gum damar
2 pints mineral turpentine
1 dash Old Spice after shave
half cup pine oil
1 tablespoon #150 solvent"
---
For 23 years it has stood on a shelf in a jar of formaldehyde at The Rosenberg Museum, Berlin. It looks a little like a twisted and very dead worm and it is today becoming the centre of an extremely heated debate among musicologists and historians. Dr. Heinrich Knecht, the museum's director, is convinced that this is the shrivelled remains of Niccolo Paganini's penis. Could this be the lethal weapon that conquered hundreds of women on the virtuoso's long and scandalous tours of Europe in the 1830s - or is it a fake?
Knecht himself has little doubt. "The evidence is still coming in, but there is enough already in documentary form to suggest to me that this is indeed the maestro's baton ." Others disagree, particularly the British Paganini scholar Sir Frank Blimey. "The whole thing is poppycock! If this kind of research catches on, then we'll be inundated with the appendages of Mozart, Beethoven and the rest of them. I think it's very unsavoury."
Unlike the autopsy on Napoleon (which found that his genital region was `underdeveloped' and that his chest resembled `that of a woman'), the doctor who dealt with Paganini's corpse left the music historians with other food for thought. His left testicle apparently was "the size of a grapefruit." The size of the rest of his equipment was not mentioned - only the smell (which was so intense that he was kept inside three coffins until some consecrated ground could be found where the Church held no objection to his burial - you know - in league with the Devil and all that stuff). The penis at The Rosenberg Museum is also called into question by the director of the Town Museum in Villefranche, France where Paganini was first buried (the poor violinist was dug up several times to be moved to a happier hunting ground). Monsieur Perier claims to have his own Paganini's penis. Clearly the race is on for authenticity.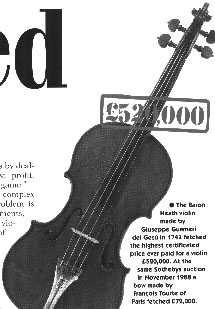 In the 1800s it was common for people to keep mementos such as hair, fingernails, ear lobes and the odd penis. The surgeons were known to add a little to their fees in this way. Unfortunately we arrive in an age where everything is for sale, only to find that we are short of whole bunches of bits and pieces which would tell us the psychological states of a great many influential and historically key figures. What ever happened to Queen Victoria's warts for example? Or Abraham Lincoln's ingrown toenails? "It doesn't look such a killer now," admits Dr. Knecht, pointing at Paganini's penis "but remember, except for that bottle of formaldehyde, it's seen no action for a very long time."
---
Julian Altman, according to his wife, was not only a womaniser but also an alcoholic, a gambler and a child molester. He had spent the last 50 years of his life charming audiences with his violin playing, among them Presidents Nixon, Eisenhower and (more importantly) their wives. He said he had bought his violin for $100 in 1936, but when he was blind drunk he would often boast that it was in fact a Stradivari. No one of course believed him - the instrument was covered in cigarette stains from years of being played in the cafes where Altman earned his living. Besides the tone of the instrument sounded nothing special. Julian Altman died in a Connecticut hospital in 1986 and while on his death bed he murmured to his wife that - "so help me God, my violin is the Strad that was stolen from the dressing room of Bronislaw Huberman while he was giving a recital at Carnegie Hall on 28th February 1936."
Although his wife thought that the violinist was beyond even God's help, she went through his papers and discovered a bunch of press clippings about the Strad theft. When Altman finally took the coda and died, she had the instrument checked out. Sure enough it was the missing Strad. The insurance company, Lloyd's, cleaned up. They had paid out a mere $16,000 for the theft, now they were the owners of a violin worth at least $2 million and going up in value every minute. Altman had actually bought the instrument on the street from a small time crook who had begun to panic when he found out that it was the Strad he had stolen.
The famous violinist Joseph Szigeti, on the other hand, was always boring the pants off everyone about how great his Guarneri violin was - until one day it was found out to be a copy. The price tag of his little number nose dived through the floor.
Footnote
Stradivari (1644-1737) lived a hellava long time and made a hellava lot of violins, the best of which were made between 1720 and 1725. Strad's cellos are worth a lot more than his violins because he made so few of them. His violas are even more wildly priced because there are even fewer - basic market forces there. The `Cholmondely', a 1698 Strad cello achieved the world's highest auction room price for a musical instrument when Sotheby's sold it for ú620,000 in June 1988. Most Strads do not get sold, occasionally some get played, mostly they just sit there going up in value. If the 1721 `Lady Blunt' Stradivari violin ever came under the hammer, its conjectural price is reckoned to be at least four million dollars.
In the late 50s the City Council of Cremona suddenly got hip to the fact that in their local museum was not one single violin made by any of the town's most famous sons. Since then, they have desperately been trying to find and buy a few examples - so the tourists from America (where most of the violins are - Henry Hottinger and The House of Wurlitzer always seem to have more Cremonese violins than they know what to do with ) have something to gawk at when they visit. After 40 years and a special `Strad Tax' on the locals, they have only been able to get hold of 2 Amatis, a second rate Stradivari, a poor Giuseppe Guarnari (son of Andrea) and one of Giuseppe Junior's (del Gesu) numbers. Meanwhile over in the Stradivari museum itself, there are only copies. At best there is an incredible range of the master craftsman's tools, a few of his famous woolly hats, and the attempts of his son to forge the `Stradivari' signature. Up the street, the local Catholic shop does a brisk business in the Cherubic violin trade. return