The Rosenberg FAQ Page

---
Introduction
W e here at the Rosenberg Archive, and our dedicated team at the Rosenberg Museum often receive requests for information about the life and achievements of the great Australian composer and violinist, Johannes Rosenberg ( not to mention a lot of stuff that comes in about violins -ed ).

We try to attend as many queries as our meagre resources allow, but every so often a few come in where we just don't know where to start. Hence this Rosenberg FAQ page. We hope that in the interests of musical scholarship, someone out there might be able to help with new information on the topics presented by our readers, or even to ask a question themselves.

A great many of the questions we do receive are already addressed in the book the pink violin and its companion volume Violin Music in the Age of Shopping . A selection of chapters from these books can be accessed via the Rosenberg Archive home page .

Questions may, as usual, be posted by clicking on the link, likewise if you can help with any of the queries below. Responses will be posted as soon as possible after they are received.

Chief Curator
Rosenberg Archive
Melbourne
click here for previous FAQs.
The Rosenberg FAQs.
---

Subject: rosenberg enquiry
Date: Fri, 30 Apr 2004 19:10:08 EDT
From: marky_austin
To: Rosenberg Archive

Mr Rosenberg
Enschuldegung mein deutsh ist sehr schlect.
I met your daughter Dr Rosenberg at the Ankor Wat pub, in Siam 
Reap Cambodia. We had a cracking night and when I walked her 
home at the end of the night, I didn't ask for her email.
Doh!
Could you please give her my email address, so that I can find 
out how her travels are going.
Danke scholn
Mark

---

Subject: Rosenberg enquiry
Date: Sat, 1 May 2004 19:52:06 EDT
From: Boris Von Weingarten
To: Rosenberg Archive

Mr. Austin
We here who work for the Rosenberg Foundation do not normally 
address letters of such a personal and sensitive nature.

However in this case, we assume you are refering to Dr. Judy 
Rosenberg, the sister of the late musicologist and violinist Dr. 
Johannes Rosenberg. (I draw your attention to letters elsewhere
in this FAQ.)

It seems that Judy has recently been seen (in a rather sad 
state) on the West Coast of the US by the composer Dr. Alan 
Strange. If what you say is true and you did indeed spend a 
'cracking evening' with this 70 year old larikin in Cambodia, I 
suggest you communicate with others who are trying to track her 
down (there are some legal matters pending). We have no contact 
address for Judy.

If you wish to study the music of this remarkable woman, 
I would recommend two books that are still available via the 
Melbourne office - 'The Pink Violin' and 'Violin Music in The Age of 
Shopping'. Both compendiums offer letters and other references 
concerning Judy Rosenberg.

I hope you find this helpful.

yours sincerely,
Boris Von Weingarten

(for Jon Rose who is away in central Australia at present 
researching his new Fibonacci Fence designs).

---

Subject: Paganini
Date:  Mon, 3 May 2004 19:00:33 EDT
From:  Violinchef9  (Adam C. Lewis from louisville, Ky, usa) 
To: Rosenberg Archive

to whom it may concern:                

I was in recent contact with Boris Van Weingarten about the 
use of pie pan resonators in violin (folk fiddle ) use and he 
said that there was indeed a set (?) of pie pan fiddles there 
in the museum and something about one was in need of 
repairing. 
I am playing around with the pie pan violin (fiddle ?) just for 
the hell of it and already have one (badly) built model. Mr. 
Boris Van Weingarten said I may be able to help with the 
reconstruction on this fallen violin pie pan monster at your 
collection. 
I will be building and trying different constructs throught the 
next year and when I finally get a good resonating modle (as 
good as I can get ) i will send you the information on its 
construct. This will come with notes, sketches, and all the rest 
of the crap I can think of. If you would like I can send you a 
copy of the final model when it comes to being complete so 
you can see and hear it. 

all violove, 
Adam C. Lewis 

( editor's note ) . We are always eager to hear about new experiments with violin technologies. Please keep our readers informed through this site.
---

Subject: Rosenberg FAQ - i have a question
Date: Sat, 24 Jul 2004 12:24:41 -0500
From: "Manuel Velarde"
To: Rosenberg Archive

Hi , i'm very interested in jan kriml , when i was little i used to
play in a 3/4 violin , wich was unique and very rare, it was a gift,
well , i've been triyng to find out the history of his maker.
 
thank you so much, hopefully morwen

---

Subject: Rosenberg FAQ - i have a question
Date: Wed, 27 Oct 2004 16:51:45 -0400
From:  "Shelley E. Jones" 
To: Rosenberg Archive

I guess we need a Kriml page.  
I too own a Jan Kriml violin and play it regularly (amateur). I
recently found a Kriml catalog from the 1960's on Ebay and
bought it. Kriml violins and other string instruments were
imported by Targ & Dinner company of Chicago. Our local string
repair guy says most likely they were imported from Germany,
mass produced, but pretty good quality, say $2000 for insurance
purposes. Better than most made today. 
 
Shelley Jones

---

Subject: Rosenberg Archive site
Date: Wed, 27 Oct 2004 07:52:14 -0700
From: Barbara Christy
To: Rosenberg Archive

Dear Sir,

I was shocked out of my shoes when I read that Julian Altman
had stolen a Strad!  I had grown up knowing Julian as a dear 
friend of my family.  He visited our home often and was a close
friend to my mother (I believe their friendship was truly 
platonic, knowing my mother).  He was invariable kind to my 
sister and I, and I cannot understand how he could be the 
nefarious ne'er-do-well he has been portrayed as in the 
various articles I have found on the internet this morning.  
(For some reason, I thought of Julian while searching for 
certain other violinists, and decided to look him up.)

To read that he was a womanizer and a gambler and a 
MOLESTER of his wife's granddaughter has stunned me!  The 
Julian I knew was a kind, sweet and gentle man with great 
dignity.  He treated us little girls and my mother and grandmother 
with the utmost respect and affection.  We then lived in 
Washington, DC.  I'm not sure when Julian entered our lives, but it 
was after WWII, I think.  He and my mother were able to travel 
freely to Mexico, and they returned with huaraches and Mexican 
felt jackets for my sister and me.   He remained our dear friend for 
many years, at least until I was 20 or so (I was 20 in 1953).  I 
remember dining then in a nice restaurant where he was playing 
his violin.  I thought he played beautifully.  I didn't know I was 
hearing a Stradavarius!

Imagine how I felt when I read in the paper that my dear friend 
had stolen his wonderful violin, and that it was a famous Strad!  
Of course this wasn't learned until his death, and I read the story
in conjunction with his death notice.  Oh, my!  And today when I 
searched his name in Google, I came up with the most 
horrendous descriptions of his character, which were totally
unbelievable to me!  What I read today just doesn't match the 
wonderful man I knew, who was such a dear to two little girls 
and a loyal friend to my mother. 

Sincerely,

Barbara Christy (age 71)

---

Subject: Rosenberg Archive site
Date: Wed, 12 Jan 2005 13:38:17 -0500
From: Peter Aikat
To: Rosenberg Archive

This is the funniest web site on internet, especially for a beginner in
violin.

I understand the Greeks play the violin upside down, they played in the
Olympics. Canadians? Well they play with it.
Peter Aikat
Ottawa
Canada

---

Subject: e-bay offer
Date: Wed, 12 Jan 2005 13:38:17 -0500
From: auctioneer
To: Rosenberg Archive

your readers might be interested in this - j.

Listed in category: Musical Instruments-String-Violin
4/4 Size Violin (I'm selling it to teach you a lesson, Mother!)  
Item number: 3777713160
Current bid:    US $5.51

Time left:  6 days 7 hours 7-day listing 
History:    3 bids  (US $1.00 starting bid)
High bidder:    mschway ( 27)

Item location:  Dover, Delaware United States

Description 
I did not want another violin. I sold my first one. But, Mother thinks
I want to be a violinist. No, Mother.

I did not want a violin for Christmas (I wanted an Intense Inferno 
bowling ball by Brunswick so I could practice for the PBA), but 
there is a violin in my closet. A brand new, Fengling FV-010 violin. 
It is sitting there in its heavy duty canvas case just waiting to be 
played. But these fingers aren't for playing the violin, Mother! 
They, my fingers, are for BOWLING!

I want to smash it. I want to smash it against the walls, take the 
pieces and put them in a box, wrap it up and give it to mother next 
Christmas. But, because of her heart, I just can't do that. That is 
why I am selling it. For YOU to smash. I am tired of all the mothers 
out there telling us we can't be bowlers. 

Please, buy this cursed violin and smash it for me. Take a picture 
and email it to me as well. I promise not to show mother. 

Product description:

VIOLIN Features hand carved fully graduated solid spruce violin 
top, maple back, sides, neck, and scroll - Real inlaid purfling on 
both the violin top and back Tuning pegs are ebonized for trouble-
free tuning. Fingerboard is also ebonized for solid playability and 
intonation control. The select wood protects the fingerboard from 
denting by the fingernail. Dents on the fingerboard make it very 
difficult to play the violin in tune. Comes with black tailpiece with 4 
fine tuners - fine tuners make tuning easy. Fitted with steel strings. 

BOW comes with genuine unbleached mongolian horsehair. 
Includes 1 rosin cake. 

CASE A heavy duty canvas covers a genuine wood shell case for 
long wear and durability . Backpack design allows for over the 
shoulder carrying - Ultralight case makes carrying violin to lessons, 
school or orchestra practice no problem. 

Shipping, payment details and return policy
US $29.99   Standard Flat Rate Shipping Service United States 
Only Will ship to United States, Canada.
Shipping insurance Not offered

Seller's payment instructions
Will ship when payment is received.
Payment methods accepted - Personal check
Ready to bid?   help
Violin (I'm selling it to teach you a lesson, Mother!)
Current bid:    US $5.51
Your maximum bid:
eBay automatically bids on your behalf up to your maximum bid.
Learn about bidding.
What else can you do?

---

Subject: Rosenberg info
Date: Fri, 11 Feb 2005 01:49:43 EST
From: debbie
To: Rosenberg Archive

Asking again about Jan Kriml violins. I work at a local thrift store and 
we had one donated today, just wondering if it has any worth or if it's 
just a student instrument? 
thanks, debbie

---

Subject: Rosenberg FAQ - i have a question
Date: Tue, 1 Mar 2005 12:18:47 EST
From:  SCirclebee
To: Rosenberg Archive

I AM BIDDING ON AN OLD KRIML  VIOLIN, CASE ,BOW . 
WHATS ITS VALUE, ????GOOD TO FAIR CONDICTION ,  

---

Subject: Rosenberg FAQ - i have a question
Date:  Wed, 2 Mar 2005 10:12:43 EST
From: SCirclebee
To: Rosenberg Archive
 I TOO NEED INFO ON KRIML  VIOLIN, HAS CASE , BOW, GOOD 
TO GREAT COND. FACTORY YEARS , VALUE , ETC.     
SCIRCLEBEE@WMCONNECT.COM 

---

Subject: THRIFT STORE KRIML FIDDLE
Date: Sun, 6 Mar 2005 11:00:41 EST
From: SCirclebee
To: Rosenberg Archive

LETTER ON YOUR SITE, MY FRIEND GOT IT ON A BID , HE WANTED 
IT MORE THAN I. GOT IT , BOW W/ PEARL INLAY, CASE [MADE IN 
CHECKOLSOLVOKIA ]  FOR $190. I JUST CANT FIND ANYTHING 
ABOUT THE KRIML  COMPANY .  
SCIRCLEBEE@WMCONNECT.COM

---

Subject: Rosenberg info
Date: Fri, 13 Mar 2005 01:49:43 EST
From: concerned visitor
To: Rosenberg Archive

Sirs!

Was Johannes Rosenberg a terrorist? Did he redesign the violin, im-
buing aerodynamic properties, then provide a means of propulsion,
pack the instrument with explosives and send it flying toward the
Western Hemisphere?

These "preposterous" questions are less so after my discoveries at
the Rosenberg Museum earlier this year.

In archive box A-3/CO-1945, which was left on the front counter, I
discovered a photograph (reproduced in fig.1 below) labelled
"Crucifix Violin ca. 1945". And smelled a rat straight away.

Notice how the "crossbeam" of this violin resembles the wings of an
aeroplane - and notice how the specific wing shape resembles that 
of the Japanese "Kamikaze" fighter-bomber of WWII.

It is already well known Rosenberg served in the Imperial Air
Force as a kamikaze pilot at the end of that war.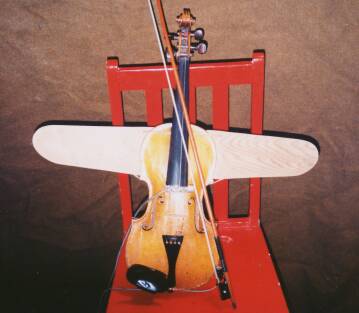 figure 1. The "crucifix violin" but regarded as the "kamikaze violin". Note the aerodynamic (jet wing) property articulated by the angle of the bow. The detonator wires can be clearly seen.

The connection is clear and the instrument is now doing wind 
tunnel tests. (see also Rosenberg's grandfather Julian 
Rosenberg's Aeronautics and Music of 1931 - ed.)

When I confronted Dr. Knecht of the Museum with these questions, 
he replied that the aerodynamic properties of the "crucifix" violin 
were well-known.

"The intention was to set the instrument off over the heads of the 
audience, at the end of the cadenza for a Violin Concerto that was 
never completed."

Perhaps your readers will smell a rat, too, for what self-respecting
artist would resort to a gimmick like that?

yours in scholarship
concerned

---

Subject: Rosenberg Archive site
Date: Fri, 13 May 2005 22:40:01 EDT
From:   HUDGINSPW
To: Rosenberg Archive

i would like to know if there is a web site that tells you the value of old 
fiddles/violins.  we have a fiddle that is over 150 years old and would 
like to identify who made it and how much it is worth.  please contact 
me asap.

---

Subject: Rosenberg Archive site
Date: Sun, 15 May 2005 2:40:01 EDT
From:   harper
To: Rosenberg Archive

I want buy old violon. How much you sell?

---

Subject: Rosenberg Archive site
Date:  13/01/2006 4:54 AM
From: Sheila England
To: Rosenberg Archive

I would like to know how I can get some information/ value of  a 
violin that has Jan Kriml-made in Germany- BKN on the label inside. 
I can't find the date, but we know that it's over 100 years old. It's in 
great shape.

---

Subject: Rosenberg FAQ
Date:  15/07/2007
From: carol hemphill
To: Rosenberg Archive

My violin's label reads, "Joseph Kriner, Geigenmacher in Mittenwald en
de Ifer 1840.  Can you tell me what it's approximate value might be?
The back is a single piece, there is no seam down the middle.  The
varnish appears to have been toasted or burned. The sound is bright and
resonant, and the instrument is in very good condition. 

---

Subject: Rosenberg FAQ
Date:  22/12/2007
From: Loveyasharon@aol.com
To: Rosenberg Archive

i  just read your article regarding Julian Altman on the internet.  I am 
his niece the daughter of his brother Elmer, I was wondering if he ever 
spoke about his brother to you or if you ever met him.  
sharon  

---

Subject: Rosenberg FAQ
Date:  26/05/2008 10:45 AM
From: W. G. Weinstein
To: Rosenberg Archive

Dear Sir,
it is a strange but not suprising turn of fate that Julian Altman was 
the first case that I came across in my practice where the violinist was 
stolen and not in fact the violin. It could be that the violinist was suffering 
from a stroke similar to that that confounded and destroyed the career of Aaron 
Ethelberg but I suspect, after some examination of the subject, that the violin 
contained suspect quantities of a Chinese herbal remedy that I am not able for 
professional reasons to disclose. He was also prone to hyperventilation - as I 
am. That dear Julian went missing is beyond doubt. That there is a violin - 
without question. I knew his niece intimately but not the uncle.

sincerely,
W.G. Weinstein

---

Subject: Rosenberg FAQ
Date:  10/11/2008
From: gokhan ustaoglu
To: Rosenberg Archive

Hello..all
I had send a message for to get information about a leftie violin for my son 
five years ago when I come back ,surprisingly...the mether is still violin...
vary good..continue please..regards all. 

---

Subject: Rosenberg FAQ
Date:  21/10/2009
From: Alistair Midmornington
To: Rosenberg Archive

Dear Sirs, 
I wish to draw to your readers' attention this remarkable ROMAN VIOLIN 
(pictured). A most incredible discovery as it turns out, for it seems to 
confirm that the Romans invented the modern violin well before the Birth 
of Christ (BoC).

It is amazing is it not that the Romans should have invented the violin and
become so taken by it that they quite literally put it on a pedestal.

The pictured example has been authenticated as dating from 20 BC (Before 
Christ) and is reputed to be the actual one that Nero played while Rome 
burned. It was however found in the Acropolis. Of course we are all wondering 
what a Roman violin was doing in the Acropolis and this will no doubt be the 
subject of further musicological study pending government assistance.

Suffice for the moment for your readers to be informed of this quite
momentous discovery.

yours etc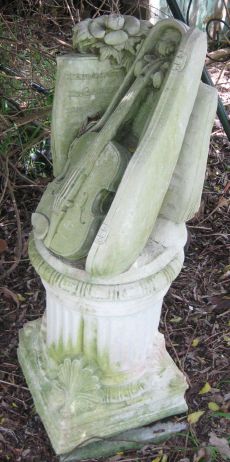 The Roman Violin (so-called, with case) discovered
in the Acropolis in 20BC.
---
go to FAQ archive page