rainer linz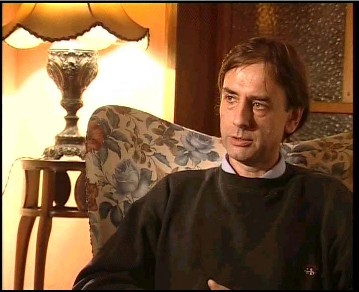 ---
Rainer Linz
Composer and sound artist Rainer Linz has a long involvement in radio, music theatre, instrumental and electronic music. His work includes an opera as well as numerous chamber and electronic pieces intended for concert performance. He is also an author and publisher. The Oxford Companion to Music in Australia (OUP 1999) notes "Linz's innovative and entrepreneurial work in Melbourne has been a significant factor in the city's prominence in experimental music."

His recent collaborative work includes the sound installation Barcode (Graz 1999), the interactive gallery installation infonoise (Belgrade 2001), and the live performance work Brainscore . Under the title New Listener he has devised a series of computer programs where a music or sound composition can be adjusted to the listener's preference. He is a recipient of the Australia Council New Media Arts Fellowship for 2002/3.


Recent Project Background 1990 Volcano & Vision, Chamber Opera in 3 acts. (Calculated Risks Opera Productions) The City Audiovisual production (w Anna Couani & Peter Lyssiotis) Sydney Biennale Sound design for Stelarc performance season, Melb International Festival 1991 Industrial Machine Works (w. Stelarc & Nathan Thompson) Melb International Festival 1992 Sound design, Hollow Body...(Stelarc) Ars Electronica, Linz Sounds & Visions music theatre project w. Brigid Burke & co. Book publication the pink violin (w. Jon Rose) Established the NMA Prize for Music and Writing (La Trobe University) 1993 The Encounter music theatre production (Contemporary Music EventsCompany) Sounds & Visions Radio production, ABC FM Sound Design for MUUMEDIA Festival, Helsinki Finland 1995 Urban & Aboriginal Festival, Berlin Sounds in Space exhibition, MCA Gallery Sydney Residency at STEIM Studios, Amsterdam Audio production and sound design, Steirischer Herbst Festival, Graz (Austria) Co-producer/Director, New Music Now video series, interviews with 5 Aust composers. Audio production and sound design, Lyon Biennale. 1996 Appearances at ICA London; Newcastle (UK) Electric Dance Festival; Ysbreker Amsterdam; Kunsthalle Vienna; Bodies in Space Festival, Maribor Slovenia; Sonnambiente Festival Berlin; Ars Electronica, Linz 1997 Festival Atlantico, Portugal. Perks performances (w. Jon Rose) Brisbane Biennial; Kunstlerhaus Mousonturm, Frankfurt. Appearances at ICC centre, Tokyo; Ars Electronica Festival, Linz; Fotofeis Festival Glasgow; Fukui Biennale, Japan. 1998 Barcode: First Immersion gallery installation, Maribor Slovenia. Co-organiser, `Hard Listening' performance series, Musicians Club of Victoria 1999 Performances at the String em up festival Rotterdam, and Maribor Computer Festival. Sound Installation work, Invisible Cities Project at Ripponlea (CME). 2000 Probity Quiz, radiophonic work for ABC Listening Room. Sound and system design for Movatar performance (Stelarc). Sound design for the Brainscore performance (with D. Kreuh & D. Grassi), incorporeal communication. Infonoise (with G. Novakovic & Z. Milkovic) sound system and design. 2001 Sound and system design for Motion Prosthesis performance (Stelarc) Amersfoort, Pittsburg, Berlin. Infonoise installation and sound performance at Belgrade Rex centre. False Narratives (Ruark Lewis) installation EAF Adelaide. Spatial exhibition Plimsoll Gallery, Hobart. Select Bibliography Broadstock, B. Sound Ideas Australian Music Centre, Sydney 1995 Burt, W. Experimental music in Australia using live electronics. Contemporary Music Review vol 6, part 1. Ed. P Nelson & E Montague. Harwood Berks 1991. Australian Experimental music 1963-90. Leonardo Music Journal Vol 1 no 1 Ed L Polansky Pergammon Press 1991 p5. Coyle, R.(ed) Sounds in Space Catalogue, Museum of Contemporary Art, Sydney 1995. Greenwell, A. Contemporary Australian Music Theatre Forms (Honours thesis) VCA Melb 1988. Jenkins, J. 22 Contemporary Australian Composers NMA Publications 1988 Melbourne. New Wine, New Bottles. Meanjin vol 47, no 2 Melbourne 1988. " " (& Linz, R) Arias - Recent Australian Music Theatre. Red House Editions Melb 1997. Linz, R. Dysrhythmic Etude / (Dis)continuous Music NMA 2 Melb 1983. What's not on the Radio? Aust Music Centre Newsletter no 6, Sydney 1984. Deconstruction Chorus Fringe Network Newsletter No 34, Melb 1985. No Consolation NMA 5 Melbourne 1987. " " Australian Piano Miniatures , Red House Editions Melb 1992. " " Currency Press piano music series vol 4 2000 ed. Sally Mays. The Opera "Crossed Purposes" Sounds Australian no 15 Sydney 1987. Volcano & Vision Sounds Australian no 15, Sydney 1987. More On Low Budget Technology. Sounds Australian no 19, Sydney 1988. Meditation Australian Guitar solos Currency Press Sydney 1991. Three Pieces (SATB) Red House Editions Melb 1991. Dancing... Frog Peak Anthology ed C Scholz & L Wendt New Hampshire US 1992. Volcano & Vision (score excerpt) Context no 3 Winter 1992 Melb. Response to an Essay on Postmodernism Sounds Australian no 33 Sydney 1992. An Interview with Stelarc NMA 10 Melb 1992. Wind Quintet Australian Compositions for Improvisers LA Trobe Univ Press 1994. Publishing the Debate Urban & Aboriginal Festival Catalogue, Berlin 1995. Three Pieces for Radio Sounds Australian June 1995. Towards the Design of a Real-Time, Interactive Performance Sound System Leonardo Music Journal no 6 , Pergammon Press 1997. The Free Music Machines of Percy Grainger Experimental Music Instruments Vol 12 no 4, Nicasio Calif. 1997. Prelude for guitar Australian Guitar Miniatures Red House Editions Melb 1997. Rose, J and R Linz the pink violin NMA Publications Melbourne 1992. Violin Music in the Age of Shopping NMA Publications Melbourne 1994. Recordings Colour TV Song SNX/Popular Music of Tomorrow Hawai 006 Metz 1986. The Opera Crossed Purposes Hear Now Public Broadcasting Association of Aust. 1986. Dysrhythmic Etude An der Schönen Blauen Donau Home Produkt (Belgium) GTO11 1987. Redolent Interludes (excerpt) Contemporary Music Review , Vol6 No1, recorded supplement. Berks1992. No Consolation Australian Piano Miniatures RH9401 Melb 1994 (Michael K Harvey, pno). Stelarc: Enhanced Gesture/Remote Desire: Post Evolutionary Strategies R6 Anckarström Göteborg Switzerland 1994. Physic (with B Burke) Assembly ACMA CD#2 Melbourne 1995. (various pieces) Intersect (with B Burke) NMACD 9706 NMA Publications Melb 1997. Piano The Frog Peak Collaborations Project FP007 Lebanon USA 1998. Fractal Flesh /Stelarc NMACD 9902 NMA Publications Melbourne 1999. The Opera Crossed Purposes / The Rehearsal NMACD 0007 NMA Publications Melbourne 2000. Resurrection 5 Tuchfühlung 2 Körperkonturen Ars Publica ARS142-009-2 .

online links
instrument design [1]
instrument design [2]
infonoise installation
barcode installation
movatar performance
brainscore performance
Redolent Interludes performance
biographical information
contact Rainer Linz
---
© 2002 NMA Publications