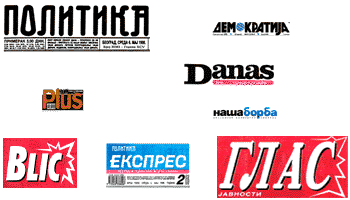 Politika | Demokratija | Danas | NT Plus | Nasa borba | Blic | Politika ekspres | Glas | Borba | Dnevni telegraf | Vecernje novosti | Archive |
Belgrade, Yugoslavia, Serbia, Wednesday the 10th of June
This text line is composed of headlines out of all Belgrade daily newspapers, creating specific info - noise that people are surrounded by. The intention is to archive these materials weekly, for next two months. The day that was chosen was Wednesday, as an absolutely common day in a week.
It will be presented as URL and plain text, in English and in Serbian language.
BLIC

Direct negotiations Milosevic-Rugova, Observers in Kosovo / Direktni pregovori Milosevic - Rugova, posmatraci na Kosovu
Germans Are Falling / Nemci padaju
They Burn Houses and Kidnap The Elderly / Pale kuce, otimaju starce
Women and Children Sheltered in Serbia / Zene i deca sklonjeni u Srbiju
Payment of Pensions Tomorrow / Sutra isplata penzija
Djokic Instead of Kalinic / Djokic umesto Kalinica
They Are Burning My Movie Again / Opet mi spaljuju film
Four-Year Old Aged Woman / Starica od cetiri godine
DANAS

Milosevic Agreed to Negotiate / Milosevic pristao na pregovore
Milosevic: No Reasons for Withdrawal of Army from Kosovo / Milosevic: nema razloga za povlacenje vojske sa Kosova
Flight of a Hawk / Let odlucnog "sokola"
Mud in Outskirts / Kaljuga na periferiji
White House: Step in Right Direction / Bela kuca: Korak u pravom smeru
NATO: Calming of Crisis / NATO: smirivanje krize
DEMOKRATIJA

Slobo said Yes / Sloba rekao "da"!
Reserve Pliceman Killed in His Own House in Istok / Policajac rezervista ubijen u svojoj kuci kod Istoka
Russian National Interest Jeopardised in Kosovo / Na Kosovu ugrozen ruski nacionalni interes?
Tutions from 800 to 2,700 Dinars / Skolarine od 800 do 2 700 dinara
POLITIKA

Respect for Integrity of Serbia / Uvazavanje integriteta Srbije
All Issues To Be Solved Peacefully Through Political Means / Sva pitanja resavati na miran nacin, politickim sredstvima
Mixture of Optimism and Disagreement / Mesavina optimizma i neslaganja
"Times": Autonomy for Kosovo Within Serbia / "Tajms": Autonomija Kosmeta unutar Srbije
Clinton Satisfied With Talks Between Milosevic and Yeltsin / Klinton izrazio zadovoljstvo rezultatima razgovora Jeljcin -
Milosevic
Common Declaration of Presidents Yeltsin and Milosevic Signed in Moscow / Zajednicka deklaracija predsednika Jeljcina i
Milosevica potpisana u Moskvi
GLAS

Acceptance in Nine Items / Prihvatanje u 9 tacaka
All 20 mandates in Chamber of Republics for DPS / Svih 20 mandata u Vecu republika za DPS
Kalinic and Nikola Poplasen Replaced / Smenjeni Kalinic i Nikola Poplasen
"Octavia" and "Felicia" for Officials / "Oktavija" i "felicije" za funkcionere
Singer as Aphrodisiac / Pevac kao afrodizijak
Reserve Policeman Killed in His Own House / Policajac - rezervista ubijen u svojoj kuci
No Bitching of Wives, Only Beer and Goals / Bez zeninog zvocanja, uz pivo i golove
Whose Is Belgrade Tower?Cija je Beogradska tvrdjava?
Voice of Mondial / Glas Mondijala
EKSPRES

Solution for Kosovo Only Through Peaceful Means / Resenje za Kosmet samo mirnim putem
When Raspberry Sweats / Kad se malina "preznoji"
Ekspres Takes You to Hawaii / Sa "Ekspresom" na Havaje
More Than 200,000 Serbian Pensioners Receive Checks Tomorrow / Za nesto vise od 200 000 penzionera u Srbiji sutra cekovi
NOVOSTI

Agreement in Nine Items / Dogovor u 9 tacaka
Copalition Took It All / Koalicija uzela sve
Moscow: Yeltsin and Milosevic Signed "Common Statement on Kosmet / Moskva: Jeljcin i Milosevic potpisali "zajednicku
izjavu o Kosmetu"
Djokic New President / Djokic novi predsednik
Someone's singing, Someone's Beating / Neko peva, neko bije
Pensions Tomorrow / Penzije sutra
They Shoot at Everything Alive / Pucaju u sve zivo
NT PLUS

Yeltsin Dissatisified With His Dialogue with Milosevic / Jeljcin nezadovoljan dijalogom sa Milosevicem
Discord in Serbian Government: Seselj Prepares New Laws Without SPS and JUL, Milan Beko Controller of the Radicals / Rascep u vladi Srbije: Seselj sprema nove zakone bez SPS i JUL, Milan Beko kontrolor Radikala
No Printing of Dinars for Purchase of Wheat / Nema stampanja dinara za otkup psenice
I Would Like to Sing Duet with the Pope / Voleo bih da pevam u duetu sa Papom
Clinton Glad / Klinton zadovoljan
Declaration of the Two Presidents / Deklaracija dva predsednika
DNEVNI TELEGRAF

Unmarked Jeeps, Red Scarves on Faces of Soldiers / Dzipovi bez oznaka, crvene marame na licima vojnika
Stopping of Terrorism First / Prvo prestanak terorizma
Two Croatian Policemen Killed, Four Yugoslavs Injured / Poginula dva hrvatska policajca, ranjena cetiri Jugoslovena
Clinton is Glad / Klinton zadovoljan
From July on, Yugoslav Airlines Grounded? / Jugoslovenski Aero Transport na zemlji od jula?
Zika Mustikla Saved Stankom Bank with his Mandate / Zika Mustikla poslanickim mandatom spasao Stankom banku!
Lunatics / Ludaci
NASA BORBA

Milosevic Obliged to Continue Talks with Rugova / Milosevic se obavezao da ce nastaviti pregvore sa sa Rugovom
Police Withdrawal in Accordance with Stopping of Terrorism / Povlacenje policije srazmerno prekidu terorizma
Talks Should Contribute to End Kosovo Crisis / Razgovori treba da doprinesu okoncanju kosovske krize
No Reason for Army Withdrawal from Kosovo / Nema razloga za povlacenje vojske sa Kosova
BORBA

For Peaceful Solution of Problems in Kosovo / Za mirno resavanje problema na Kosmetu
No Solution Without Russians / Bez Rusa nema resenja
Importance of Russian-Serbian Friendship / Znacaj rusko - srpskog prijateljstva
Use of Force Excluded / Primena sile iskljucena
Our Age is not Mediaeval, It is Medium / Nije srednji, nas je vek osrednji
Thirsty By the Water / Zedni na vodi
When Jury Throws Flowers at Actors / Kad ziri glumce gadja cvecem
Satisfaction with Content of Negotiations / Zadovoljstvo sadrzajem dogovora
Milosevic in Belgrade / Milosevic u Beogradu