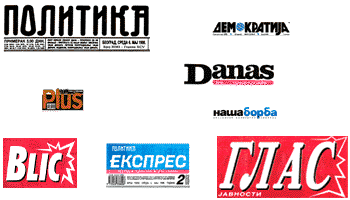 Politika | Demokratija | Danas | NT Plus | Nasa borba | Blic | Politika ekspres | Glas | Borba | Dnevni telegraf | Vecernje novosti | NEW |
Belgrade, Yugoslavia, Serbia, Wednesday the 3rd of June
This text line is composed of headlines out of all Belgrade daily newspapers, creating specific info - noise that people are surrounded by. The intention is to archive these materials weekly, for next two months. The day that was chosen was Wednesday, as an absolutely common day in a week.
It will be presented as URL and plain text, in English and in Serbian language.
BLIC

Policeman Zeljko Sijan Killed / Ubijen policajac Zeljko Sijan
Federal Government Does Not Exist For Montenegro / Savezna vlada ne postoji za Crnu Goru
Police Beats Students Again / Policija opet tukla studente
Price of Electricity Higher for 9,5% / Struja ponovo skuplja za 9,5%
Cyndi Got Married / Sindi se udala
Russians Stop Gas / Rusi gase gas
DANAS

Police Beats Students Again / Policajci ponovo tukli studente
Montenegrins Can Disband Federal Parliament / Crnogorci mogu da raspuste Saveznu skupstinu
Threats, Resignations, and a Bit of Beating / Pretnje, ostavke i pomalo batine
If You Don't Sign, War Will Go On / Ako ne potpisete, rat ce se nastaviti
Tomic Jr. Bought One Third of Skopje Steel Factory / Tomic mladji kupio trecinu Skopske zelezare
DEMOKRATIJA

Hague Has Been Watching Kosovo for Long / Hag vec odavno motri na Kosovo
Milosevic Commands Army Over General Aleksandar Dimitrijevic / Milosevic komanduje vojskom preko generala Aleksandra Dimitrijevica
Thirteenth Day of Student Protest in Belgrade / Trinaesti dan studentskog protesta u Beogadu
POLITIKA

Three Russian 'NOs" On Kosovo Issue / Tri ruska "ne" pri resavanju kosovskog pitanja
Fear of "Islamic Bomb" / Strah od "islamske bombe"
Air France Obliged to Transport Participators of Championship / Er Frans je obavezan da prevozi ucesnike Mondijala
GLAS

Mitilenos Gives Up Trepca / Mitilenos odustaje od Trepce
Without Serious Turn, Break-Up Threatens Country / Bez ozbiljnog zaokreta drzavi preti raspad
Policeman Zeljko Sijan Killed / Ubijen policajac Zeljko Sijan
Dusan Urocevic Buried in Belgrade / U Beogradu sahranjen Dusan Urosevic
Kosovo, as if War was Approaching / Na Kosovu kao pred rat
World Would Not Allow Another Bosnia / Svet nece dozvoliti da se ponovi Bosna
Police Beat and Arrested Students / Policija batinala i hapsila studente
Resignaton Due to Imposed Law / Ostavka zbog nametnutog zakona
Healthy on Grass / Zdravi na travi
EKSPRES

Perovic Resigned, Bojovic Announced Resignation / Perovic podneo, a Bojovic najavio ostavku
Electricity Bill in Installments / Strujni dug na rate
Gas Shock Possible on June 6 / Gasni sok moguc 6. juna
Wild West in Northern Albania / Divlji zapad na severu Albanije
Ekspres Takes You to Hawaii / S "Ekspresom " na Havaje
NOVOSTI

They Shoot at Everything Alive / Pucaju na sve zivo
Heartbreaking Voice / Glas koji srca lomi
Everyone to His Rightful Place / Svakom svoje mesto
Furniture Via Company / Namestaj preko firme
Killed for 500 DEM / Ubio zbog 500 maraka
Julio Iglesias in Belgrade At Last / Hulio Iglesias najzad u Beogradu
NT PLUS

Montenegrin Parliament Demands Bulatovic Revoked, SNP With No Representatives in Chamber of Republics / Skupstina Crne Gore trazi opoziv Bulatovica, SNP bez poslanika u vecu republika
NATO Council on Kosovo / Savet NATO danas o Kosovu
Terrorists Flee Across the Border, Women and Children as Shield / Teroristi beze preko granice, zene i deca zivi stit
Dead Man Became Juror -Judge / Pokojnik postao sudija-porotnik
Several Students Beaten and Arrested / Vise studenata prebijeno i uhapseno
Crazy Djole Killed Last Night in Banovo Brdo / Ludi Djole ubijen sinoc na Banovom brdu
DNEVNI TELEGRAF

100 Policemen Fired - They Refused to Go to Kosovo / Otpusteno 100 policajaca – odbili da idu na Kosovo
Police Beat Students yesterday / Policija i juce tukla studente
Professors are Clerks, Government Can Dismiss Them / Profesori cinovnici, vlada moze da ih otpusti
Crazy Djole Killed? / Ubijen ludi Djole?
Terrorists Broken, Policeman Killed / Razbijeni teroristi, poginuo policajac
Championship Began! / Prvenstvo je pocelo!
No Power Cut / Nece biti sece struje
Half of 1,245,000 Pensioners Received Less Than 962 Dinars / Polovina od 1.245.000 penzionera primila manje od 962 dinara
NASA BORBA

USA Ready to Re-Introduce sanctions / SAD spremne na vracanje sankcija
Milo Djukanovic: I Expect Premature Federal Elections / Milo Djukanovic: ocekujem prevremene savezne izbore
Operation in Area of Decani Completed / Zavrsena operacija na podrucju Decana
Decision on Continuation of Negotiations Today or Tomorrow / Odluka o nastavku pregovora danas ili sutra
Perovic Resigned / Perovic podneo ostavku
BORBA

Don't You Feel Bad, Milos? / Da ti nije lose, Milose?
Sounds of Homeland / Zvuci zavicaja
From the Root of Being / Iz korena bica
Ingnorant and Sinner / Neznalica i gresnik
Machines for More Food / Masine za vise hrane
Cooperation of FRY and OSCE / Saradnja SRJ i OEPS-a
Yeltsin Imposed Severe Measures / Jeljcin zaveo ostre mere
Jobs for More Than 60,000 Workers / Posao za vise od 60.000 radnika
Terrorist Group Destroyed / Unistena grupa terorista
Party With Chetnik Songs / Slavlje uz cetnicke pesme
Mosquitoes and She-Mosquitoes / Komarci i komarice