Caroline Wilkins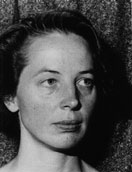 Caroline Wilkins, an originator of unique forms of music theatre, was born in 1953 in Somerset in the south-west of England. At the age of four she discovered the piano then, as a 10-year-old, began private piano lessons. Previously, for some years, she had enjoyed spontaneously improvising on the instrument at home, and on an old harmonium at her local church.

From 1971 to 1975 she studied music at the Royal College of Music, London, majoring in piano under the teacher Yu Chun Yee, and graduating in both the Performance and Bachelor of Music streams of her course. As an additional interest, Wilkins also studied Eurhythmics at the College with Elizabeth Vanderspar, between 1971 and 1975. This was to prove influential upon her music as it encouraged her to explore relationships between movement, voice and music and to develop improvisational techniques and choreographic ideas through a directly musical interpretation of movement. Here, also, was an early integration of aural and visual ideas and an understanding of the kinetic response to music. After completing an additional year's specialised study with Vanderspar at Morely College in 1976, she began teaching Eurhythmics at the Montessori Teacher's Training College in Kensington, London. At the same time, Wilkins began performing on the piano with informal chamber music ensembles in and around London, the West Country and Geneva, Switzerland.

Her first community theatre work was at the Cockpit Theatre, London, in 1980, as the musical adviser/director of a Young People's Theatre Project funded by the Greater London Council. Not long after this, Wilkins toured the UK as company member and composer with the European Theatre Of War , a satirical cabaret on the subject of the arms race. She worked with performers Dave Rappaport, Helen East, Robert Stredder and members of the Cunning Stunts theatrical group. This period also marks the beginning of Wilkins' use of piano accordion, an instrument with which she continues to be associated. She says she was initially attracted to "a large, gaudy accordion with elaborate tapestry bellows, pink keys and a seductive tone".

Thinking she would like to develop fresh directions for her work in a completely new environment, Wilkins emigrated to Australia in 1981 and settled in Sydney, where she launched into a round of performances at theatre bars like the Blue Cockatoo and Toucan Cafe and at city restaurants. She also became a founding member of the instrumental ensemble The Weill Bunch with the singers Annette Tessoriero and Janie Millar. The group performed mainly cabaret productions of Brecht/Weill songs, with instrumentation based on a small dance band of the 1920's: trumpet, trombone, clarinet, saxophone, mandolin, violin, percussion, piano and accordion. Wilkins wrote Suite For Kabarett for the group, a piece first performed at the Women And Arts Festival , Sydney, in 1982. For a short time in the same year she joined the Companie Du Roi Soleil , giving elaborately costumed performances of French Baroque dance and music, playing harpsichord with flautist Jacques Riou. In 1982 she also became resident musician with Playback Theatre , which involved a form of storytelling, improvised theatre and music, and a company member of People In Puppetry . Her role in the latter was as a performer and composer, touring schools in NSW and performing at the Adelaide Arts Festival in 1984 as part of the fringe program. Music for these productions included works for piccolo, percussion, and accordion (Piccolo Puppets) ; and for trumpet, music box, kalimba and accordion (The Selfish Giant) . These tours also involved organising and running community workshops in music and theatre skills.

In 1984 Wilkins originated the character `Carlheinz, the accordioniste extraordinaire', who one day appeared unannounced out of the tradition of early European street musicians. `Carlheinz' simply stepped into the spotlight, bringing with `him' a past era of dance music, complete with trolley, brolley, tatty tails and accordions of all shapes and sizes. But `Carlheinz' was careful to also bring a friend, `Tina, the Town-Clowner,' the alter ego of performer Peter McRae. Together the unlikely duo performed music, dance and theatre at all manner of `high' and `low' art venues in 1983, including the Lane Cove Shopping Centre and the Art Gallery of NSW. Early performances incorporated traditional Italian dance tunes and later explored relationships between instrument and performer in terms of sounds that could be generated by both gestural and non-gestural movements. This was achieved by `exteriorising' whatever mechanism produced the sound, such that it could be worn and displayed on the performer's body, and related directly to obvious body movements, thereby drawing a direct comparison between the physical characteristics of the instrument and those of the performer. Calliope (1984) combined the sound of three piano accordions in this way. Carlheinz' Tango (1984) uses live improvised sound juxtaposed with a pre- taped musical narrative to create the sense of a `collision' of realities, perhaps of the old with the new, the popular with the esoteric, the mechanical with the electronic and of the technological with pre-technology. Wilkins performed Carlheinz at a concert given by the Flederman ensemble in the Sydney Opera House Recording Hall in 1985, in collaboration with the Sydney- based composer Richard Vella, as part of Vella's Mazurka Europa piece for accordion and contemporary ensemble. Subsequent performances devised and choreographed by the performer, were held as part of the International Women's Week Festival in Sydney in 1986, at the Sydney Performance Space, at the Tin Sheds at Sydney University and informal venues like `Above Syd's'.

Throughout this period Wilkins continued further studies in physical-based theatre skills with Drama Action, Sydney - a self-funded group of performers that hold workshops and teach courses in advanced performance skills - as well as conducting her own workshops and courses in specialised areas of music at the NSW Conservatorium of Music. This has produced a rich cross-fertilisation of ideas and influences in her work and promoted further enquiry into relationships between voice and movement. As a student of drama, but a teacher of music, she investigated how related improvisation techniques from both fields could be united using words, gestures and imagery.

As guest lecturer at the NSW Conservatorium of Music from 1982 to 1985, she used her findings when teaching keyboard improvisation to Bachelor of Music Education students, and in practical music theatre workshops to students of composition. She encouraged spontaneous collaboration between participants, and some short works devised during these sessions were presented at the Conservatorium's Open Day in 1985. In the same year Wilkins became adviser/guest choreographer for a performance presentation by fourth year composition students at the Image `85 series at Extensions dance studio in Melbourne during a weekend seminar on music theatre.

In 1985 Wilkins also played with the Seymour Group - a contemporary music ensemble of instrumentalists from Sydney University - in the Music Theatre Triple Bill `84 performances; playing piano accordion in Edward Cowie's Kate Kelly and using voice in Moya Henderson's Chloe . She continued for two years of further private study in classical voice technique with Trudi Petersen and Coralie Joyce, and six months of recording techniques with Vineta Lagzdina at the Sydney College of the Arts.

In 1985 Wilkins developed compositional ideas for piano accordion following earlier experiments with an old, out-of-tune instrument that had been especially restored and reconstructed. The solo work, Piece For Old Accordion resulted, in which Wilkins explored the particular characteristics of its sounds; that is, relationships between tuning and timbre, the mechanism of the bellows, its `cracked' notes and the resulting `rawness' associated with very early sound production.

The original sonic history and setting of the instrument was acknowledged by incorporating fragments of early dance rhythms, street sounds and fairground music, which in turn `crumble' or `decay.' The sound is quite deliberately reminiscent of silent film music or old gramophone recordings, but avoids narrative expectations.

The possibility of hearing one sound through another, as it were, led to the solo Piece For Accordion And Phonograph (1985), where the rhythmic pattern of a needle on a 78-rpm disc is varied in speed and used in combination with sustained notes.

Physarmonica (1985), which means `bellows accordion,' was a piece for two accordions, and also the title of an album of pieces, as well as the label under which the album was released. All the pieces on Physarmonica are for solo instrumentalist, played by Wilkins and recorded by Richard Vella and Vineta Lagzdina at the NSW Conservatorium and the Sydney College of the Arts.

The record features the combined sounds of old and new instruments, colliding the past with the present in a way that produces a `distancing' effect. The last piece in the set, Staggered Tango , begins with the idea of disrupting the constant beat of the dance tempo - through a deliberate de-synchronisation of several tempi -resulting in a complex rhythmic interplay. Recurring thematic motifs weave in and out of this structure, sometimes in a `playful' and, at other times, in a `threatening' way. The motifs change their meaning according to their relationship to the basic rhythmic structure of the tango.

Wilkins' interest in `the play of time' is reflected in her collection and usage of early sound sources such as the phonograph and the `popular' music of the past; such as opera, dance bands and folk songs. This has prompted further research into early methods of sound reproduction through the mechanisation of musical instruments. As a result of meeting a collector of early mechanical instruments, Harold Burtoft, in 1985, Wilkins began recording and composing a continuing series of pieces, Music For Mechanical Instruments . Her instrumentation includes music boxes, barrel organs, player pianos, barrel pianos, clocks and phonographs.

The importance of the sound source has promoted a number of long- and short-term projects, radically influencing Wilkins' musical aesthetics. Essentially, this influence involves the `exteriorisation' of sound, of acknowledging both the `inside' and `outside' of the instrument, and of reconnecting these two aspects of listening by varying their relationship. For example, she may reproduce a well- known tune by means of an audible mechanism or isolate the means of sound production in order to change its context. Each instrument has its own peculiar timbre characteristics and individual eccentricities which lend themselves to a playful treatment, using `shifts' and disruption of time and narrative; for example, by `phasing' two clocks which fall gradually out of synchronisation. In particular, these projects acknowledge the `body' of a sound source, its undisguised `clumsiness', and the dislocation of comparative speeds within an overall time framework.

Early in 1986 Wilkins took part in collaborative projects with artists from different disciplines. One of these was an investigation into new forms of theatre held at Sydney's Performance Space, funded by the Theatre Board of the Australia Council and directed by Derek Kreckler. This activity culminated in a performance of a group-devised piece, Stolen Time , at the same venue. It combined the skills of singers, dancers, actors, performance artists and musicians. Among those taking part were Vineta Lagzdina, Reto Ocheslin, Annette Tessoriero, Nellie Grundel, Sue-Ellen Kohler, Lucy Guerin, Sarah Backblock and Jenny Plumstead.

At the same time Wilkins took part in a music theatre work during the Australian National Playwrights' Conference in Canberra. Funded by the Music Board of the Australia Council, it was titled The Doll , and loosely based on Ray Lawler's play, Summer Of The Seventeenth Doll . Devised and presented by Caroline Wilkins, John Baylis, Tony Strachan and Richard Vella after two weeks of intensive workshopping, the piece explored alternative uses of music in theatre.

Wilkins found that working in collaboration brought the following idea and themes to the fore:

Firstly, a further consideration of the shifting relationship between performer and instrument - between the animate and inanimate - and of how audience attention shifts between both; also how this involves a duality for the performer, in which both aspects are presented at once and one aspect is affected by the other, creating a kind of tension or inner dialogue between the two.

Secondly, ideas about how there may be a deliberate reversal of the polarity `inner/outer' with regard to the instrument or medium. That is, following ideas of Roland Barthes, how "both mechanism and art", process and product, may be revealed in a way which challenges the traditions of Western aesthetics. The closest parallel would be with Japanese Bunraku theatre, which is concerned with the `distancing' of character and actor in order to create an `absence' - a separation - away from direct meaning. Bunraku is a form of puppet theatre in which the puppeteers and puppet mechanisms are visible to the audience, which ensures a distance between the character and actor. Therefore, the mechanisms are not interiorised or `hidden'. Moreover, in Bunraku the action is accompanied and `presented' by a group of musicians and narrators, so each aspect of the drama remains separate.

Thirdly, a wish to acknowledge the `physical presence' of sound sources used in performance, in both aural and visual terms, perhaps by disclosing and highlighting the processes and mechanisms whereby they produce sound.

Fourthly, further notions about what is seen and unseen by an audience (in terms of sound) and the difference in perception involved when the same musical material is played live or on a recording, or when there is an interaction between live and recorded material. Also, what possibilities become apparent when the two are separated or unsynchronised, such that there is a dislocation between what is seen and heard, thereby setting up a third element of dramatic tension which might be capable of carrying many meanings.

These considerations prompted Arias For Phonograph And Singers , workshopped at the 1987 Australian National Playwrights' Conference, which explores the sources and treatment of the voice from early recordings of opera to the present day. It deals with the interplay of live performers and their counterparts from the past, heard through fairly crude methods of sound reproduction, thereby juxtaposing two different `times' of sound. The inner dialogue of the aria is examined - its lonely, soliloquising nature - through a conventional and non-conventional treatment of the voice. The piece elicits musical memory and association and proceeds like a stream of consciousness.

Vocal composition has become increasingly a part of Wilkins' work, in particular with the exploration of non-verbal and extended vocal sounds which, she believes, reveal more of the internal workings and particular timbre of a voice. Bels Doucs Amics (1986), a piece for eight female voices, combines the use of breath with the spoken word and pure, non-vibrato sound. The text consists of poems by 12th Century women troubadours (Castelloza, Tibors, the Countess of Dia) collected in the book The Women Troubadours , edited by Megan Bogin.

Recently, Wilkins has collaborated with Vineta Lagzdina and dancer Sue- Ellen Kohler on a performance piece based on Music For Mechanical Instruments . This earlier piece became a starting point for some visual and choreographic ideas based, to some extent, on aspects of the Bauhaus theatre of 1926 to 1927, in particular the work of Oskar Schlemmer. The piece deals with the theme of the body as catalyst, and its `mechanisation' and manipulation, and collides together music and images from the present and past. In it there is a progression from organism to mechanism, using images of 19th Century automata and the evocative sounds of music boxes and clocks, following one Bauhaus theorist's dictum, "replace actors with mechanised dolls, into each of which a phonograph shall be built".

Other recent work includes compiling a piece for mechanical pianos (such as barrel pianos, piano concertina and player piano) which reflects their particular sonic idiosyncracies and looks at the social/historical context of the music. Wilkins is also involved in long-term projects which involve the construction of a `hybrid' mechanical instrument based on music box designs, the barrel organ and kalimba and using an assortment of plucked/percussive sounds made by bells, clock springs, typewriter hammers - all essentially parts of old mechanisms. Whether acoustic or amplified, the sound is deliberately `raw' and unrefined. Works in progress for piano accordion include one for a five- or six-member ensemble, employing a variety of performing skills and combining live and pre-recorded music.

Wilkins' approach to composition involves generating a musical idea which gives rise to images suited to a music theatre context, then allowing a further `shaping' by the performers, depending on their particular skills, such that the actual `writing' takes place during rehearsals.

With her pre-recorded and solo work, the process is different: there is a precise structural `placing' of sound on tape or within a score, combined with improvised sections created and controlled by the composer. Wilkins prefers to work directly with the sound source, discovering its subtleties and uncovering a musical `shape' and `intention' through the exposition of an overall musical idea. By following an `internal' design, she finds it easier to make conscious decisions about the use of her material, as the overall `meaning' of a work sometimes only becomes clear at a later stage. Wilkins often begins with improvisations on piano, and her adroitness with this instrument is clear in the piece Five Improvisations For Piano (1983). However, she sometimes finds there is more a sense of experimentation when she uses the accordion for this purpose, because of the instrument's inherently exuberant nature and the movement dynamics it is able to stimulate.

It is crucial to Wilkins that there be no division in her work between composing and performing, between writing and practice. Her ideas, and the images and music that unite in her performances, all have a common source in fantasy and her own imagination, which is why she works in theatre. She also finds an intense enjoyment in communicating with audiences through a sense of playfulness and lightness as well as recognising the serious intent of her work.

Late in 1987 Wilkins left Australia for Cologne, Germany, to study new music theatre with Mauricio Kagel; and her recent projects include `mechanical' music for film, and also a dance-theatre performance for the 1988 Perth Festival with choreographer Eleanor Brickhill and the Still Moves dance company.

RECORDINGS

"Physarmonica for Two Piano Accordions", NMATAPES 4 , NMA Publications. 1985.

"Piece for Mechanical Musical Instruments". NMATAPES 5 , NMA Publications. 1987.
---
---
© 2000 NMA Publications and John Jenkins