Colin Offord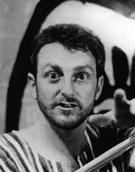 Colin Offord is a Sydney-based composer, musician and visual artist who was born in London in 1954. Largely self-taught, he left school at 14 after attending public schools in Campbelltown, NSW, and three years later he also left home.

Although he began painting and sculpture at the age of 14 and started teaching himself music at age 19 in Malaysia, where he learned the Chinese flute, he was forced to earn a living in miscellaneous employment while his art was still developing. His early jobs included feeding chickens, working in a car polish factory and as a copyboy in a newspaper office, then as a commercial artist.

Even as a young teenager Offord could not accept that the various art forms - such as music, dance, poetry and music - could be seen as self-enclosed `disciplines' or that they were in any way separate from daily life and the creative processes that shaped mundane activities such as cooking and pottery. To him, they all seem very obviously connected, both with each other, as well as with common human needs for love, spirituality, satisfying work and some measure of power over one's destiny.

Now, Offord often incorporates original paintings, linear calligraphic `scribbles', sound sculpture and a range of visual media into the performance of his music, and the visual and sonic aspects of his work are so inter-dependent it is impossible for them to be considered separately.

Ironically, in spite of his perceptions of a possible artistic unity, he felt he grew up in "a cultural wilderness" which offered neither directions nor imposed useful limits, and where to make art at all was to be an exception.

In a semi-rural new suburb in Sydney's outer west, where his father was a metal worker and his mother a pre-school teacher, the few cultural inputs that were stimulating at all were profoundly so. Local art shows and fairs, art books, popular classics, The Beatles, the bush, building cubby houses and tunnels, Disneyland and Robin Hood on television... (Offord still plays with bows; with mouthbows.) Who knows how profound these influences may have been? Even leaving this question unanswered, Offord recalls, as early as the age six or seven, writing stories which began or ended with: "When he grows up he will be an artist."

Today, looking back at those times, he cites Harry Partch who said, "Originality cannot be a goal, it is simply inevitable." As a teenager Offord simply knew he had a lot of ideas and needed to express them.

(Interestingly, Offord stumbled onto Partch's music by accident after seeing an attractive record cover in a local record shop, at the age of 18. Today, both technically and expressively Partch remains an abiding influence on Offord, as well as a source of inspiration, especially Partch's practice of using original instruments in composition.)

Offord's own teachers were Joan Brassil, his art teacher in years seven to 10 of high school; also Stan Favelle, who taught him to read music and play flute and bass clarinet from age 19 to 26; Mr Guo Yue, a Chinese flautist from Beijing with whom he studied very briefly while in London; Acaah Pree Cha, who taught Offord the khene (a Thai reed organ) in Maha Sarakham, North East Thailand in 1984; Janice Slater, a Sydney voice teacher and, finally, Yen Lu Wong, an American-born Chinese choreographer based at the University of California at Los Angeles.

Offord met Wong in 1986 when the former was Artist in Residence at the Jacob's Pillow Dance Festival in Massachussetts. He found Wong especially encouraging in giving him a sense of conviction and courage in his work and in indicating ways he might work in community arts.

As a teacher, Offord now holds workshops in all his areas of interest and teaches classes to a wide range of community and school groups and to students of all ages.

He believes that the creative process involves becoming sensitive to the world around him and, in this sense, simply being able to look and listen carefully are very important. However, in no sense is Offord's art based on literal meanings, but is rather evocative and poetic and centered in the emotions. If he contemplates seashells during an improvisation, or incorporates them in a work, they might (for example) become associated with the sounds of whales moving through the ocean, or other evocative imagery. In this sense, Offord's art is one of sympathetic resonances . A piece based on birdcalls or images of birds may, as another example, at one moment remind one of animals and plants, then of insects, or an abstraction (such as the collective blueness of the skies in which the birds might have flown). And the music and artwork of the particular piece may deliberately invoke all of these associations.

His art involves "constant invention, exploration, honing, fine-tuning and focusing". Moreover, in his terms `art' describes all the aspects of his work, both visual and sonic. But the creative process in which he is involved is not elaborated merely to bring about change for its own sake, but to further a wider process of understanding and discovery, of coping with and uncovering the subtleties of the everyday world. It is a way of experiencing life in a fuller sense and of revealing "the sublime in the mundane".

Offord has never seen himself as a member of any `avant-garde', yet because of the fusion of his visual art with music and a unique theatricality, he has often been dubbed a `performance artist'. However, he does not accept this label, and defines his work rather as a form of highly idiosyncratic folk art, and also prefers the adjective `inventive' to `experimental'.

The term `folk' becomes germane, Offord believes, because his art is totally integrated with his everyday life and to that of the broader community. A full-time artist, Offord works in a wide variety of areas, giving workshops in music improvisation, instrument making, voice training, the visual arts and stilt-walking. He also performs in concerts and festivals, at art centres, in community projects, parades and other public events.

He cites many influences upon his work and would like to think he has absorbed all of them in a deeper rather than a merely superficial way: everything from Japanese and Chinese calligraphy, old European manuscript illustration, early impressionist and post war modern art, the work of Constantin Brancusi and Hans Arp, African and Korean singing, jazz and new music... Thai and Chinese wind instrument techniques to tin whistle players...Harry Partch and John Cage to Bob Dylan and J. S. Bach. Offord believes, at one point or another, all these influences can be seen or heard as references (though sometimes as very indirect and distant ones) in his visual work or music.

Among other specifically musical influences he lists the following: firstly, among his mentors from modern Western music, the jazz trumpeter Don Cherry, New York-based vocalist Meredith Monk, jazz reed player Roland Kirk, Celtic folk singer Alan Stivell and the contemporary Japanese composer Toru Takemitsu; and mentors from early Western music, Claudio Monteverdi, Ottorino Respighi, Jean Sibelius and Claude Debussy; and as influences from non-Western traditions, Nigerian, Melanesian, Polynesian and Laotian musics, and also Korean and Celtic as well as American modern folk music.

Offord, who has always wanted to integrate his life and art, realised this aim only after a great deal of hard work, particularly over the past six years, during which time he has been a full-time, self-employed artist. Much of his effort over this period was spent developing pieces and bringing them together into a total body of work.

His current aims include creating images and sounds that have a strong connection with Australian life, and which also involve links with our geographical near neighbors and those that are brought closer through technological means - through satellite transmissions - and all manner of information "zipping down the line and coming out of a shell". (Offord sometimes plays a variety of seashells during his performances.)

He intends the pun when he characterises his artistic aims in terms of a `new Australian' music of great expression, but one based more on an artistic philosophy than a shared style. And this philosophy, he believes, should further involve some holistic concept of the harmony and integration of natural and human-made worlds. On the level of performance, he believes, this would manifest as "inter-penetration, audience participation and constant growth". That is, the audience should be empowered to take part by, for example, hand clapping or playing some instruments. The ideal of inter-penetration is also served by various modes of listening, as listening is as much an active as a passive process and it has a marked effect upon improvisation, which Offord believes is very vulnerable to audience reaction. His performances are shaped by "set and sound" and the conceptual and emotional - as well as actual - space he and the audience inhabits while the performance is in progress.

In the past five years, Offord has worked throughout Australia and in Europe, America and South East Asia. His tours are usually financed by running series of workshops and classes; although he has had occasional support from the Music Board of the Australia Council (for his tour of Germany in 1982) and from the Department of Foreign Affairs (for his performance at the Commonwealth Arts Festival, Edinburgh,in 1986).

Sometimes Offord performs in remote country areas or very conservative communities, yet he finds no fixed pattern of response to his work. A country town audience, during a school fete day, may be more open and responsive than (say) a highly fashionable and `contemporary' art school audience. Or, on another occasion, the reverse may be true. From this Offord concludes that if the work is "strong, sensitive, gutsy and above all unpretentious" the audience will be responsive and interested and will enjoy the performance.

All Offord's performances are live, without the use of pre-recorded tapes or pre-programmed synthesizers. His instrumentation includes mouthbows, voice, flute, a variety of home-made `windpipes', sound sculptures and percussion. As he invents new instruments, he also learns to play them, which is made easier when the instruments share similarities or are related. (Windpipes are metal or bamboo tubes, sometimes tiny, or from two to four meters long, played like flutes and built in all shapes and sizes.)

A range of materials and sculptures are also used percussively and to provide a visual dimension. Often these materials make reference to the everyday world: torn white papers, card or paper inscribed with strong black lines and soft oil washes, shaped trees, wood, polished metals, industrial refuse and paper litter.

These materials are often combined with high technology items: amplifiers, digital delay devices, tape recorders and color slide projectors; a highly evocative union of the mundane and the exotic. Offord believes audiences enjoy the "accessibility" of his combination of `man made cleverness' with natural materials. Perhaps, he believes, it suggests reconciliation, balance and that a positive integration of culture with nature is still possible, even though we live in "a tottering world".

An improviser who plays both indoors and outdoors and for whom no two performances are the same, Offord works from an idea - perhaps for a rhythm or melody - and never from a set score. He says he has no fixed compositional methods and believes the audience changes the work and can "make or break" a performance.

Offord gave the following reply to a question about his musical aesthetics: "I love textures, sound collage, clean lines with little or no colors (harmonies), stillness, repetition, walking rhythms, spiral patterns that turn inward and outward simultaneously. Huge, empty, barn-like spaces - shells howling - animal and elemental sounds. Amplified breathing - windpipes and Australasian flute - great sheets of sound. Bells, drums and sustained humming strings. All set within white suspended images and commented on by evocative texts. Landscape imagery, love songs and sensuality... or an unintelligible gibberish, an `archaic human language of musical utterance' to quote a German reviewer."

His work falls into three large categories:

Firstly, solo performances (since 1970) on `grand mouthbows', seashells, windpipes and voice. These events take place almost anywhere people can choose to sit quietly, listen carefully, go to sleep or dance. Having never regarded himself as an entertainer, Offord works best in situations where people come specifically to hear his music or where they are free to come and go (for example, at outdoor festivals, theatres, concert halls, living rooms, gardens and museums). Although most of his work is acoustic, he always amplifies the mouthbows, carefully installing the electronics in the environment, along with the paintings, suspended collages or sound sculptures.

In this work, sculptures are built specifically for the environment. For example, `wall harps', `wind tunnels', `ground zithers' which use the earth as a resonator. These original instruments employ tiny microphones that are activated by vibrations within any part of the environment that has natural resonance.

Grand mouthbow and voice improvisations have dominated Offord's work in recent years, with the wind instruments rounding out and adding color to sometimes quite long and demanding performances. His Lyrebird pieces, for example, sometimes last up to five hours. However, most concerts adhere to the conventional two-hour format and include an interval. Pieces are either totally improvised or based around a simple structure or text. Notable solo performances include Robinson Crusoe And Other Problems Of Survival at Watters Gallery, Sydney and the NSW Regional Gallery; Dinosaurs From China at the Australian Museum; Lyrebird at the Adelaide Zoo, the Victorian Arts Centre and the NSW Art Gallery; Indigenous Species at the Commonwealth Arts Festival, Edinburgh, and at Jacob's Pillow Dance Festival, Massachusetts, USA.

Secondly, his ensemble work - usually involving three to five people - is always an extension of his solo work. In it, meeting places are sought between the performers, without sacrificing the integrity of individual players. Over the years Offord has employed a vast range of Western, African, and Asian instruments in his group work - such as the double bass, reeds, percussion, talking drum, khene, flutes from all over the world and guitar - however, there tends to be a dominance of percussion and woodwind.

In earlier years Offord improvised widely with Blair Greenberg, Jim Denley and Peter Kelley; more recently with Paul Adolphus, Maraina Oyelami and Llew Keik; and recently in a duo called Australis with Perth-based percussionist Ron Reeves.

Offord's future musical plans include the staging of a `ballet' for performers employing his `tongue and moon bells'. These are small bells cut from brass and aluminium into very unusual shapes. They can be suspended, played or swirled in choreographic patterns around the body, either by a solo performer or by as many as 10 dancers. The bells have inharmonic, complex overtones rather than clear notes. Another future project (for 1988) involves an ensemble specifically formed to play his sound sculptures.

Thirdly, in the past six years Offord has directed many community projects. These usually take the form of performances of improvised music on sound sculptures that are built collectively using materials from the local environment. Pieces for them are group-composed during exhaustive workshop sessions spread out over two or three weeks. However, there is no written score or script as such. Those taking part include students of all ages, community groups and sometimes entire communities. Offord's role is to co-ordinate the huge logistic exercise that is involved, as well as to stimulate musical creativity among the participants and be a shaper and sharer of skills.

He is also aided in these projects by his personal manager, who helps him negotiate any agreements, paper work or red tape that may be involved. Because these are large-scale events, they usually require some degree of public funding.

Notable community projects include the (bi-annual) Mattara Festival's Theatre Of Sound (1983/1985) in which about 12 musicians took part; also Leg Logging, Yet Another Use For The Human Legs at the Adelaide Festival Centre, with 40 high school students from Glenunga High School and 20 interested citizens from Adelaide taking part. (`Leg logging' involves "transforming people into human marimbas".)

More extensive projects have taken months to complete and have involved more than 100 `instrument builders' and performers. For example, Great Island Anthem (1985), which was part of the Sydney Youth Festival and involved 130 players. The instrumentation for this giant work held at Sydney Town Hall Square included sound sculptures, percussion, didgeridoos, horns, trumpets, saxophones, wobbleboards, `leglogs' and vocals. Another large-scale event was the Australia Day Celebrations at Ceduna, SA, in 1986.

Recently Offord took part in the Adelaide Come Out 1987 Childrens' Festival , organising a 60-piece orchestra made up of children from Cook, Mt Gambier and Whyalla.

He believes these community events allow people of all kinds to work together and overcome social, emotional, technical and racial barriers. It also allows them to take part in improvised music and the building of sound sculptures created from everyday materials. Offord encourages those taking part to communicate spontaneously and without censorship. In order to develop co-operative and free improvisations between strangers, he conducts workshops and stimulates inter- action, shaping the work to people's capabilities and specific interests.

His recent work includes a project based at the Seymour Centre in Sydney, devised to culminate in a concert in late 1987. The event involved the formation of an Australian Environmental Orchestra , with those taking part including members of the The Seymour Group instrumental ensemble, as well as pre- school, primary and high school children, a pottery and senior citizens association and interested people from inner Sydney. This event is the first stage of what Offord expects to develop into a 10-year project.

RECORDINGS

Bowdance , Sydney, (cassette), 1983.

Travelling , (Colin Offord and Ron Reeves), Adelaide (cassette), 1985.
---
---
© 2000 NMA Publications and John Jenkins