Sarah Hopkins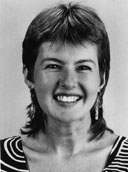 The Darwin-based composer and performer, Sarah Hopkins, who has worked in the area of `sound art' since 1976, was born in Lower Hutt, New Zealand in 1958, the second in a family of five girls. Her father is the well-known conductor John Hopkins. Her background is in classical and contemporary cello performance, but her musical activities have broadened to include the creation of novel sound sources, such as `whirly' instruments and `sound kites' (kites which create sounds as they fly) and the installation of large-scale musical environments.

Her compositions have evolved through the exploration of a wide range of musical concerns and forms. These include the development of extended cello technique, new notational procedures, amplified and multi-tracked cello works, performance pieces and structured and free improvisations.

Her collaborations and inter-disciplinary pieces are similarly wide-ranging - and she has worked with many visual artists and choreographers. For example, in the multi-media performance piece Enactment (1981) devised with artist Jacek Grzelecki, video, sound and tape collage, performance and live musical performance were all employed.

Hopkins has also been an artist-in-residence at schools, colleges and community arts institutions throughout Australia. A range of pieces and performances have evolved from these residencies. She has toured extensively in Australia, America and Europe - where much of her work has also been recorded for radio.

In 1964 her family moved from New Zealand to Sydney, where she received early formal musical education at the High School of the New South Wales Conservatorium of Music. Later, she gained a Diploma of Arts in Music at the Victorian College of the Arts where she studied from 1975 to 1979, concentrating on solo cello performance and contemporary cello technique and experimental composition. It was here, under the direction of composer and teacher Richard Hames, that she was introduced to a broad range of post 1950s music and the challenges it offered performers and interpreters. Having previously taken private lessons in acrylic and watercolor painting, she was eager to combine her interests in art and music. Working with visual and graphic scores presented such an opportunity.

She studied the music of John Cage, Steve Reich, Terry Riley, Karlheinz Stockhausen, James Fulkerson, Luciano Berio, Olivier Messiaen, Iannis Xenakis and others. In the process, she also studied various types of musical notation:

With graphic notation , symbols and signs designate ways of producing sounds. For example, a line passing through a triangle may mean "`breathlike' bowing on the cello tailpiece". The notation may include explanatory notes and those towards an overall interpretation of the piece. The specific language of the notational system is learnt and the piece built up section by section. Hopkins' Cello Timbre (1976) is scored this way.

Pictor-graphic scores involve abstract visual images (for example, a painting, drawing or photograph) and one may not be given any clues towards its interpretation. The score may be read, for example, by defining the vertical axis as pitch and the horizontal axis as time. Then, by regarding the image as a `field', the eye is allowed to travel to points of interest which determine notes to be played. Other schema must be devised to decide instrumentation and tone color.

Text scores may consist of either a piece of writing one re-interprets or responds to musically, and/or precise and detailed directions for playing the work. For example, notation for John Cage's Songbooks .

With number scores , players may be given cards (for example) containing a list of numerals indicating the time between notes. This simple system may produce sounds distributed in complex and changing spatial patterns, as in American compos er Bill Fontana's Handbell Sculpture No. 2 (1976).

Proportional or space-time notation - which allows accuracy of pitch but freedom of rhythm - is a simplification of staff notation, and often used in combination with it. Read from left to right, the size and position of the notes determine their length and articulation. (For example, a whole note with a long horizontal line emerging from its right hand side indicates a long, sustained sound. A cluster of notes that attenuate as they crowd closer together indicates that they should become shorter and faster as they are played.)

In 1976 Hopkins became a member of the VCA's contemporary music ensemble, The Victorian Time Machine , which was founded by Richard Hames in the same year. She began to interpret a wide range of innovative scores, including those for pieces mentioned above. As well, she composed her own works and began to improvise extensively on the cello.

In 1977 Hopkins performed a solo realisation of Projections by the American trombonist and composer James Fulkerson. The piece was written for chamber ensemble using a text score and incorporated 11 slides. First, she copied the visual images onto sheets of graph paper. The vertical axis represented the full pitch range of the cello - four octaves. The horizontal axis represented time, plotted in seconds. She intuitively assigned sections of the images to analogous sound qualities. For example, a dot represented pizzicato; a dot amidst a light flare represented snap pizzicato, and so on. Dynamics were determined by size and intensity of the images. This information was codified using proportional staff notation. She then scored background colors using a color spectrum/chromatic scale system. (Blue represented A, red C sharp; therefore purple was A plus C sharp, and so on.) Twelve cello parts were multi-tracked to correspond to the slides and, finally, the 14-minute piece became part of her cello recital examination in 1977. Its completion marked her emergence as a contemporary composer.

Two years of post-graduate studies at the VCA followed, in which she explored the coupling of electronic sounds with the cello. Her work with the Victorian Time Machine also continued. She toured interstate with a programme of new music, collaborated with film-makers, dancers, actors, painters and performance artists and undertook two short-term residency projects at tertiary institutions.

The use of amplification with the cello enabled an extension of sound qualities; from the most delicate and breath-like (obtained by bowing the instrument's tail-piece) to the most powerful, physically felt ones (obtained by vigorous bowing and high volume levels).

Of the pieces she composed for cello between 1978 and 1979, Seasons II provides a good example of her early work. Written in seven parts and first performed in the National Gallery of Victoria, it uses sounds to mirror the life cycle of a plant.

The preparation of the ground is represented by a layering of sustained pitches using tape delay. The planting of the seed is conveyed by descending pizzicato glissandi in the cello's lower octaves. The growth of the seed to fullness is conveyed by upward arco glissandi moving from open `C' through the entire cello range to a very high and sustained fortissimo `A'. The autumnal coloring is represented by small timbral changes to the high `A', audio `colorings' of the pitch through tremolos and trills and then high `scurrying' tremolo phrases to convey the percussive quality of dry, brown leaves just before they fall. The falling of the leaves is suggested by hitting the strings with the bow stick (col legno battuto glissandi phrases). Decomposing is evoked by continuing these phrases into the lower register. Finally, stillness in preparation for springtime rebirth returns to sustained layered pitches, as in the piece's opening.

In 1980/1981 Hopkins received an International Fellowship from the Music Board of the Australia Council which enabled her to continue touring and performing overseas, visiting more than 20 European cities from Oslo to Heidelberg, Glasgow to Leeds. She worked with many improvisers - such as vocalist Maggi Nicols, guitarist Derek Bailey and saxophonist Mario Sanco - and several of her pieces were recorded for radio in Holland in 1980. She also took part in a wide range of events associated with new music, including the Fetes Musicale in La Sainte-Baum in 1980, academic study in Darmstadt and an improvisation festival hosted by London's Institute of Contemporary Art in 1981.

While in London she joined the feminist theatre collective, Cunning Stunts , then took part with them in more than 56 performances throughout Europe and the UK. The group consisted of nine women from diverse backgrounds in circus, popular entertainment, visual arts, dance, gymnastics and music. Hopkins contributed to a major project titled The Opera , in which the group explored new ways of defining and presenting images of women. Programme notes at the time said of this piece, which drew heavily on many mythological traditions: "In The Opera we are spinning a yarn, knitting a new pattern. Each character gradually finds her own path, after somehow overcoming the restrictions (of)...imposed tradition."

While in Bremen to attend the Pro Musica Nova Festival in 1980 she heard a man trained in Mongolian chanting singing in a public park. He was able to render a deep and rich bass note accompanied by streams of harmonic melodies, all without any electronic manipulation or assistance. This was Hopkins' first introduction to Mongolian chant or harmonic singing, which has since become important in her work.

Peter Michael, in Through Music To The Self (Element Books), notes how "the shamans of Mongolia listened very carefully to the sound of their singing bow...particularly...to the melody of the single note: the harmonics, the tone-color melody... and learnt to realise vocally this original archaic phenomenon of the `monotone'. The ghostly and almost supernatural effect of this singing makes it easy to understand the tradition that singers able to master such overtone melodies were in touch with the spirits."

Harmonic singing has its roots in Hoomi `throat' singing, which is indigenous to Western Mongolia and the overtone chanting of Tantric Tibetan Buddhism. The technique allows singing in two voices simultaneously. The effect is produced by originating a steady fundamental note in the low register and then modulating the shape of the mouth cavity to produce a `second voice', which consists of high `harmonics' or `overtones' which are the natural `upper partials' of the bass fundamental being sung. Th rough precise modulation, one can create beautiful and ethereal melodies in a very high register.

Hopkins was determined to re-produce this sound on the cello, gradually evolving a technique she calls `harmonic bowing'. Through subtle manipulation of the bow near the bridge - in a way, however, that differs greatly from traditional `ponticello ' playing - she was able to draw out the full harmonic series of the fundamental note and use it to weave intricate melodies. Left hand vibrato further enhanced the sound through changes in speed.

She also learnt harmonic singing, and to combine the vocal and cello sounds. An exploration of the natural harmonic series remains central to her work as a composer.

Since returning to Australia from her `home base' in London in 1981, her compositions have ranged over a number of forms, including novel ones of her own invention, as outlined below.

Whirliworks is the title for an ongoing compositional project for `whirly' instruments, initiated in 1982. `Whirlies' are made from corrugated hosing of different lengths and diameters. They can be precisely tuned and played in a wide variety of melodic and percussive styles. The basic technique is to whirl the instrument through the air, as one would an Aboriginal bullroarer. As speed increases, the pitch rises through the harmonic series, providing an average of five separate notes. `Whirlies' may be used in solo, duo or ensemble performances.

During a collaboration with choreographer Beth Shelton, these instruments featured in a 20-minute work commissioned by the contemporary dance company, Danceworks . Titled Wind Music For Earth And Sky and set for seven dancers using a variety of precisely tuned `whirly' instruments, the piece was first performed in the North Melbourne Town Hall in 1986. The aim was to create a work which involved the total integration of sound, movement, lighting and visual content, with the `whirly ' instruments as the focal and unifying element. For example, the physical challenge of playing a four-metre-long instrument demanded total bodily involvement. At other times the unity was expressed through integrated sound and spatial patterns, such as the `expanding chord spiral' (see diagram).

Late in 1981, Hopkins visited Darwin as Musician in Residence at the Brown's Mart Community Arts Centre. She was strongly attracted to the region and returned the following year during a three-month tour for the NT Arts Council. During this time she met her future husband and decided to make her home base in Darwin in 1982, after they were married.

In 1984 she founded the Darwin Whirliworks Ensemble , a group of six local musicians from folk, jazz, classical and contemporary backgrounds who evolved and composed a piece of ensemble `whirly' music titled Interweave for a concert held at the Brown's Mart Theatre, Darwin, in 1984. It was recorded by Resource Recordings (NT) on the Soundworks tape label.

Hopkins' Soundkites series began in 1984, in collaboration with Sydney-based kite specialist Sharon Pacey. The two designed kites that would generate sounds whilst in flight. The most successful is the `singing stunter', a dual-control kite made from sail cloth and fibreglass. A `whirly' instrument attached to the kite's spine allows it to sing and weave melodies as it dives and loops in the sky. Three Soundkites projects followed: two performed in the NT (in 1984 and 1985) and one during the 1985 Orange Arts Festival in 1985.

Bellworks is the title of an ongoing compositional project initiated in 1986. The instrumentation for these pieces includes tuned brass handbells and cathedral bells.

In 1982 Hopkins was based at the Victorian College of the Arts, collaborating in three performance projects with dancer/choreographer Beth Shelton and composers Ros Bandt and Elwyn Dennis.

Another community project, Eclipse (1986), was composed for the Nightcliff High School's `handbell choir' during an artist in schools project in Darwin, and was inspired by a spectacular lunar eclipse.

As a cellist, Hopkins has collaborated with many of Australia's leading composers and performers of new music, including Ros Bandt, Jo Truman, Leigh Hobba, Colin Offord and Peter Carolan. She has released a series of five tapes on the Soundworks label which span the years 1981 to 1986 and include her solo collaborative and ensemble works.

In 1983 Bandt and Hopkins continued their collaborations, touring Alice Springs and Darwin and then, following an invitation to perform at the Paris Autumn Festival, to London, Paris, New York and Belgium. Music reviewer John Rockwell later wrote in the New York Times: "Their work, separately or together was marked by a real luxuriousness of sound and a nicely businesslike technical polish. They certainly have a discriminating ear for unusual sounds."

Of Hopkins' recorded `whirly' pieces the Northern Territory News commented: "An ensemble of whirlies produce astounding musical patterns of vibrant clear pitch, sometimes hauntingly beautiful, sometimes dramatic, sometimes soft, sometimes strong and robust but at all times inspiring and thought-provoking."

In an interview with the composer and virtuoso trombonist Simone de Haan, quoted in his MA thesis (1986), Hopkins states: "When I began composing I had a tendency to include everything - to show the full gamut of sound possibilities. Then I moved into a period of total freedom - of not `composing' at all and of not performing any notated works - a period of pure improvisation... For a time this was exciting and stimulating but I gradually became frustrated by the limits that total freedom create d. (I always felt I had to be doing something new and different...) And I reached the point where I wanted to stop the wild spontaneity and build something meaningful: a structure. Effectively, I had expanded and stretched the cello's vocabulary to the limits and now wanted and needed to hone right down to the heart and essence of sound."

From mid 1981 onwards Hopkins worked on purely acoustic structured improvisations. A pre-set framework allowed her to concentrate on specifics, while improvisation ensured a spontaneous aliveness. Her recent compositions have refined this approach, and include only what is essential - musical distillations without a note too many or too few.

This new rigor grew out of her involvement with the London Musicians Collective (LMC) in 1980 and 1981. LMC had a membership of more than 100 improvising musicians. Through membership fees, they rented a performance space where concerts we re held three or four times a week. A monthly newsletter was also distributed with a listing of all members, their instruments and telephone numbers. Informal improvising sessions were easily arranged in preparation for concerts. The scheme was very successful, and many performers took part.

Cello Chi (1986), first performed at Sydney's Performance Space as part of the 1986 Sydney Biennale, is among Hopkins' most substantial cello works. The performance was recorded by the ABC, broadcast on the Surface Tension program and later recorded and released as a Soundworks cassette. Conceived as a "journey in sound", it evolved over several months of intensively meditative playing and composing and was inspired by the unhurried rhythms of the natural environment of the Northern Territory. Another strong influence was the sound of the didgeridoo.

Technically, the piece employs extended vocal and cello techniques, such as `bowed harmonics' and `circular didgeridoo bowing' as well as harmonic singing. These are used to create a deep and rich fabric of sound. Meditative and almost `hypnotic' in feeling, the piece makes sonic references to a number of landmarks from the NT environment. A textured escarpment is represented through a `circular didgeridoo bowing' section. This original technique involves moving the bow in a circular, diagonal motion between the fingerboard and bridge. Effectively, it exaggerates the change in sound color from `sul tasto' to `sul ponticello' while generating rhythmic variations by pulsating the bow at the same time. "Sunset clouds shot through with golden light th reads" are suggested by a sustained open `G' which ebbs and swells in volume, while vocal harmonics draw out "golden light strands" above and through it. The glistening of the sea is evoked by harmonic bowing.

Interweave , for six players and six precisely tuned `whirly' instruments, is a good example of her innovative ensemble work. It too is a meditative and expansive work in which very pure and hypnotic sounds - akin to those of Tibetan bowl gongs - are built up in layers. It takes the form of a highly structured improvisation based on the following prose score:

"Interweave: `whirly' sound fabric: One by one, as with single threads, weave together. Nurture your sounds to their full vibrating sustains. Listen always and work with the live fabric design (gently) interweaving your sound threads. Allow the fabric breathing space but don't let all the threads cease `singing' until the sound fabric is complete." The score is accompanied by a set of specific and detailed technical instructions and the piece allows the freedom for the performers to make it their own, while demanding interaction and creativity in the moment as they rehearse and perform.

Hopkins' recent work includes a collaboration with composer Alan Lamb and choreographers Beth Shelton and Trevor Patrick on a large-scale, 90-minute interdisciplinary project. Titled Sky Song , it incorporates movement, cello, voice and mus ic produced by resonating wires and `whirly' instruments.

RECORDINGS

Soundworks 1 , (with Ros Bandt and Elwyn Dennis), Resource Recordings, RR-SW1. 1985.

Soundworks 2 , (with Jo Truman), Resource Recordings RR-SW2. 1985.

Soundworks 3 , Resource Recordings RR-SW3. 1985.

"Interweave", NMATAPES 4 , NMA Publications, 1985.

Soundworks Performance , (with L. Pollak. F, Armstrong. and P. Griffin), Resource Recordings RR-SW4. 1986.
---
---
© 2000 NMA Publications and John Jenkins